05 August 2011
Unveiled in 2009 at the Frankfurt Motor Show, the Audi S5 blazed into the luxury performance market with authority. Directly marketed against German rival BMW's M-series, it set to reach out to those seeking, "The Ultimate Driving Machine." Blake Breslin of Toronto, Ontario is one such person that Audi would consider a happy convert.
As a highly successful publisher, Breslin has had his share of performance luxury machines including his latest, a Mercedes-Benz E55 AMG. When the time came to look for a replacement that would play the dual role of a luxury cruiser and track warrior, his eyes were set on this 2010 Ibis White Audi S5.
"I wanted a vehicle that would be fun to drive in the summer and be safe during the harsh east coast winter season, hence the benefit all-wheel-drive!" Breslin explained. From the factory, the Audi S5 is ideal. It boasts a healthy 354hp from its 4.2-litre V8-engine, all-wheel-drive drivetrain and plenty of lavish goodies in-cabin. However, despite the assortment of exterior and interior colour combinations available, Breslin had his eyes set on the S5 being white on white – clean, to say the least. After weeks of back and forth talks, Audi finally granted a special order for a white leather interior, making this luxury coupe a true gem.
Fast-forward a few months and the start of this unique project begins. Breslin like any automotive enthusiast (even with the initial monumental-budget) wanted his freshly broken-in Audi to be even more unique. To accomplish such a feat, the dedicated team at LLTek Motorsports (www.LLTEK.com), which specialize in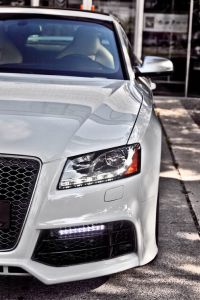 premium aftermarket products for fine European cars, responded to Breslin's requests with a complete aerodynamics package from German tuner Rieger. The factory bumpers and knick-knacks were tossed aside in favor of an RS5-style front bumper, single cell mesh front grill (slightly modified factory RS5 to fit on the S5 or A5), fog light frills, side skirts, rear valance and, lastly, an R8-inspired rear spoiler – said to be currently the only one in North America. Thanks to Luxury Auto Body (www.LuxuryAutoBody.ca), the coupe was prepared for fitment and sprayed in factory Audi Ibis White paint provided by LLTeks match paint in house paint program.
For additional power, and quite possibly the most mesmerizing sound from the throaty V8, 2 high performance Rieger RS5 exhaust with a huge 4"quad-tip finished in stainless steel and design to mate the openings in the Rieger rear valance was installed. Breslin also opted for Audi's "Drive Select" system (nearly a range of $5,000-option) that allows for four pre-selected modes that adjusts the settings on the adaptive suspension, dynamic steering, transmission shifts, and throttle response on the fly. After a brief test drive it is, without question, a must-have for any S5, as it enables the high-revving V8 to break from its chains and unleash its awesome Autobahn-inspired potential.
Planting the power on this German coupe are a set of 20" by 9" (LLTek supplied) ETA BETA Jofiel wheels wrapped in sticky Dunlop tires all around. Tucked just behind the upgraded wheels are Audi "S" massive 13.6" brakes up front and 13" at rear that provide the instant stopping power.
With a touch of class and brute force, Blake Breslin's Ibis White S5 is a perfect example of balance for a daily driver. The ability to sprint from 0-60mph in 4.8-seconds while retaining luxury creature comforts is exactly what Audi intended with this coupe. After some dress-up tweaks made possible with Rieger's aerodynamics kit all in ABS automotive grade plastics to complete the transformation to the OEM RS5 look and a better rolling package, is it any wonder why the smile remains?
Blake Breslin has created his very own "Ultimate Driving Machine" and we thank him for it!
---
ESSENTIALS // Owner Blake Breslin • Location Toronto, Ontario, Canada • Vehicle 2010 Audi S5 • power 354HP @ 7,000rpm
ENGINE // Audi 4.2-litre, V8 • Exterior // Rieger RS5 front bumper • Rieger RS5 single cell mesh front grill • Rieger RS5 fog light grills • Rieger RS5 side skirts • Rieger RS5 rear bumper • Rieger RS5 rear spoiler
INTERIOR // "Special Order" Audi white leather interior • Audi "Drive Select" System with 4 Pre-Selected Modes (Auto, Dynamic, Comfort, and Individual)
ENGINE MODIFICATIONS // Rieger RS5 Quad-Tip stainless steel cat-back exhaust system
WHEELS / TIRES // 20" x 9" ETA BETA Jofiel wheel finished in chrome and white • Dunlop Tires
SHOUT OUTS // LLTek Motorsports (www.lltek.com) • Luxury Auto Body (www.luxuryautobody.ca)