Written by Giancarlo Pawelec (AutoMotoFoto.net) | Photos By BRIAN CHIN | 05 August 2011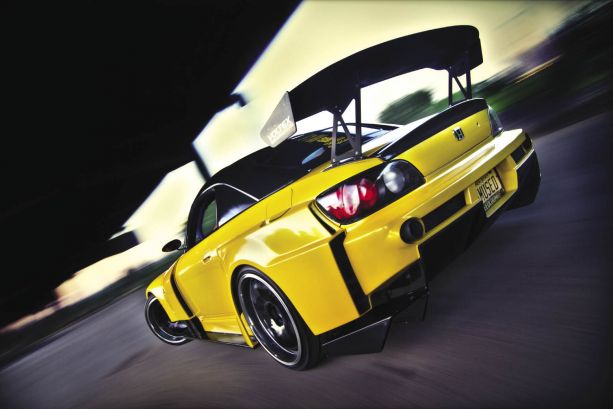 Richard Arcilla of Closter, New Jersey is no stranger to Greek mythology. Similar to Helios and his chariot pulled by fiery steeds, Arcilla chose this yellow Honda S2000 as his vehicle. It all began during Richard's high school years when he first spotted the then new roadster from Honda. As Arcilla puts it, "the car has a timeless look to it" and he had to have it, so the goal was set.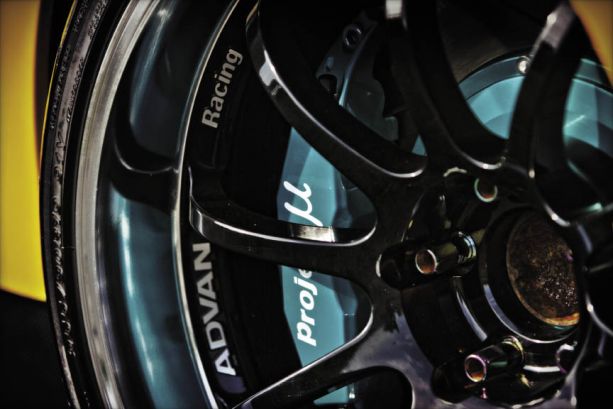 First on the list was replacing the suspension to something that would provide a more aggressive stance and better grip. A set of KG/mm racing spec coilovers were installed to lower the vehicle while a set of Comptech sway bars and GT Spec mid-brace provide further chassis strengthening. With the handling covered, Arcilla moved focused to the rollers using a set of Advan RS-D wheels in a gloss black with polished lip finish and sized at 19x10-inches. Sticky Yokohama S-Drive rubber sized at 255/30/19ZR wrap each wheel and provides the much-needed grip. Tucked behind the forged wheels are massive brakes capable of stopping this nimble roadster with 4-piston Project Mu calipers surrounding large 14-inch slotted rotors up front and StopTech slotted rotors at rear with OEM calipers.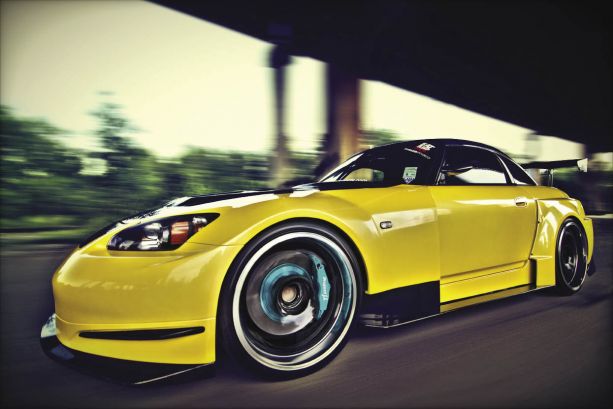 With handling upgrades completed, Richard began piecing together the exterior design. The entire vehicle was prepped for a custom wire-tuck, shaved engine bay and a colour change to Giallo Orion from Lamborghini's library. Before the spray gun went loose, a rare Amuse GT1 widebody aero kit was fitted along with an AP2 headlight conversion. Once the paint dried, the remaining aero went on consisting of a WeberSports carbon fiber vented hood, First Molding JGTC CF mirrors, GTM CF rear lip spoiler and a Voltex Type-2 CF rear spoiler. The most rare of all pieces is the Mugen full carbon hardtop (serial #75) that Richard had installed for track adventures. Rounding out the list of esthetic changes are a set of JDM side markers, trunk badge and 20% dark tints all around adding to the already menacing look. Keeping Arcilla and his passenger planted are a pair of Bride GIAS Low-Max race buckets fitted to Bride seat rails and the must-have Takata multi-point race harnesses. Driving controls are handled by a Personal Grinta suede steering wheel with yellow stitching matted to a Works Bell hub and quick release combo, while a J's Racing blue shift knob secures Richard's gear throws. The interior cabin of the S2K was given more JDM flavour in way of Bride upholstery on the door panels and center console, custom Bride floor mats, Password JDM carbon fiber center console and trim pieces. For safety reasons during tracking, the S2000 was treated to a Cusco 6-point roll cage and harness bar in case of a roll over incident.
Despite the rev-happy attitude of Honda's F20C engine with its impressive 9,000rpm redline, Arcilla wanted more and the only option for higher power numbers is in way of forced induction. Thanks to JDV Motorsports and Chuck Motorsports, a Garrett GT3076R turbocharger was fitted to an AFI manifold thrusting boost through the 2.0-litre engine while two Tial 38mm wastegates and a Tial 50mm blow-off valve relieve any excess pressure. Fueling the fire begins with a Walbro 255 LPH pump that feeds into an Inline Pro fuel rail and out to massive Injector Dynamics 1000cc injectors. Pressure regulating of the fuel line is possible thanks to AEM (platinum edition), that guarantees the right amount of squeeze to keep the engine breathing fire and a set of NGK Iridium plugs for spark. Letting the hot gasses out, Richard installed a custom dual 70mm exhaust system complete with Magnaflow mufflers for a unique sound.This boosted-up F20C-engine setup produced a massive 506whp at 8,400rpm and 348 lb-ft of torque – that's double the power output from the once mild mannered 4-cylinder!
Managing all audio levels in-dash is a JVC KD-AVX2 head unit that handles a set of Focal Utopia 136w speakers and the Focal crossover which divides the signals to each driver. In the trunk (within a custom and removal enclosure) are two 11-inch Focal Uptopia 27wx chrome plated subwoofers and powered by two Audison amplifiers – one VRx 1.500 model and the other a VRx 4.300. A dedicated Kinetic 1800HC battery provides the juices and is fitted into the trunk.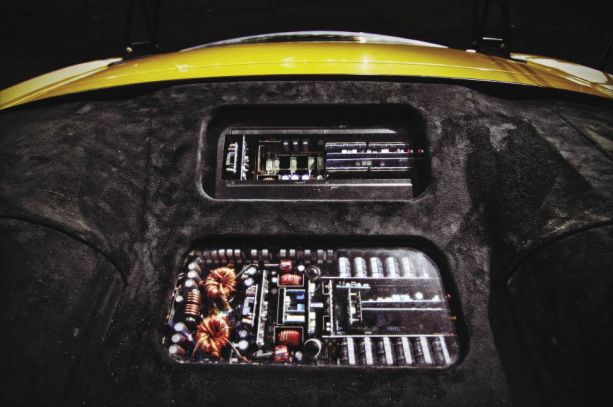 As a result of all the work, this S2000 chariot is a fire-breathing competitor. As Arcilla puts it, "what started out as a car that I promised myself I wouldn't mod aside from wheels and suspension only lasted about 1 month," and without a doubt has turned to be a full out time attack racer.
ESSENTIALS // Owner: Richard Arcilla • Location: Closter, New Jersey • Vehicle: 2001 Honda S2000 • Power: 508whp and 385lb-ft
WHEELS & TIRES // 19" x 10" Advan RS • D +15 offset in black • Yokohama S. Drives 255/30/19 • Kics Neochro R40 lug nuts • Project Mu 14-inch slotted rotors 4-pot Big Brake Kit • Rear StopTech slotted rotors with Endless stainless steel rear lines
SUSPENSION // KG/mm racing spec coilovers • GT-Spec mid brace • Spoon X-bar • Comptech front and rear sway bars
EXTERIOR // Amuse GT1 widebody with custom 1x1 weave carbon fiber on fins, canards and bumpers • Custom Lamborghini Yellow • Custom wiretuck and shaven engine bay • Weber Sports carbon fiber hood • Mugen Carbon Fiber Hardtop: Serial #75 • Voltex Type 2 carbon fiber wing with standard stands • GTM carbon fiber 1x1 lip spoiler • First molding JGTC carbon fiber mirrors • Shaved windows and antenna • AP2 headlights converted
ENGINE // AFI Twinscroll manifold • GT3076r with twinscroll housing • 3" downpipe with v-bands • (2) dumptubes • (2) Tial 38mm mvs wastegates (1) Tial 50mm bov • Intercooler piping powder coated black • Garrett front mount intercooler • Custom braided lines • Inline Pro Fuel Rail AEM 1052-UEGO • AEM FPR-platinum edition • AEM Boost Solenoid • K&N turbo filter • Injector Dynamics 1000cc injectors • Wahlbro 255 LPH Fuel Pump NGK iridium 1 step colder spark plugs • Custom Dual 70mm exhaust with magnaflow mufflers • Custom fitted Fal Slim fans off a 96-00 Integra • Skunk2 VTEC solenoid cover • Spoon Yellow Cover signed by Ichi san • Spoon reservoir sock • poon radiator stays • ARC Oil cap • ARC Gradation engine cover • ARC Cooling plate • ARC Radiator • ARC Radiator Cap • ARC radiator hose end cap • Blue Samco radiator hoses w/ ARC Endcap • ACT HDD street clutch, ACT lightweight flywheel • (25) Mugen license plate 10mm bolts in engine bay • Top Secret CF hood dampers
INTERIOR // Bride Gias Low Max Maziora race bucket seats • Bride low max seat rails • Zoom CF rear view mirror • J's Racing blue shift knob • AP2 center console with Bride Upholstered elbow rest in Hyper black • PasswordJDM carbon fiber center console • Bride upholstered door card in Hyper black • Custom Bride floor mats in Hyper black • Cusco blue 6 point cage with harness bar • Takata harnesses • DEFI Control Unit II Version 2.0 • DEFI BF Imperial psi 60mm (white) boost gauge, fuel pressure gauge, oil pressure, oil temp, water temp, EGT gauge • AEM UEGO Wideband • Works Bell Hub • Works Bell quick release • Personal Grinta steering wheel•suede w/ yellow stitching • Hardwired Valentine 1.8V
AUDIO / VISUAL // JVC KD•AVX2 head unit, • Focal Utopia 136w speakers • Focal speaker crossovers • (2) Focal Utopia 27wx 11" chrome plated sub woofers • Audison VRx 1.500 amp • Audison VRx 4.300 amp • Kinetic 1800HC battery relocated to trunk • VIPER 791xv alarm w/ remote start
SHOUT-OUTS // • Cindy R. Avetria • Family and friends • Done Rite Autobody • JDV Motorsports • Chuck Motorsports • Idealistic Designs • Evans Tuning • The Dteknic family • Team Auto Concepts Elite • td motorsports • pixel-gruppe photography