Written by Giancarlo Pawelec and Dave MacKinnon | Photos By BP Imaging | 28 July 2011
In the dim light of the underworld, there are individuals who seek absolute power and control. Only a few individuals that are highly trained with lethal skills are able to achieve their evil goals. Throughout our history some have called them henchmen, while others call them professional killers, but regardless of one's take we know them as assassins. In a similar fashion, this '92 Mazda RX-7 lurks in the shadows as it sets its mark on the target and finishes the job with a swift strike.
Like any successful assassin on the most wanted list, this unique rotary rocket project began with countless hours of planning and preparation. Fellow Canadian and owner of this gunmetal RX-7, Matthew Desormeaux of Val-de-Monts, Quebec, is no stranger to the scene. Since a young age Desormeaux has been exposed to modified vehicles from his brother-in-law's modified pick-up truck to his father's Corvette C6 and even some JDM-influence from his friends later in life. After eyeing the VeilSide Fortune aero kit on the RX-7 that debuted at the Tokyo Auto Salon, and most recently in The Fast and the Furious: Tokyo Drift movie, the desire to build his dream ride took hold. Naturally, the process began by setting a budget and ordering parts. Three years and over $100,000 later, this four-wheeled killer has come to life.
The unique aerodynamics package on this Mazda coupe is thanks to one of Japan's most highly regarded body kit manufactures – VeilSide. The exterior transformation began with the removal of all factory panels and stripping the rotary rocket to the bare essentials. A complete engine wire-tuck, shaved gas door and re-finished engine began the process. For the exterior, the VeilSide Fortune kit was prepped and installed consisting of over 20-pieces including headlights, tail lights, mirrors, door panels, fenders and ultimately increasing the track by 220mm! Once all the pieces were assembled, a custom tri-stage, two-tone black and gunmetal paint job was sprayed and hand blended by fearless customs.
With the Mazda's body changes completed, Desormeaux turned his focus onto the stance of his sinister creation. Providing that gangster-inspired slammed look, the D2 Racing air ride suspension system was installed. The suspension setup allows the RX-7 to cruise low and slow or bump up the ride height during daily commuting – truly, the best of both worlds. A set of 20-inch Forgeline S0-3P custom three-piece wheels sized at a massive 10-inches front and 12-inches rear provide the coveted deep-dish look. The choice of rubber for ultimate handling was a set of P-Zero 245/30s and 295/20s from Pirelli. Tucked just behind the monstrous wheel package is the essential tool of the trade, a big brake system. Desormeaux knew that despite the factory stoppers being capable, the overall esthetics would not be up to par. A complimentary set of D2 Racing 8-pot front, 6-pot rear calipers mated to 13-inch two-piece brake rotors were installed and resolved the concern.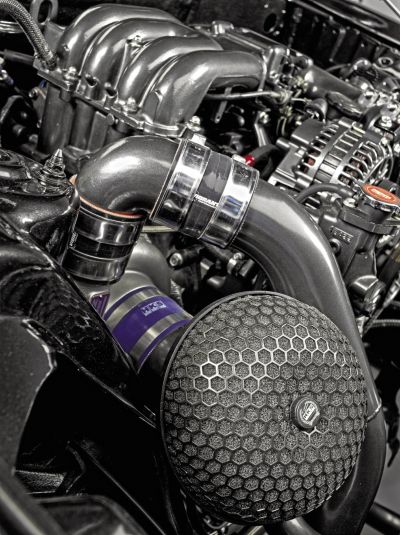 Just like the original VeilSide model debuted at Japan's ultimate show – Tokyo Auto Salon – Desormeaux immediately began overhauling the once mildly tuned turbocharged rotary. From factory the RX-7 came with a 13B engine, which boasts no pistons and rods like a conventional engine. This 1.3-litre power plant was massaged by RPM Motorsports in Kitchener, Ontario to the tune of 464hp @ 7,550rpm at only 15psi. Allowing for more power, the crew at RPM Motorsports gave the rotary an aggressive street port in a new rotor housing and mated a large HKS T04Z turbo to it. Further power adders for the build include an HKS intercooler that feeds a cold charge, a set of Injector Dynamics 1600cc injectors spray the fuel, and HKS Hi-Power ignition system sets the charge. Engine management for the tune was left to the ever-trusted Apex'i Power FC with a variety of selectable boost options depending on the Mazda's strike tactics. Like a war cry, the beautiful exhaust note from this gunmetal assassin begins at the HKS downpipe that feeds into an Apex'i titanium exhaust setup.
Power aside, planting it to the pavement is another issue. It's not every day that one rides around in a supercar-power coupe with massively wide rollers, so ensuring that each click of the gearshift counts, the drivetrain went under the knife. A Spec Stage 2 clutch replaced the OEM setup and a Spec flywheel (weighing in at 12 lbs.) freed up additional ponies from the boosted engine.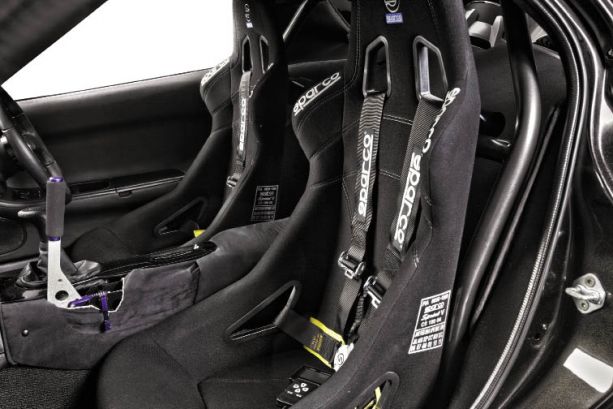 In cabin, Desormeaux addressed the office landscape first with a pair of Sparco Sprint race buckets paired with Sparco harnesses and followed with MOMO controls (steering wheel, hub and shift knob). A set of AutoMeter Cobalt-series gauges allow for instant engine feedback as turbocharged engines are known to be temperamental – yes, including rotaries.
No build of this caliber would be complete without an appropriate upgrade to the audio system. Staying the course for innovation, Desormeaux chose the unique Lilliput Carputer with touch screen to act as the head unit. Equipped with audio playback as well as Navigation, Bluetooth, engine management, DVD playback and Wifi connectivity, this is a truly unique source unit solution. Audio signals from the computer are sent to a pair of Audison LRX series amplifiers mounted on a suede covered amp rack just rear of the subwoofer enclosure. An LRx 2.4 provides 130 Watts per channel to drive a set of Kenwood XRS-17P component speakers. An LRx 1.1K offers up just over 1000 Watts to a pair of Alpine Type-R 12-inch subwoofers that are mounted with their motor structure exposed. Ensuring the amps get enough juice to work their magic is a Kinetik HC600 Power Cell.
Having spent the job money for what would be a high profile hit on his dream car, Matthew Desormeaux had his RX-7 FD well-equipped to execute any desire – lawful or not. With much gained success in the show circuit already, the thought of this sub-500hp rotary coupe being anything short of champion is unfathomable. This drive to succeed came to fruition with Desormeaux winning the prestigious Meguiar's 2011 Canada's Best Car Crazy Competition. This will see the awesome RX-7 on display at the 2011 SEMA show in Las Vegas,
Much skill and dedication has gone into the installation of the multi-piece and ultra-rare VeilSide Fortune aero conversion, big turbo 13B engine work, not to mention the wide-lipped 20-inch roller package. Without question, this widebody 1992 Mazda RX-7 is feared even amongst its own in the underworld as the dark veiled assassin.
ESSENTIALS // Owner: Matthew Desormeaux • Location: Val-des-Monts, QC • Vehicle: 1992 Mazda RX7
ENGINE AND DRIVE TRAIN // Aggressive Street Port (RPM Motorsports), New Rotor Housings • HKS TO4Z turbo kit • HKS Intercooler • HKS Twin Core Air Filter • HKS Manifold • HKS Twin Power Ignition • HKS limited edition Blow-Off Valve • HKS Wastegate • HKS Hi-Power Ignition • Custom RPM Air Intake • A'PEXi Power FC (engine management) • Custom twin oil coolers • Custom stainless steel radiator lines • Koyo Radiator • Injector Dynamics 725/1600 • ALS Apex Seals
TRANSMISSION // Spec Light Weight Stage 2 Clutch and light Flywheel • LSD Driveshaft
EXHAUST // A'PEXi Titanium Exhaust • A'PEXi Exhaust Tip • HKS Headers • HKS Up-Pipe and Down-Pipe • HKS Exhaust Mounts
SUSPENSION // D2 Racing Air ride suspension
EXTERIOR // VeilSide Fortune Body (Customized) • VeilSide Spoilers • VeilSide (Hella) Headlights • JDM Taillights • Sparco Fuel Door

INTERIOR // Momo Race 3000 Steering Wheel and Hub • Momo Shift Knob, Boot and E-Brake Boot • Autometer Cobalt Gauges • Black Sparco Sprint Seats • Sparco 3-Point Harness

GAUGES, LIGHTS AND CONTROLS // Custom Autometer Cobalt Gauges • Ignited Switches

WHEELS AND TIRES // Forgeline SO3P Custom 3-Piece Wheel with Diamond Cut Edges on Black Spokes (20x10 Front, 20x12 Rear) • Pirelli P-Zero Tires (245/30Z20 Front, 295/20/ZR20 Rear)

BRAKES // D2 Racing Over-Sized Brake Kit • 300mm 2-Piece Slotted 8-Piston Front Calipers • 300mm 2-Piece Slotted 6-Piston Rear Calipers • Hydraulic Handbrake • Braided Lines

AUDIO, VIDEO AND MULTIMEDIA // Lilliput Touchscreen 7" Head Unit • Kenwood Crossovers • Alpine Type R 12" Subwoofers (x2) • Kenwood XRS17P Mid Bass (x2) • Kenwood XRS17P Mid Range (x2) • Kenwood XRS17P Tweeters (x2) • Audison LRX1.1L Amplifier • Audison LRX2.4K Amplifier • Kenwood XRS17P Front Speakers • Carputer with Touch Screen • Optima Yellow Top Battery • Kinetik KHC600 Power Cell Battery and Capacitor

SPECIAL THANKS // Jody Park (Fearless Customs) • Dan Jackson & Joe Fergusson (RPM Performance) • Ivan Ceccato • Tunerworks • D2 Racing • Autometer • Mike Piecki (Auto Trim Design) • Mom • Dad • Tammy • Michelle