Written by Dave Pankew // Photos by Fred Lynch | 01 September 2007
Page 1 of 2
In our line of work we come across so many dreamers and flakes. There is so much smack talking about what people are going to do when they have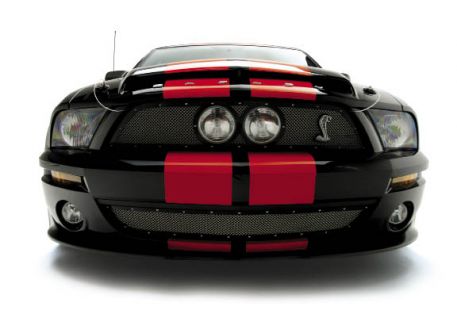 time or money but it never materializes. And there are so many false promises but even with the best intentions, they never make good on them. It is almost a part-time job, simply following up on what people promised they would do...by the deadline they set! Whether they have a family or a day job or whatever the case, scoring a date with Eva Mendes might be easier than getting results from certain individuals. But then you run into people like the folks at ARC Audio that totally restore your faith in the business. They put together an insane piece of wok and will do whatever it takes to ensure the article and the photos are of the caliber that a high-ranking International magazine like PAS should be.
When I first downloaded the spec sheet for this ARC Mustang GT500, it was like reading a manual on how to build this on your own. It was the most detailed and accurate spec sheet we have ever received chronicling every stage of the build which spaned only two months of evening and weekends. It was so in depth and well written, I could have just cut and pasted and signed my name to it and hit the beach for the hot'n' humid afternoon outside while I write this piece. But this car deserves justice.
Owner of ARC Audio, Demitrios Karabinis picked up this 2007 Shelby GT500 and wanted to charm this snake into ARC's rolling showcase. But it wouldn't have any expense spared since this is his personal car. As a huge fan of American muscle, this car was picked to show that performance and
loads of audio can coexist and tear it up on the street or track. From his home in Modesto, CA, Karabinis and his henchman Fred Lynch began reworking this beast and the plan was to take a fast car and make is scary.
Beginning with a Ford Racing Eaton-style blower, the project was going to get a shot in the arm interms of horsepower. This twin vortices design is capable of a 155hp increase over stock with 90lb-ft more torque. To feed the blower and SVT 113mm throttle body, intake and MAS was added for huge gulps of Cali smog. The exhaust is an MRT custom system matched with the Ford Racing headers. MRT and Ford Racing devised the tune using an SCT Xcalibrator2 programmer. This system allowed for a new tune on premium fuel only, ignition timing, tire sizing and the legendary 2-step which will rocket this Stang down the track.
How fast is fast? Well already the car is puling 4.4-second 0-60 times and that is expected to dip below sub-4 no sweat. The estimated horsepower is in the 650 range with a staggering 570lb-ft of torque. No official numbers or dyno sheets as of yet but this project is literally still under construction at the time of publishing, it's that new! "We will take it to Sears Point to get some numbers real soon." Says Karabinis "That and dyno sheets, YouTube videos, pictures you name it, this car is serious."
When it came it set the looks off, Karabinis turned to 3D Carbon. Famous for their Mustang styling, the kit included window scoops, side body scoops to look like the classic '67 Fastback. 3D Carbon sideskirts were added to replace the factory ones for a smoother transition. MRT-Direct direct rear window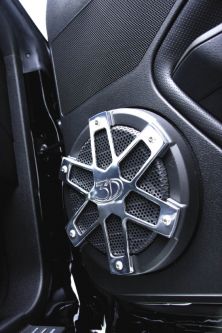 velour piece was added and left in the black satin finish. Up front the factory upper and lower grilles were removed and some custom fabricated grilles were machined out of 1/8-inch stainless steel with some PIAA driving lights added. The windows were tinted 35% by Chris at Shades in Modest, CA for some privacy. The factory HID lighting was complientned by MHTs sequential taillight module harkening back to the 1960s look. The finish of the car was also about to get a radical makeover. There are only 1486 cars that came in the black with the Gunnite stripes and the guys at ARC just couldn't stand being that common. After hours and hours of careful heatgun action, then reapplied GT500 orange stripes. They also removed all of the modern badging to roll with an entirely retro scheme. Then Eugene Woofy from a Fine Touch detailing sanded, buffed and polished the car for an entire day. A few Mustang purists just passed out from shock but the looks are definitely one of kind.
The rolling gear is from the Shelby Wheel Company called the CS66 Signature Series. This 20-inch wheel is sized in 9.5-inch up front with 10-inch fatties outback. A staggered set of Pirelli P-Zeros were sourced with 255/35ZR20 in front and 275/35ZR20 meats hooking up the drive wheels. Getting the proper tuck is made possible with Eibach 1.5-inch lowering springs using in conjunction with Ford SVT dampers. The factory stamped rear lower control arm was replaced with Maxiumum Motorsports CNC-billet piece with loses the crappy poly bushings in favor of a Heim joint. A Maximum Motorsports adjustable rear torque bar was added and a billet camber caster kit to get those wheels to work. The braking system is a Shelby / Baer hybrid with 14.5-inchers up front grabbed by 6-pistons with 13-inch rears. This systems hauls the heavyweight down from 60mph in only 108 feet.
But the real project is about what is inside the cabin. Karabinis contacted Katzkin to do up a custom interior with Barracuda Orange and Tuscany Midnight. Stitchcorp in Norwalk, CA did all of the require reuphoulstery or the seats, door panels and center console. The entire car was Dynamatted to
enhance sound quality but bump down the sound from 105dB to 88dB at full bore in 1st gear. At idle car purrs at only 46dB inside and keep the audio and and the ambient noise out. Everything from the doors to the trunk were Dynamatted with select areas getting the ¼-inch Dynaliner. Some black-face Stewart Warner gauges were added including: water temp, oil pressure and boost. A load of Shelby Performance Parts were added to the cabin including boot trim, control knobs, door handles, pedal covers floor mats, almost too much to list basically everything from the catalogue found its way into the car.
For the system, the ARC guys decided to keep the factory head unit and Nav system but that is where the OE influence stopped. The balance of the system is all custom and all ARC. And ARC didn't skimp on the details as evidenced Russian Baltic Birch that was used because of its light weight (almost 40% lighter than MDF) and significant structural properties. The baffled enclosure was then carpeted in some deep pile Mercedes black carpeting for a look that sets it apart. Sunk into the enclosure are four ARC 10D2 10-inch subs for the demanding low frequencies. For the mids and highs ARC turned to Dynaudio for accurate sound reproduction. Up front are Dynaudio's MW152 5.25-inch components with crossovers and tweeters and in the rear are the 6.5-inch MW172s. Driving the entire system is ARCs 900.6 6-channel amp that spits out 900W in a stylish and compact package. The power leads, RCAs, fuses and distribution blocks are all courtesy of Scoshe Industries. Supplying the juice are twin BatCaps 400-series batteries lurking under the lid.
A sick feature car indeed. And considering Karabinis drives it on the street even sicker. Next time we are in Modesto we'll hit Karabinis up for the keys. It's usually dry pavement out there, so what can really go wrong?
Read on for Full Spec Sheet