Written by Dave Pankew | 01 September 2007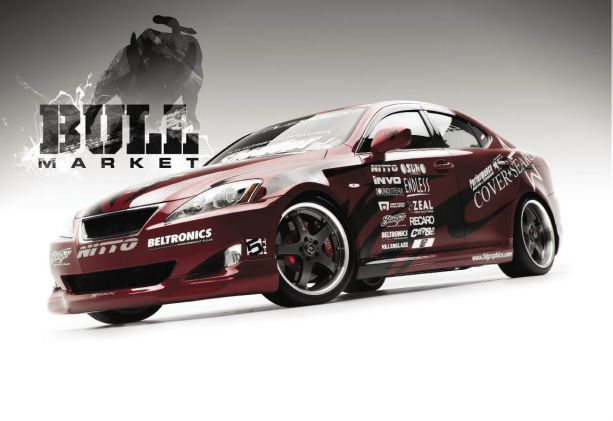 Written by Dave Pankew | Photos by RCH Designs
If you are like most of us, you got your ass handed to you in the stock market this decade. Or you saw your 401K decimated to the point where you may
be eating dog food at 65 (on a special occasion). Only the very savvy traders made money because the 'dot bomb' era was a total sham. I mean Amazon had a valuation more than GM at one point which made no sense comparing bricks'n'mortar to bit'n'bytes. But you really have to stay on top of it, stay on your game. It's not for the casual trader, you need to be involved or have a broker be involved for you. But the bull is back just in other sectors and those that kept at chasing the dream clawed back their losses from earlier in the decade.
David Huang knows a thing or two about continuing to step up his game. And curiously with the same platform and in the same style as well. As the previous builder of a remarkably similar IS300 he has only branched out to Toyota's other line, Scion. The IS300 was a successful build as well but true to his roots, he wanted to build a newer version of it – enter the IS350.
After taking delivery of his minty IS350, he headed over to Creative Motorsport in Irvine, CA for them to start wrenching under the hood. The Lexus, still under warranty was to receive only minor upgrades but puts down some decent power. On the rollers, it posted 285whp, which is around 335hp at the crank, not a bad boost at all. An Injen intake with a Fujitsubo Legalis catback was added. In addition to a CryO2 system, all that was really upgraded were the plugs and a grounding kit from Sun Auto. And as Huang explains to us, the car really moves but he didn't have to tell us because we've tested it in PAS!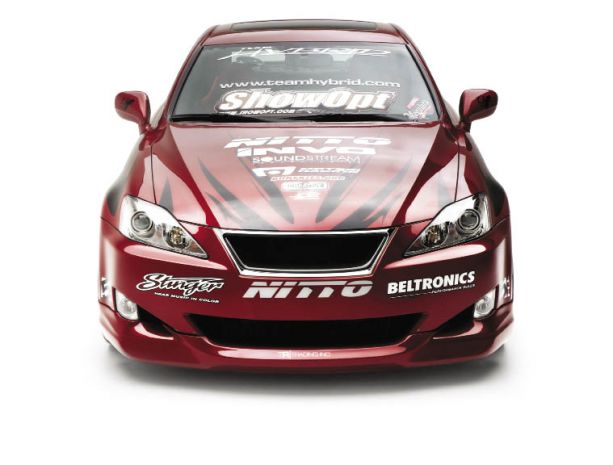 The body treatment was going to be a key ingredient to the build. It had to be set apart from the masses because this car was going to go across country with HIN in the busiest booth there – the 2008 PAS Model Search. Talk about high exposure for Huang's sponsors as literally thousands of photos were taken of young hopefuls with his Lexus as a backdrop. The already stunning Lexus bod was modified with an INGs LX aerokit which includes a front and rear lip, sideskirts and rear spoiler. The carbon fiber accents include a Blitz carbon fiber grille and Fabulous carbon pillars. The exterior along with several JDM pieces like sidemarkers, shark fin antenna and rear tails. DTM Autobody in SoCal performed the 3-stage Kandy Red with Pearl for a finish you can lose yourself in.. After that 5th Dimension Signworks cut and weeded all of the enormous amounts of sponsor vinyl on the car to give those who made the project possible adequate love.
This is a showcar but don't get it twisted because it is equipped with the running gear of a race car. Probably the most striking feature are the blazing red Endless brakes lurking behind the Motegis. These 6-piston binders chomp down on 14-inch slotted 2-piece rotors for immense stopping power. In the back is much of the same where a 4-piston caliper clamps a 13-inch rotor. The wheels are Motegi's Touge line sized in 19x9-inch in the front with 19x9.5 in the back. Nitto supplied the rubber fitting their Invo tire in a staggered format 225mm in the front and 245mm in the rear. Handling a the SoCal freeway ramps with ease is Endless Zeal Function X coilovers with Tom's urethane bushings buffering all of the suspension components. To stiffen up the sedan are Tom's 10-piece chassis brace kit, all chromed prior to installation for a baller factor that goes off the scale.
The command center inside the car is trademark Huang. He has put together a carbon fiber trim package found throughout the cabin all the way down to the doorsills. The headliner, pillars and sun visors are all custom suede covered thanks to the wizards at Stitch Craft in Westminster, CA. The seats are Recaro Sportlines and the balance of the interior is all Lexus finery.
The audio assault comes on strong with an army of Soundstream gear. Upgrading the factory 14-speaker Mark Levinson sound system was a hard thing to do. It already sounds incredible, so the installers at Creative Audio of Santa Fe Springs, CA decided to leave some of it in there. Starting with a Soundstream VIR-8004 multimedia head unit, signals branch out to a twin set of Soundstream monoblock amplifiers and Soundstream Tarantula 4-channel amps.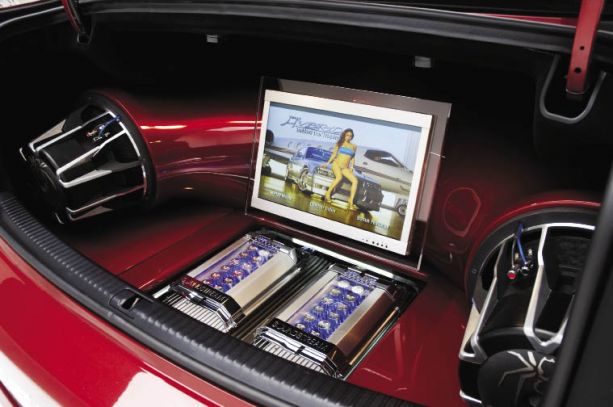 From there the 4-channels feed an army of Soundstream components throughout the cabin and custom door panels to really pump up the jam. A massive Soundstream mono amp juices a pair of monster T5 subwoofers integrated into a custom color-matched fiberglass enclosure in the trunk setup. The whole system is linked up with the very best gear running: Stinger wiring, fuses and RCAs with Soundstream 40 Farad capacitors. Displaying all the visuals are Soundstream LCD units found thoughout the car, racking up six LCDs in total.
Creative Audio really went out of their way to do an audio install we appreciate seeing here. Many components are motorized and several pieces have laser cut acrylic pieces in them, it truly is a work of art showcasing quality craftsmanship.
Team Hybrid doesn't produce any half-done projects. Everyone who is onboard with the team knows that to join you have to be committed to building outstanding showcars year over year. Since this car is being retired after a visit to SEMA, CES and the entire year of HIN touring with PAS Magazine and our Model Search Tour, it's the curtain call for this one. We can't wait to see what Huang brings to the table in 2009!
ESSENTIALS // Owner: David Huang | Location: Irvine, CA | Vehicle: 2006 Lexus IS350 | Power: 285whp | Engine: Lexus 3.5L VVTi V6
ENGINE MODIFICATIONS // Injen cold air intake | Fujitsubo Legalis exhaust | DEI CryO2 system | Sun Auto Grounding Kit
WHEELS, TIRES, BRAKES // Motegi Touge wheels; 19x9-inch (f), 19x9.5-inch (r) | Nitto INVO; 225/35R19 (f), 245/35R19 (r) | Endless 4-piston/13-inch (f), 6-piston/14-inch (r)
SUSPENSION // Endless Zeal X coilovers | Tom's urethane bushings | Tom's chassis braces
EXTERIOR // INGs LX aerokit | Blitz carbon fiber grille | JDM tails | JDM sidemarkers | JDM sharkfin | Fabulous carbon pillars | 3-stage Kandy Red with Pearl
INTERIOR // Custom carbon fiber interior pieces | Recaro Sportline seats | suede interior by Stitchcraft | carbon fiber doorsills
AUDIO / MULTIMEDIA // Soundstream VIR-8004 Head Unit | Soundstream Tarantula Mono x 2 | Soundstream Tarantula 4-Channel | Soundstream T5 12-inch Subwoofers x 2 | Soundstream Reference Components x 2 | Soundstream 40 Farad Hybrid Capacitor x 2 | Soundstream 7-inch Visor Monitors x 2 | Soundstream 7-inch Trunk Lid Monitors x 2 | Soundstream 9.5-inch Drop Down Monitor | Soundstream 17-inch Trunk Monitor | Stinger 0AWG Wire | Stinger Battery Caps | Stinger RCA Cables | Stinger Fuse Holder | Stinger Power Distributor | Creative Audio Custom Fiberglass Lower Front Door Panels | Creative Audio Custom Fiberglass Rear Speaker Deck Pods | Creative Audio Custom Fiberglass Trunk Lid | Creative Audio Custom Motorization Modules (Trunk Lid) | Creative Audio Custom Laser Cut Acrylics (Trunk Lid) | Creative Audio Custom Fiberglass Sub Box (Floating Layout) | Creative Audio Custom Fiberglass Amp Panel | Creative Audio Custom 17-inch Monitor Acrylic | Eclipse Nav, DVD, Bluetooth | Mark Levinson 14-Speaker system | Mark Levinson Amps
SHOUTOUTS // Nitto Tire | Motegi Wheels | Soundstream | Beltronics | Stinger | PAS Mag | Endless USA | Zeal USA | SUN Auto | Bodykits.org | Meguiar's | Recaro | DEI | Injen | Killerglass | TWS | Creative Audio | Stitchcraft | DTM Autobody