Written by Dave Pankew // Photos By: Jacob "Game Misconduct" Leveton | 01 March 2011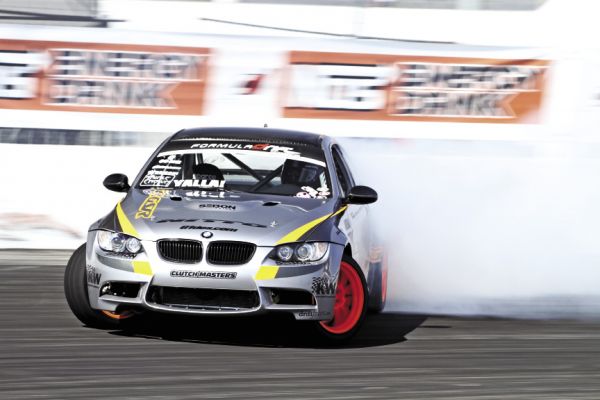 When drifting first stormed onto the North American scene, there were some unusual drift platforms popping up. We've seen strange contraptions like El Caminos, RWD Integras and even a Honda Element all taking a stab at getting sideways.
Sure, we had seen the odd BMW pop up with moderate success in drifting, but when we heard rumors about a new E92 chassis being prepped, we weren't sure what to expect. Owner Mike Essa dragged a low-mileage E92 into his shop at GSR Autosport and began work on the impossible.
FREE Trial Issue
What sets this build apart from other E92s is that he didn't utilize one of the great powerplants they are equipped with. The 3.0L twin turbo lacked the torque and the V8 lacked the response, so Essa dropped in an S85 V10 from the M5! If you have experienced this motor, it is one of the more exciting mills to drive and we've only seen this exciting swap done by Hartge of Germany in the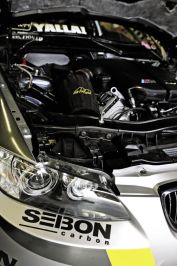 past. The motor didn't need much, just a pair of AEM DryFlow filters, a GSR Autosport stainless exhaust and a custom CSF radiator to keep it chillaxing.
The motor was wired up by Apex Speed Technology and tuned with a Pectel SQ6 ECU. Putting the power down would test the yield-strength of the pricey M5 transmission,
so Essa order a new 6-speed sequential from Quaife of the UK. Essa beefed up the driveline with a fresh Clutch Masters twin disc and Chromoly Driveshaft Shop axles.
The chassis got a shot in the arm because the E92 may be sporty but the smooth ride left a lot on the table. The chassis was welded up and made more rigid with the addition of a custom GSR Autosport cage. Then a set of KW Suspension 3-way adjustable motorsport coilovers were bolted to the chassis to take the package from mild to wild.
The rollers only add to the festivities with a hella fat setup. The custom Enkei PF01 wheels are 18x9s up front with and 18x10.5-inchers in the rear with low offsets. The tires are considered to have great grip, but with the right setup provide that balance between slip and grip. Essa linked up with Nitto tire to supply NT05s 245/40R18s up front and healthy 295/35R18s in the back. Peeking through the spokes is a custom set of Wilwood brakes using the Superlite-6 caliper and 14-inch rotors up front and check this ... dual 4-piston brakes on the back to operate a hard clamping E-brake!
Inside, the roll cage surrounds a pair of Sparco pro2000 race seats with matching harnesses. The driver inputs are made with a Sparco steering wheel and a Wilwood pedal assembly with a matching E-Brake controller. The engine vitals are monitored with a slick Pi Omega digital cluster.
While the outside may be minimalist for now, Essa claims more outrageous bodywork is coming. The E92 was fitted with a few select Seibon accessories and some vinyl courtesy of G1 Design Graphics. Even though it doesn't look too outrageous, it definitely stands out being a V10 E92 and the only BMW in the Formula D field!
Read on for Full Specs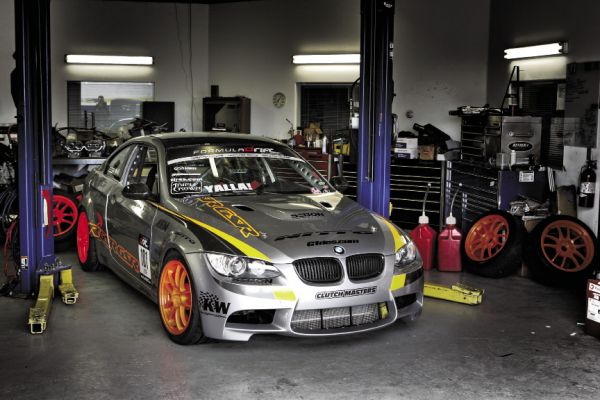 The Essentials:


Owner: Mike Essa
Location: Anaheim, CA
Vehicle: 2008 BMW 350i
Engine: BMW 5.0L S85 V10


Modifications:
Engine swap by GSR Autosports
Wiring By Apex Speed Technology
AEM DryFlow Filters
GSR Autosports exhaust
Pectel SQ6 ECU tuned by Apex Speed Technology
Quaife 6-speed sequential transmission
Clutch Masters twin-disc
Driveshaft Shop axles
Enkei PF01 Wheels
Nitto NT05 Tires
Wilwood Superlite-6 with 14-inch rotors
Wilwood Superlite-4 with 13-inch rotors
Wilwood custom 4-piston E-Brake
Seibon carbon parts
G1 Design Graphics
Sparco pro2000 race seats
Sparco 5-point harnesses
Sparco steering wheel
Wilwood pedal assembly
Wilwood E-Brake controller
Pi Omega digital cluster.
Want to Read More?
Click Below for Full Digital Issue!