Written by Shaun Keenan | Photos by RCH Designs | 31 August 2007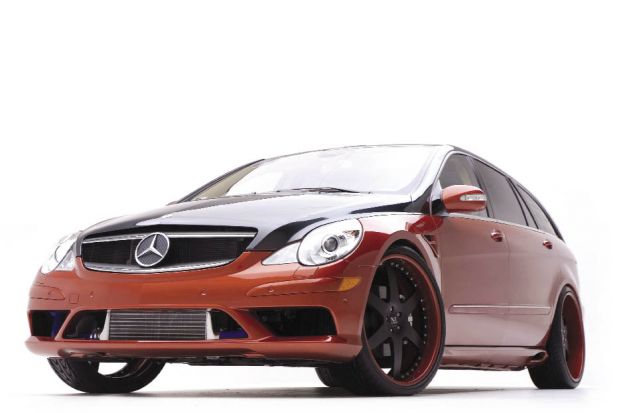 You got to love the big V-8, style and performance of this ride. I've always been big fan of Mercedes-Benz and the elegant performance they possess," says Joe Maynard.
A self-described devout auto enthusiast with more than 15 years active involvement in the scene, Maynard is the head honcho, the big kahuna, the bossman and the shot caller at Marketing In Motion (MIM) in Lake Forest, CA. His automotive lifestyle marketing company has been involved with award-winning "image vehicles" for DaimlerChrysler, Ford and GM. Some of the custom cars they've built include a Chevy Cobalt SS, Pontiac Solstice and Dodge Caliber R/T.
MIM's had success with domestic image vehicles in the past, so it's no surprise this German-made 2007 R550 crossover utility vehicle turned out to be such a great technology showcase for MTX Audio at last year's SEMA show in Las Vegas.
With a build cost tally that inflates the vehicle's original price by almost $80,000, the build-up of this one-off ultimate street sleeper took place at MIM Cars headquarters. Lasting about four months, the project's first eight weeks saw the 5.5L Mercedes V-8 engine get supercharged and intercooled, a SLR-inspired custom exhaust installed and H&R springs with a MIM custom suspension lowering module added. Power and torque have risen from 382 and 391 to 420 hp and 450 lb.-ft. of torque, respectively.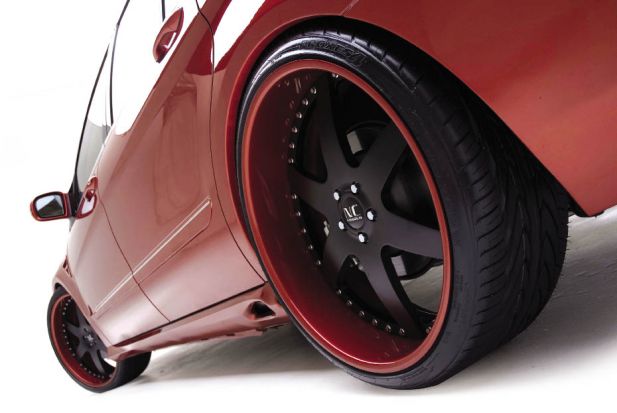 The top notch custom BASF Flint Mica Grey and Sunset Orange paint job with ghost graphic sets the tone well. Sized 11-inches wide in the rear and 10-inches in the front, the matching deep dish 24-inch NC Forged six-spokes and thin Toyo tires go perfectly with this vehicle's custom grille and VIP-style body kit that consists of revised rockers and a more substantial lower rear bumper. While the Mercedes pointed star badge remains, all model placards were removed for a less cluttered appearance.
But, the makeover and performance injection were only teasers. "I knew that if I could get my hands on a Mercedes-Benz with three rows, we could really have some fun," Maynard recalls with a smirk. "The crossover utility vehicle segment was really hot." So, after his crew's hands were free and wiped clean, the vehicle was sent to Image Audio Designs in Orange county to get stuffed and cooked to near perfection.
Now just two weeks before deadline, installers Shawn Bennett and Peter Johnson succeeded in overhauling the R-class' spacious interior into a private über theatre-on-wheels complete with in-your-face video and soothe-your-ears sounds. The perfect place for MTX reps to entice prospective dealers.
From either front seat though, things seem normal enough. The only hints as to what's back there is a Sony MEX-DV2000 DVD head unit that's mounted stealthily into the passenger-side glove box. The mood is much different back where the split-folding-reclining third row seats are (the only remaining stock items).
A custom "limo-style" divider was installed directly behind the front seats to house a high-definition 32-inch LCD monitor. It's really well integrated and, with the second row of seats gone, there was space for a custom hardwood and leather floor and more than enough room for all the speakers, amps and subs they could throw at it. Flanking the screen are two speakers stacks that make up the front stage. Each side has three individual sealed fiberglass enclosures that contain MTX Thunder Axe high-end components – four-inch TXC4.1s and 6.5-inch TXC6.0 dedicated mid-bass speaker – as well as Thunder9500 series 10-inch woofers and extra tweeter.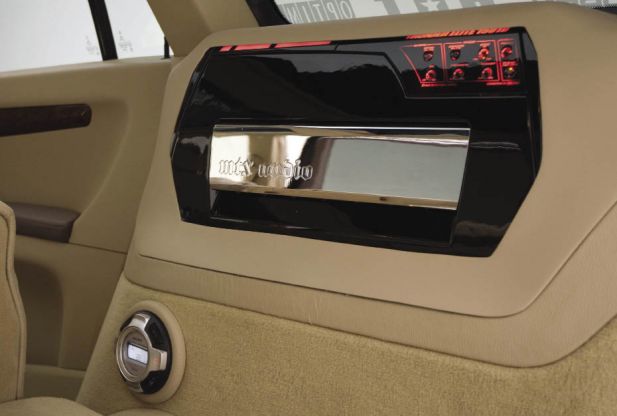 The high, mid and low frequency assault doesn't just come from the front. In fact, there's a single MTX Thunder 9515 15-inch superwoofer further back in the trunk floor. The custom sealed fiberglass MDF sub enclosure with fiberglass trim panel is wrapped in factory Mercedes leather and not only looks good, it feels good when the volume is cranked. To fill out the entire soundstage as best as possible, the installers re-tooled the rear pillars to accept another four-inch TXC4.1 driver and tweeter combo inside custom fiberglass baffles. A Sony Marine Commander wired remote let's viewers take control of the audio and video aspects of the performance.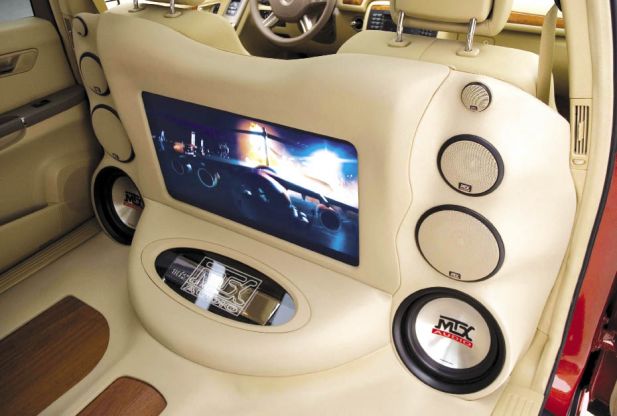 With a pair of Optima batteries on board, the total I.C.E. system wattage is just shy of 2,000 Watts (1,950W) and is generated by a trio of MTX Thunder Elite amplifiers. The front and rear convertibles get 125 Watts per set from a four-channel MTX TE1004 amplifier while a TE602 amplifier supplies each 10-inch woofer with 225 Watts at two Ohms. Powering the beastly 15-inch sub is the job of MTX's hardy TE1501 D monoblock. A thousand Watts of boom is enough to get anyone's rump shaking. As for locations, the TE602 and class D amps have been nicely flush-mounted into custom rear side panels beside the rear seats. The TE1004, however, is more prominently displayed inside a sunken front amp rack behind a Plexiglas window with the MTX Audio logo cut into it.
For their parts on this project, Maynard offers special thanks to 3D Carbon, BASF Paint, H&R Springs, House of Tints, Image Audio, MTX Audio, Meguiar's, Mercedes-Benz USA, NC Forged Wheels, Optima Batteries, Toyo Tires; plus the entire MIM Cars team!
In stock form, the R-class transports up to seven passengers in total luxury, safety, comfort and space. In fact, it's one of the poshest crossovers around. The current configuration is really fun and MIM gets full points for attempting to void all of Mercedes-Benz warranties on this crazy build-up. My only requests are for some cup holders, privacy glass (for the divider) and perhaps electric window blinds (for the glass panel roof) to ensure total darkness inside.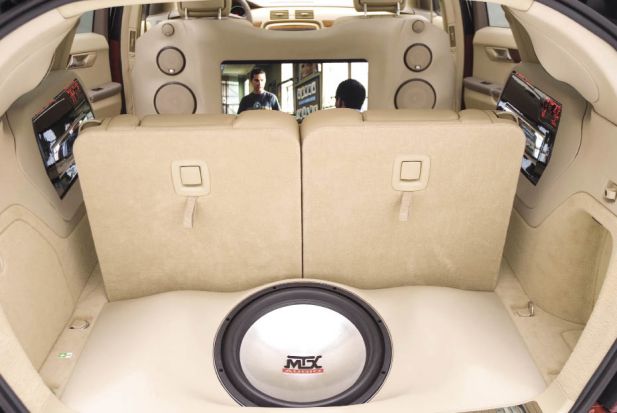 THE ESSENTIALS
Owner: Joe Maynard
Location: Lake Forest, CA
Vehicle: 2007 Mercedes-Benz R550

ENGINE MODIFICATIONS
Supercharged and intercooled 5.5L Mercedes-Benz V8 engine
MIM SLR-inspired custom exhaust

EXTERIOR
Flint Mica Grey & Sunset Orange-BASF paint
MIM Cars custom VIP body kit
MIM Cars custom grille
3D Carbon fender vents
Custom two-tone paint with ghost graphic by South County Autobody

WHEELS & TIRES
NC Forged six-spoke wheels and Toyo tires
-Front: 24- x 10-inch, 275/30-24 Proxes 4
-Rear: 24- x 11-inch, 275/35-24 Proxes 4
Suspension / Brakes
MIM Cars suspension lowering module

INTERIOR
Second row removed
Custom-built hardwood/leather floor
Audio / Multimedia
Sony MEX-DV2000 DVD head unit
Sony RMX55M Marine Commander/UniLink wired remote control
MTX TXC4.1 4-inch components (x2)
MTX TXC6.0 6.5-inch dedicated mid-bass speaker
MTX 10-inch T5510 subwoofer (x2)
MTX 15-inch T9515 superwoofer
MTX TE602 amplifier
MTX TE1004 amplifier
MTX TE1501 D monoblock amplifier
32-inch LCD flat panel HDTV in custom divider
Custom in-trunk floor sealed fiberglass / MDF sub enclosure
I.C.E. installation by Image Audio Designs in Orange, CA
Optima batteries