Written by Dave Pankew // Photos by Marketing Elements | 31 August 2007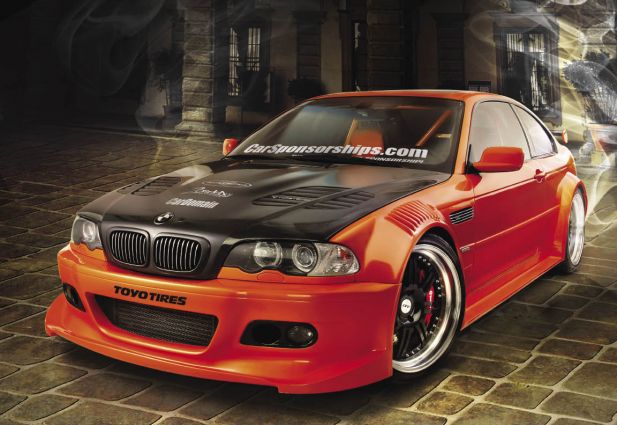 Ever see those motivational posters about life subjects like 'Procrastination' and 'Ambition' as simple picture with some proverb or quote to motivate people. Usually they hang on the wall of the office go-getter who is about as charismatic as the fax machine. Well they inspired a whole mess of spoofs out there that float into the inbox from time-to-time and some of them are unforgettable. There was one titled 'GIRLFRIEND' with a picture of a guy with his perfect-10 chick sitting beside him at a fashion show. You'd think his eyes would be all over her but instead they were fixed on the other spinners trotting up and down the runway. And the caption reads: "Next to every hot chick is a guy who is bored with what he would once kill for." Needless to say I pissed myself reading it because I have been there. And as fortunate as some people should be for the things that they have in life, it's just human nature to upgrade.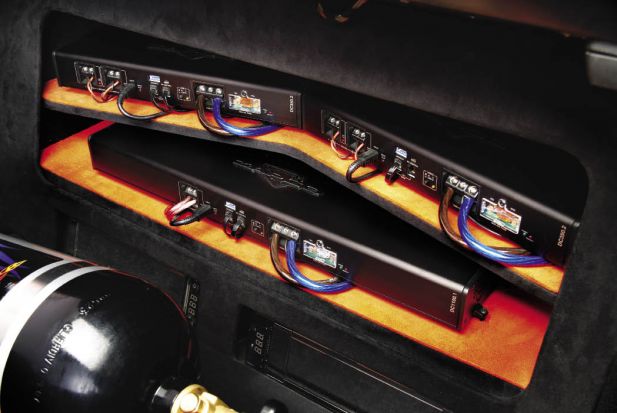 And that leads in to where Gary Collins of Brampton, ON is at today. I've known this cat for 10 years and almost all of it has been tweaking his cars, like this Bimmer which he bought new back in 2002. And although mild at first he really started winding it out as the years went on. A widebody, a supercharger, a cage, a complete color change and although the car was pretty banging by '06, he wasn't done. He had gotten hooked up with a popular Speed TV channel program called Tuner Transformation which began carving up his car to make a replica of the hero car in the infamous Need for Speed: Most Wanted video game. But after some successful shows and lots of props, Collins just wasn't in love with it anymore. Like a guy who had to jazz his wifey up in lingerie or a school girl outfit, he had to get drastic to stay involved with the relationship.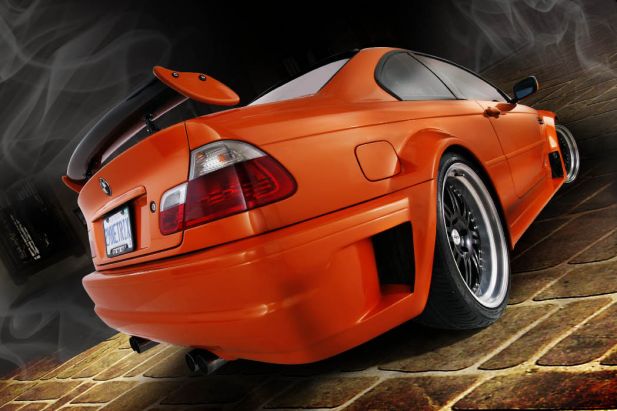 From there, the gloves came off and Collins wanted to make something hard-hitting that would get noticed by a magazine. He had been harassing me for years to get it into one of the magazines I have worked for but I always told him straight up that the car just wasn't there yet.
Collins began with a complete stripping of the widebody kit and adding loads of M3 gear to get as close to a full conversion as possible. The Flossman widebody M3 GT-R kit was refitted to accommodate the Corsa M3 stainless exhaust. All of the M3 molding was fitted to the body complete with the trademark side-vents for the proper look. The roof was fitted with an AC Schnitzer carbon fiber spoiler to match the AC Schnitzer M3 wing on the trunk lid. The hood is a Vorsteiner carbon fiber vented hood with some custom kidney grilles flanked by carbon fiber headlight inserts. The crew over at European Auto Body in Toronto, ON had finally prepped the car for paint. "I wanted a coating that would break from the crowd and that would be a really a challenge since the car was already aggressive," admits Collins. He selected the Lamborghini Arancio metallic orange, so Manual and Emilio De Luca over at European Auto Body were going to make quite a statement after three shots of paint and two coats of clear layered on top. The end result speaks for itself since the paint is beyond flawless. A few more accents like the clear corners, HID lighting and a color matched cage would ensure the attention Collins wanted for his Mistress.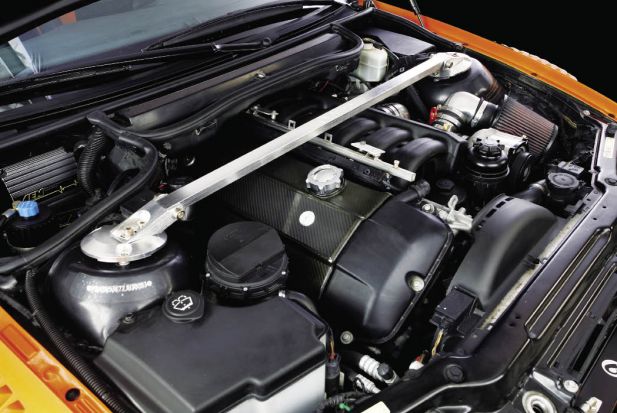 Collins' E46 had undergone a few revisions but it wasn't just unruly power he was after, but rather instant response and more importantly, reliable daily-driving. The car has been blown before but the tune had left lots to be desired. Originally they went charged since the sponsors were willing to comp it for the TV show but Collins wanted to build off the concept and make it work. An Active Autowerke (AA) Rotrex supercharger kit was added complete with AA diverter valve, intercooler, IC piping and downpipe. Cooling it all is a DEI Cryogenic intake system chillin' both air and fuel. A set of Bosch 550cc injectors were added to fuel the hungry inline-6 controlled through AEM piggyback to orchestrate it. Putting the extra power down quickly would be a task, so the factory Steptronic was pulled in favor of an M3 6-speed transmission. The driveshaft spins up an M3 LSD with 4.10 gears for low end and stupid amounts of grip. The old dyno sheet reflects a modest 300whp but the crew over at RMP Motors in Bolton, ON working with renowned tuners Neetronics in Toronto are expecting near 400 when all the dust settles.
It seems like only yesterday Gary and I were roasting the tires on this thing to get sub-7 second 0-60 times on my first generation G-Tech. But fast forward six years and Collins' car needed an upgrade for both baller factor and to keep the rear wheels hooked. He chose the DPE R08 VariantS wheels in black with polished lips measuring 20x8 in the front and 20x10-inches in the back. Wrapped in a set of Toyo T1Rs, he rolls on 245/35R20 and healthy 275mm rears. The stoppers are a set of Brembo GT 4-pistons with sizable 380mm 2-piece cross-drilled rotors running EBC Green Stuff pads and Goodridge lines. When Collins first got the car I remember the braking being very capable for the day but today it is on par with anything out there. And that theme carried over to the suspension where Collins went against the grain to look beyond German products and turned Japanese. A set of HKS HiperMax RS coilovers are found underneath the E46 giving all of the adjustability for dampening and ride height tweaks need for street and light track. Blend in a pair of UUC Sway Barbarians, UUC poly bushings and an Active Autowerke strut bar ad the result is one tight ride experience.
Once the stage was set, Collins was ready to tackle the interior and a complex audio install. And for an all in one solution, he turned to our boy 'Crazy' Frank Valenti from 20Hz Audio in Etobicoke, ON. Frankie has been in the scene for many years as one of the pioneers on the Canadian audio scene and his 20Hz Audio name is responsible for some of the hottest installs we've ever featured. With that, Crazy Frankie 'got crazy' and reupholstered the interior in Alacantara, leather and suede in a custom 2-tone scheme that works well. Some AEM serial gauges were added to monitor the vital signs as well as an AEM volt meter to keep tabs on the draw.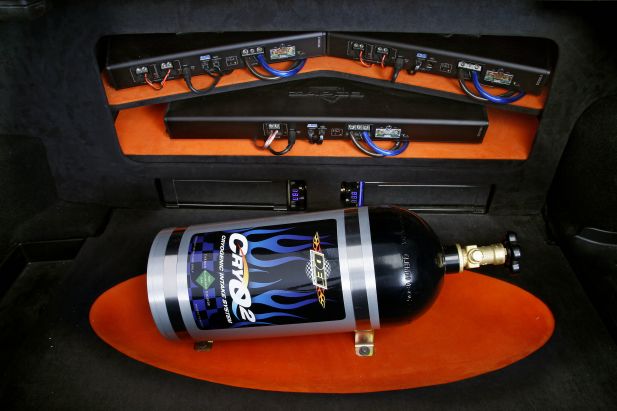 Signals are delivered via a Kenwood KT819DVD headunit to an arsenal of Zapco equipment. Signals are processed with the Zapco DRC-SL units feeding a Zapco DC 1100.1 sub and a pair of Zapco 350.2 amps for the balance of the frequencies. Driving the bass are a pair of Zapco CW12 woofers mounted in a custom enclosure with plenty of fiberglass, suede and leather. The mid-bass is filled with the Zapco RB 16.2s as are the components for the front of the cabin. Feeding the voltage is the legendary Optima Yellow Top spiral cell battery lighting up Phoenix Gold 4-gauge wiring and four block fuse holder. Protecting the investment is a DEI Viper 791VX alarm with battery backup in case someone tries pulling some dirty movements on this M3 clone.
It's been a long time in the making, but Collins has committed himself to his Mistress and his wife couldn't be more proud. Never thought a sentence like that would make sense but in this case, it does.
Read on for Full Spec Sheet
THE ESSENTIALS
Owner: Gary Collins
Location: Brampton, ON
Vehicle: 2002 BMW 330ci M-package
ENGINE MODIFICATIONS
Active Autowerke Rotrex Supercharger
Active Autowerke intake
Active Autowerke intercooler
Active Autowork downpipe
DEI CO2: intercooler, fuel rail, intake
Bosch 550cc injectors
Corsa M3 exhaust
M3 4.10 LSD
M3 6-speed SMG transmission
UUC underdrive pulleys
ENGINE MANAGEMENT
AEM FIC fuel and ignition controller
WHEELS, TIRES, BRAKES
DPE R08 Variant S
20x8-inch (front)
20x10-inch (rear)
Toyo T1R 235/35R20 (front)
Toyo T1R 265/35R20 (rear)
Brembo GT 4-piston 330mm
EBC Greenstuff pads
SUSPENSION
HKS Hipermax RX coilovers
UUC Sway Barbarian kit
Active Autowerke front strut bar
EXTERIOR
Flossman M3 GTR widebody
M3 front grille, side vents, molding
Vorsteiner carbon fiber vented hood
Vorsteiner carbon fiber B-pillar
AC Schnitzer carbon fiber roof spoiler
AC Schnitzer carbon fiber wing
Lamborghini Arancio paint by European Autobody
INTERIOR
Autopower 4-point color-matched cage
Sparco Milano II seats
M3 steering wheel
AEM Serial Gauges
Suede and Leather by 20Hz Audio
AUDIO / MULTIMEDIA
Kenwood KT819DVD
Zapco DRC-SL processors
Zapco DC 1100.1 sub amp
Zapco 350.2 x 2 mid amps
Zapco CW12 x 2
Zapco 16.2 components
Optima Yellow Top
Phoenix Gold 4-gauge wiring
Phoenix Gold distribution blocks
Viper 791VX alarm
Install by 20Hz of Etobicoke, ON
SHOUTOUTS
Manual & Emilio @ European Autobody
Frank @ 20Hz Audio
DP Engineering
RMP Motors
E46Toronto.ca
My Wife