Written by Dave Pankew // Photos by Ken Visser | 31 August 2007
Bet on the "Favorite to Show" and you'll win almost every time. That's advice I received from this recovering gambler who by all appearances wasn't the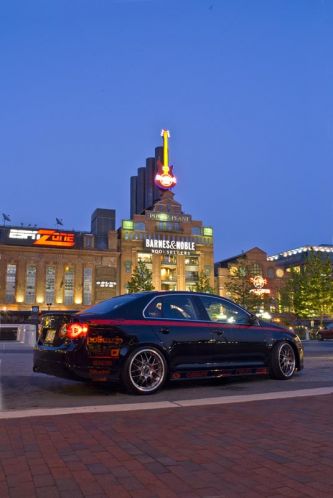 best cat to take advice from. He was weathered, beaten down and had a wardrobe that would be more suitable for someone outside a liquor store playing guitar for loose change. But what the F, I went to the racetrack I threw down some money on his theory anyway. The ponies were definitely favoring the theory because the favorites are there for a reason and most dreamers are putting their money in something with better odds. But 3:2 odds add up especially if you are putting some real bank on it. The only problem is, every once in a while there is a spoiler and that spoiler is the Dark Horse. The one with no track record, nondescript looks and a surprise burst of speed that makes it appear possessed. Everything you won on the night is blown on this horse.

And that is where this JRP Jetta chimes in as the Dark Horse no one expected to see. You might not expect to see it on the cover and encountering it on the street might not really warrant any kind of threat. But underestimate it or bet against it and you'd be a sore loser in no time. This particular 2.0T FSI powered car was meant to be a demo car from the second it was purchased. JRP represents REVO Technik in Canada and they needed a rolling showcase of their product line. After a simple retune and some bolt-ons, the project got out of control and they just couldn't stop changing up all kinds of gear. More than just a turbo upgrade, the project started at the core with Woessner H-beam connecting rods and forged 9.2:1 pistons. JRP's new shop did all of the machine work and the engine was bolted back up with fresh gaskets and ARP fasteners at their facility. The snail was upgraded from the factory hairdryer to a sizable REVO turbo kit based on the Garrett GT3076R unit with a .62 A/R. The AEM dry flow intake feeds the REVO intercooler piping and upgraded intercooler. Air is vented off with the TurboSmart dual-port blow-off valve and the oxides are regulated by TurboSmart's 38mm Sleeper wastegate. Exhaust gets channeled through a REVO stainless steel header and 3-inch exhaust with a Vibrant 3-inch race cat to keep it passing emissions testing year-over-year. Yet, with some high octane and the right tune, JRP estimates it will break 500whp, since on low boost setting it has almost made 400!

Keeping the front wheels in-check is already quite a challenge. But with the help of some wider BFGoodrich KDWs 235/35R19 all around wrapped over BBS RS-GT wheels, it works. The Quaife LSD is also transmitting plenty of power effectively to the front wheels after torque is transferred though the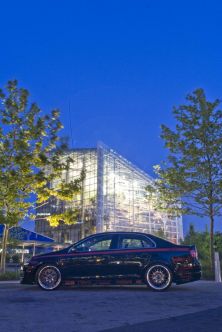 Clutch Masters Stage 4 clutch. Then bringing the ride to a stop needed some assistance as well. The front brakes are AP Racing 6-pistons by Autotech with 14.5-inch drilled rotors. The rears are EBC pads and slotted rotors to combine to create immense stopping power in this family sedan.
Getting the slammed ride height and high adjustability was pivotal in this project as well. This is a big FF car that needed help keeping it connected to the ground. JRP selected SPAX RSX715 coilovers for their huge 3-inch height range and 28-way damper adjustment. Next to address was all that sloppy body-roll in the grocery-wagen! Autotech to the rescue again with their 25mm hollow sway bars with urethane bushings to tie up the suspension and make it uber-stiff.

No matter what was under the hood, this Dark Horse needed some steroids to distinguish it as an understated competitor. JRP selected the 4-piece Deval MkV Jetta kit to complement every angle of the car. The kit consists of a front and rear bumper and some sideskirts capped off with a Deval carbon fiber spoiler. The hood has been replaced with a Deval carbon fiber unit and the grille is rebadged with 'REVO' up front. The paintwork was delegated to George over at Cedarbrae Volkswagen for a proper factory job. The lighting was amped up with Ignited HIDs and Hella: smoked markers, e-code lights and rear inners. The project was slapped with some vinyl done by the East Coast wizards at Speed Design.

With all of the performance goodies in line, JRP was not feeling the factory interior. And Polk Audio wasn't feeling the VW system onboard either, so they both went to work to change all that. The entire interior was stripped 'n' shipped all the way to Sparco in Irvine, CA to get some product and custom interior tweaks that would get noticed. A set of Sparco Modenas in red and black set the tone and Sparcos suede and Jacquard fabric is found throughout the vehicle. Sparco will custom match any fabric and reupholster any custom car interior for builder. The wheel is a Sparco Class, shift knob is Sparco's Lithium and the harnesses are Sparco 2-inch double releases. JRP custom built the gauge pod to house the Auto Meter wideband A/F and the EGT for the engine data.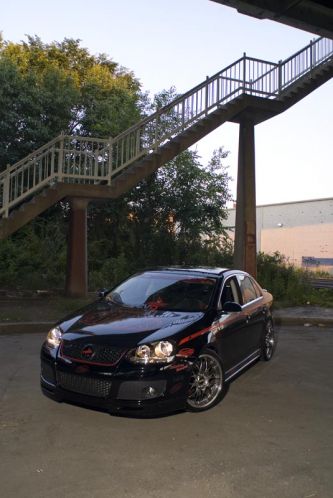 THE ESSENTIALS
Owner: Johnston Research & Performance
Location: Mississauga, ON
Vehicle: 2007 VW Jetta
Power: 525whp (est.)

ENGINE MODIFICATIONS
REVO Garrett GT3076R turbo kit
REVO stainless header
REVO intercooler
REVO IC piping
REVO 3-inch exhaust
Vibrant 3-inch SS cat
Woessner H-beam con-rods
Woessner forged 9.2:1 pistons
ARP fasteners
AEM dry flow intake
TurboSmart dual-port blow-off valve
TurboSmart 38mm Sleeper wastegate

DRIVETRAIN
Clutch Masters Stage 4 clutch
Quaife LSD

SUSPENSION
SPAX RSX715 coilovers
Autotech 25mm sway bars

WHEELS, TIRES, BRAKES
BBS RS-GT 18x8.5-inch
BFGoodrich KDW 235/35R19
f: Autotech 6-piston / 14.5-inch
r: EBC pads with slotted rotors

EXTERIOR
Deval MkV Jetta aerokit
Deval carbon fiber spoiler
Deval carbon fiber unit
REVO grille
Cedarbrae Volkswagen paintwork
Ignited HID kit
Hella smoked markers
Speed Design vinyl

INTERIOR
Sparco Modena race seats
Sparco interior fabric
Sparco Class steering wheel
Sparco Lithium shift knob
Sparco double-release harnesses.
JRP custom gauge pod
Auto Meter: (wideband A/F, EGT)
Polk floor mats by Matworks

AUDIO / MULTIMEDIA
System installation by Polk Audio
Polk Audio PA600.1 amp
Polk Audio PA200.4 amp
Polk Audio MM1240DVC subs x2
Polk Audio MM6501 6.5-inch fronts x3
Polk Audio MM521 5.25 coaxials x2
Directed Auto Essentials wiring
Panasonic CQ-VD6505U headunit