Written by Dave Pankew | 15 October 2010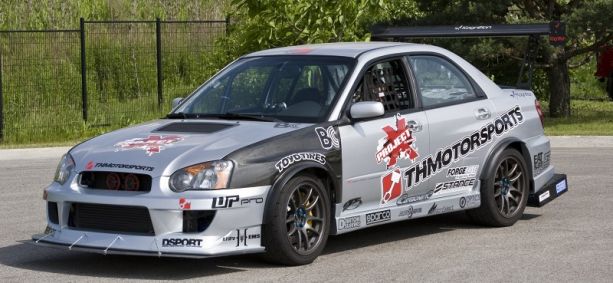 Written by Dave Pankew | Photos By: www.thmotorsports.com
Back in the day, getting a hold of performance parts for your tuner car was not easy. Sure there were domestic speed shops that may or may not have catered to the new market but the distribution channels for aftermarket parts in the tuner world just didn't exist. As the popularity of tuner cars continued to gain momentum with magazines and video games feeding the frenzy all kinds of companies popped up. But in the case of THMotorsports they wanted to have a different take on selling performance parts to the masses.
Their mission is simple, carry a huge product line and offer the lowest price guaranteed on any of their products. And since 2003, they have been doing just that with over 25,000 satisfied customers. At the same time, THMotorsports is not just some online parts pusher, they have a brick and mortar store as well as a Time Attack car to go out and prove themselves on the track.
Owner Andrei Tsaran decided to take this 2004 Subaru STi and completely reinvent how it got around the race track - fast. Tsaran decided that the STi had great aftermarket support and would achieve the goals he wanted on the track. He had owned an Integra, an S2000 and an FC3s RX-7 before but this was his first experiment with turbo AWD.
The magic happens under the lid where the motor has been stroked using a 2.7L Brian Crower stroker built by TH Motorsports. The heads were filled with Brian Crower Stage 3 cams and Cometic headgaskets were squished with ARP studs. An HTA GT3582R turbo was bolted up to a Perrin ELH header dumping into an HKS Hi Power exhaust. Adding fuel to the fire are Precision 1600cc injectors pushed by a pair of Walbro 255lph pumps.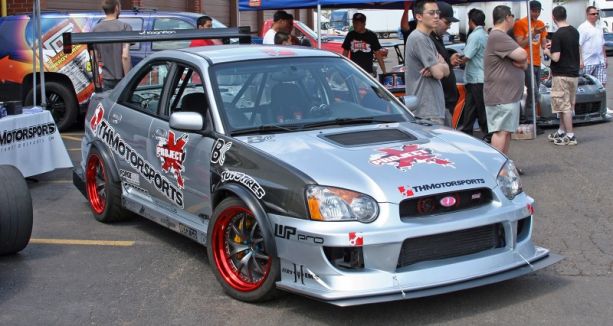 The car was hauled to P&L Motorsports in Chicago to extract some serious horsepower. On the rollers the stroked EJ25 put down 452whp with 394lb-ft of twist running the Hydra EMS. After the new jam was made, that meant that the OEM driveline needed to be replaced. A Carbonetic triple plate clutch was added along with a Carbonetic 1.5-way LSD.
The suspension and braking also received some upgrades. A set of Stance GR+ 3-way coilovers were added for a high degree of adjustability and Cusco sways to eradicate roll. Whiteline anti-lift kit and front ball joints were added for a positive connection to the road. The chassis was cinched up with a Carbing subframe connector and aluminum strut bars front and rear. The final connection ,to the road came in the form of Toyo R888 R-Compounds wrapped around Forgeline EV3R 18x10-inch wheels.
At these speeds, aerodynamics were a factor and the Version Select bodykit was up to the task. In addition to wider fenders, a Project X splitter was added along with a Kognition carbon fiber rear wing. The new bodywork could accommodate the large rubber and kept the Subie stuck to the road.
While TH Motorsports continues to make waves on the Time Attack circuit, they continue to push product through their store. If you are on the hunt for a hard to find item and are looking for the lowest price, www.thmotorsports.com is a good place to start.
THE ESSENTIALS
Owner: Andrei Tsaran
Location: Glenview, IL
Vehicle: 2004 Subaru STi
Power: 452whp
ENGINE MODIFICATIONS
Brian Crower 2.7L Stroker Kit by THM
Brian Crower Stage 3 Cams
Cometic Headgaskets
ARP Head Studs
HTA GT3582R turbo
Perrin ELH header
HKS Hi Power exhaust
Precision 1600cc injectors
Walbro 255lph pumps x2
ENGINE MANAGEMENT
Hydra EMS
DRIVELINE
Carbonetic Triple Plate Clutch
Carbonetic Carbon LSD
WHEELS, TIRES, BRAKES
Forgeline EV3R 18x10-inch
Toyo R888 275/35R18
Gyrodisc 2-piece
SUSPENSION
Stance GR+ Coilovers
Cusco Sway Bars
Whiteline Anti-Life Kit
Carbing Aluminum Strut Brace
EXTERIOR
Version Select Bodykit
Project X Splitter
Kognition Carbon
INTERIOR
BuddyClub Racing Seats
Racequip Harnesses
Personal Grinta 330mm Steering Wheel
SHOUTOUTS
THMotorsports, Project X, Stance, Carbonetic, Version Select, Hydra EMS, Forgeline, Grimmspeed, Brian Crower, Kognition, Darton, AutoWerks, Eat Sleep Race