Written by Dave Pankew | Photos by Jacob Leveton | 31 August 2007
Truth be told, us PAS Editors have a lot on the go. There are a full year of issues, about a dozen event programs, regular website updates, marketing copy and all kinds of interaction with our clients. Then there are often times we need to pitch in with our other publications PRN Mag and MX Performance when the chips are down. As well there are the multitude of events and press junkets we have to attend (not that it is bad) which keeps us out of town. The communication with various industry people and car owners alone is a full time job and I haven't even touched on how we need to babysit and remind certain cats to make good on their promises. It is a dream job but no one ever said it was easy, especially during these times of minimal staff and budget constraints.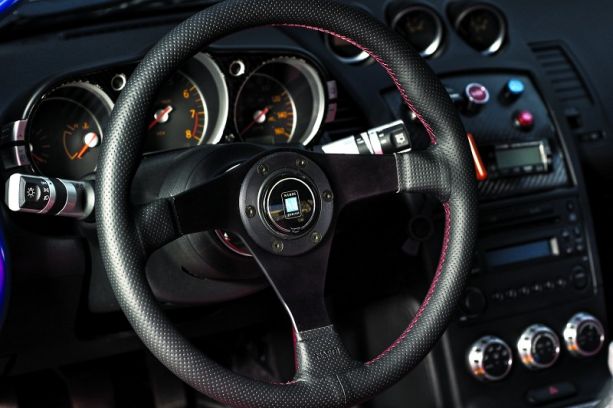 So, things tend to slip though the cracks. It affects us and we also fall victim ourselves. And this particular Z is one of those crack-slippers. Pereira and I couldn't stop grippin' it at SEMA last year but then we had a bitch of a time orchestrating a shoot and a photographer along with getting the owner to agree to run it in PAS Mag. Looking back I'm not sure how another mag didn't scoop-scoop it since this particular feature was plagued with problems pulling it together. Finally it got shot, then we contacted Ben Abutin of High End Performance who built the Z for details. Abutin was busy, then were, then we forgot, then he forgot, then he lost the spec sheet, then we lost it. Why we're admitting this, I don't know but it happens and unfortunately to a sick build this time.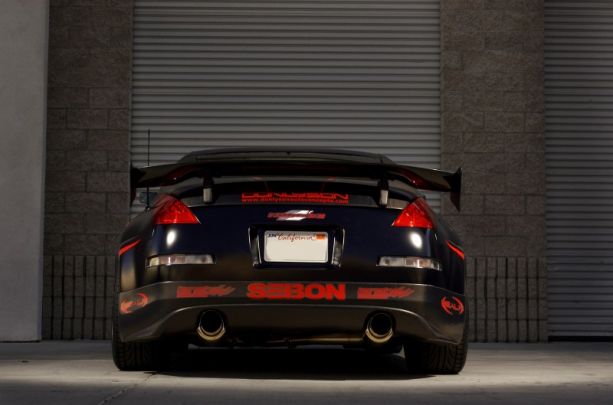 So here we are. It's now SEMA 2008, a full year after this car popped up in the Seibon booth. Where did the time go – Hell, where did my near decade in the industry go while we're on the subject. Regardless, this project owned by Mark Lucena of Oxnard, CA made an impression and that is due in large part to Seibon's involvement. As one of the leaders in the carbon fiber parts and accessories marketplace, Seibon was onboard with Lucena to build something that would stop SEMA attendees mid-stride.
More about the exterior and performance beyond only straight-line, this project deploys everything in Seibon's catalogue and some parts not even available. The Z33 has been fitted with a Seibon carbon fiber lip kit consisting of four pieces. A Seibon GT style vented hood reduces weight and allows for better cooling. Carbon fiber doors skins are a huge weight savings over stock and are fitted with Autotechnic carbon fiber mirrors. The B-pillars have carbon overlays and the A-pillar overlay flows back into the C-pillar seamlessly. The front fenders have been removed in favor of Seibon carbon fiber vented fenders for improved airflow. A Power Enterprise rear carbon wing was also added to the Seibon carbon fiber hatch to cap it all off. S&A Design of Camarillo, CA shot the car in BASF flat black to mesh with all of the carbon, then they removed all of the clear off the carbon pieces and shot it with matte clear.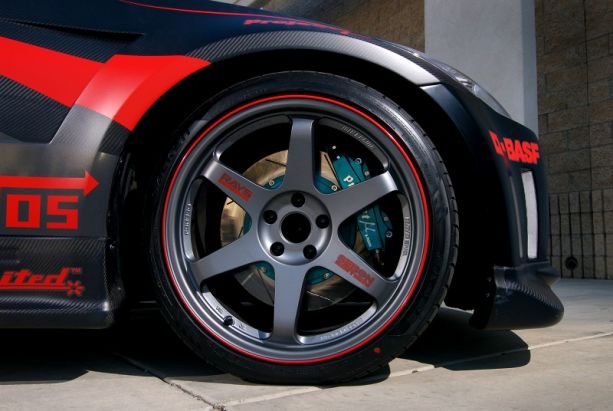 The rollers set of the car perfectly. Anything other than a dark sinister look would seem awkward and Lucena chose something that was not only functional but hella hardcore. He opted for the Volk Racing TE37s in a special gunmetal hue dubbed the Seibon Edition with a red lip and lettering. The fronts are 19x9.5-inch and the rear are 19x10.5-inch to accommodate fatter rubber. Supplied by Falken, the FK452s are sized in 245/35R19 and 275/35R19 on the drive wheels. Poking between the sexy hollow spokes of these forged legends are some trademark teal blue stoppers. Up front are 6-piston / 355s and in the rear are capable 4-piston / 330mm to equate to some serious braking force from Project Mu.
Under each corner are a set of highly-adjustable coilovers. The Tanabe Seven coilovers with TEAS in-car dampening adjustment were installed for some on-the-fly moves from inside the cabin. To eliminate roll, a set of Tanabe sway bars and urethane bushings were installed both front and rear. An aluminum front strut bar from Cusco and a Tanabe under chassis brace were added to tighten up the front end for improved handling. Cusco rear upper arms allow for high camber adjustability and TC Sportline front tie rods and rear toe rods help aid in cornering stability of the lightened Z.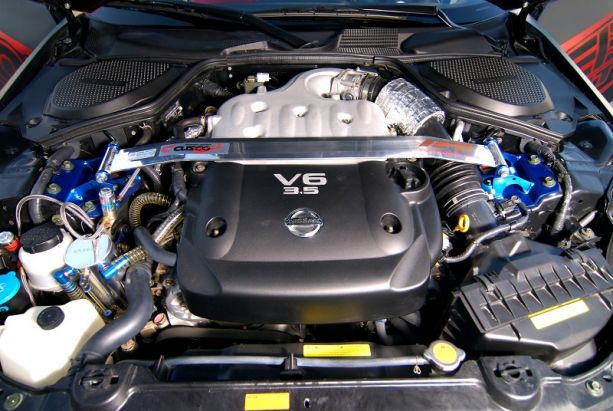 Under the hood, this project didn't have the opportunity to really get overhauled pre-SEMA. It was more a High End Performance motivated study in carbon and every other g-force generating part they could bolt-on. Aerodyne Performance of Garden Grove, CA was contacted to add a couple of go-fast tweaks to the project. A heavy shot of NOS wet nitrous oxide was added to the VQ and as most people know these engines respond well to the spray. A Tanabe ConceptG twin canister exhaust was added for a few extra ponies. Some odds and ends like a carbon fiber engine cover, heat wrap and a Cusco catch can were also installed.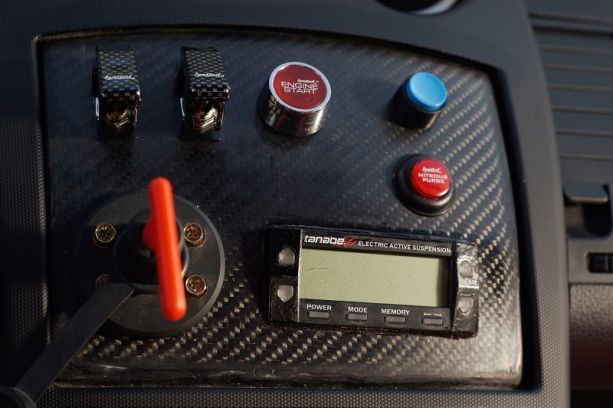 Inside the cabin, the Z made a few moves to deviate from stock. The leather La-Z-Boys were pulled to install some Bride Euro II racing buckets which now run Takata green 4-point harnesses. The OE flip storage unit has been retro-fitted with a carbon fiber panel that houses the Ignited switches, engine start and TEAS module. A Nardi Type-B steering wheel has also been installed along with Nardi shift knob and boot. No audio or multimedia to speak of but it never really was about that from the start.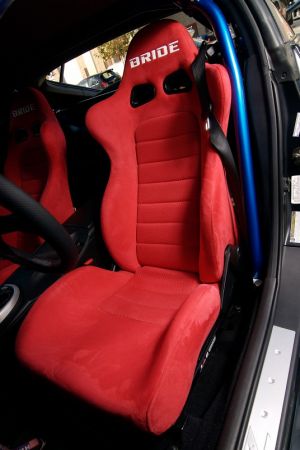 High End Performance, Seibon and Lucena pulled together and built one of those SEMA stunners that will be remembered. Sure it could use a boost in power but we know the High End crew has done more than their share of turbo Zees. We look forward to what Seibon has to display at SEMA 2008 and based on what we saw last year will be difficult to top.

THE ESSENTIALS
Owner: Mark Lucena
Location: Oxnard, CA
Vehicle: 2006 Nissan 350Z

ENGINE
Nissan 3.5L VQ35DE V6
ENGINE & PERFORMANCE
NOS wet 100-shot direct port
Tanabe Concept G dual exhaust
Cusco catch can
Seibon CF engine cover
WHEELS, TIRES, BRAKES
Volk Racing TE37 Seibon Edition
(f) 19x9.5-inch
(r) 19x10.5-inch
Falken FK452 tires
(f) 245/35R19
(r) 275/35R19
Project Mu
6-piston / 355mm
4-piston / 330mm
SUSPENSION
Tanabe Seven coilovers
Tanabe TEAS controller
Tanabe sway bars
Tanabe under-chassis brace
Cusco strut bars
Cusco rear upper control arms
TC Sportline tie rods
TC Sportline rear toe rods
EXTERIOR
Seibon carbon fiber lip kit
Seibon carbon fiber fenders
Seibon carbon fiber vented hood
Seibon carbon fiber hatch
Seibon carbon fiber A,B,C-pillars
Seibon carbon fiber door skins
Autotechnic carbon fiber mirrors
Power Enterprise carbon fiber wing
BASF matte black paint
BASF matte clear
INTERIOR
Bride Euro II seats
Takata 4-point harnesses
Nardi Type-B steering wheel
Nardi shift knob and boot
Ignited switches
Ignited start button
SHOUTOUTS
Ben Abutin @ High End Performance
Dave Pankew @ PAS Mag
Eddie @ Mackin
NOS Systems
Shaun @ Ignited
Aerodyne Performance
SUN
Takata
Falken
Seibon
Tanabe
Cusco