Written by and Photos by JP Kongas and PAS Staff | 25 January 2010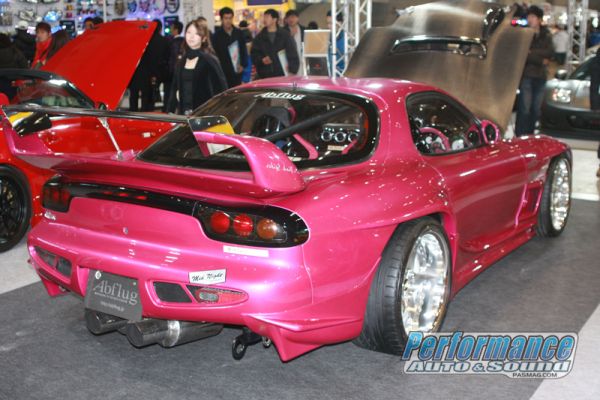 Every year we put our daily lives on hold and hop on a plane for Tokyo Auto Salon (TAS). After 13 hours living it up in First Class, we arrive in Japan the following day after crossing the International Date Line. The first order of business when you step off the plane is to grab a DoCoMo cell phone in the airport, which will cost around $60 for the week. Then it's time to hop on the train and head out to the hotel that booked us in a cramped 10'x10' room. Since the twin beds were almost touching, our tour guide Mike Sullivan from Mishimoto felt it was a little too intimate and we upgraded pronto!
The night before the main event, we all went out to party in Roppongi to blow off some steam. We met up with import model Nicolette Lacson at the club and came home after one too many Saki and Asahis. But when we hit the pillow, we couldn't sleep because for import car guys, waking up for Tokyo Auto Salon is like Christmas morning. In our current tougher economy, we were all expecting a lean year at the famous event, with fewer elaborate displays than we've grown accustom too. But when we arrived at TAS 2010, we couldn't be more wrong because everything was bigger and better than last year. There were 20-percent more vendors, more attendees and a historical record of 624 juicy JDM show cars! Sure, the content has changed a bit over the years to accommodate more mini-vans, apparel and different accessories, but more of the most hardcore builds are found here than any place else in the world. So without further delay, let's get down to business.
FREE Trial Issue
It goes without saying that you can predict many of the top builds for Tokyo Auto Salon. Back in the day, VeilSide used to take the title for the most outrageous builds, but these days it is shared amongst players like: HKS, RE Amemiya and aftermarket retail giant Super AutoBACs. Toyota was not to be outdone by the aftermarket this year and dropped the highly anticipated G Sports conversion for the new FT-86, a compact FR platform. The stunning new school 'hachi' rocks loads of carbon fibre accents, a massive CF wing and larger exhausts. The car will be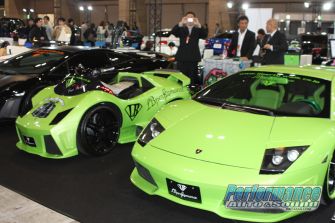 in production soon, but because it will only have modest 200 NA horsepower coming from its Subaru-built boxer engine, we did see an intercooler lurking behind the front bumper of this custom machine indicating some upgraded power. These dealer upgrades are currently for the JDM market only, but we'll find a way to boost it soon!
Toyota also threw in a game-changer, with a fully race-prepped Lexus LF-A. Built by Gazoo Racing, the LF-A is entering the 24-hours of Nurburgring endurance race. It was great to see outrageous fuel-burning projects still alive and kicking, but it is inevitable that global environmental concerns will mean more tuned "ECO" cars (the Prius was out in force too, by the way). There were many "Kei" cars on display (660cc or less) and hybrids galore in various states of tune all over the show floor. Not exactly what most enthusiasts want to see, but let's remember that Japanese gas prices are quite lofty and micro cars just make sense in that market.
If Tokyo Auto Salon has a dominant manufacturer, it would have to be Nissan. Their exciting 1990s platforms seem to never falter, even though they are now more than a decade old. Some of the most popular builds are still the Silvias and Skylines of that era. The new GT-R and now the 370Z have certainly regained the faith of these Nissan diehards and the R35 GT-R remains a crowd pleaser two years after it debuted. This year, the hyped-up show car was the 'Silver Wolf' a TommyKaira Edition GT-R with upgraded wheels, tires, brakes, exhaust, suspension and the aero of a carbon widebody kit to improve upon perfection.
Plus, Tokyo Auto Salon just wouldn't be complete without some crazy RX-7s from legendary tuner RE Amemiya! Even though the last RX-7 rolled of the assembly line in 2002, Amemiya-san continues to raise the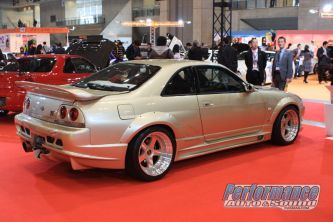 bar on these rotary power beasts. For 2010, he dropped the Wangan Racing special, a study of aero dynamics and power for top speed inside the legendary Yokohama tunnel. Rumored to reach speeds of 350km/h, the Wangan Racer borrowed headlights from an Elise and tails from an R34, but the balance was all form created inside Amemiya-san's head. Around the show, many RX-7s remained popular with tuning legends like the Supra and NSX almost nowhere to be found.
After the show, it was time to head out onto the streets of Tokyo to catch some street racing, street drifting and hang out with the car guys at the Daikoku Futo. This place would be the equivalent of Crystal Cove Cars and Coffee show for JDM tuners. Only the best machines show up, show off and occasionally take it to the highways for some street racing. This year it was an 800 whp Top Secret R34 (which used to be gold back in the day) versus a Mercedes McLaren SLR 722, then a Ferrari F430! As predicted, the R34 brought the Merc and the Italian Stallion to their knees within seconds, as it disappeared into the distance.
Want to Read More?
Click Below for Full Digital Issue!
We have to give much thanks to our hosts, Mishimoto who provided us with a unique tour of Japan. Mike "Mishimoto" Sullivan has done the TAS trip many times and he gave us special insights of each and every manufacturer at the show. At the end of the journey, we couldn't help but wonder about how many more times we'll be coming to Japan as the TAS continues to move in the direction of the minivan and ECO-mobile.
{yoogallery src=[/images/phocagallery/1201-TAS2010] title=[Tokyo Auto Salon 2010] width=[150]}