01 October 2012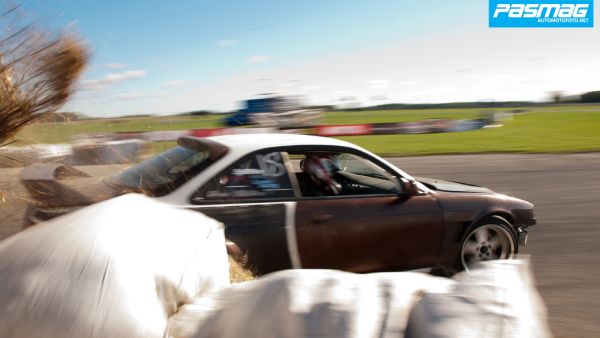 Fifty events. One decade. No matter how you choose to look at it, Canadian Sport Compact Series (CSCS) has been around for a long time. Every year has brought new surprises, new sponsors, new competitors and even more new fans. More importantly, the old competitors, the veterans, the die-hards; they're still there and pushing harder than ever. CSCS has become one of those rare events where new meets old and they actually benefit from each other. This unspoken understanding at the heart of automotive competition is the shared desire to go faster, louder, lower, or more sideways -wherever your passion lies –this is what brings enthusiasts together and it has never been so clear as it was at the CSCS Season Finale sponsored by JRP.
Drifting is a young sport, especially in Canada, so it's no surprise that all of the drifters at CSCS are young guys – and girls, who do it because they genuinely love the sport; you know the kind of love that keeps you up all night prepping the car to make 8:00 AM tech inspection, yah, that love. Young blood Marin Guilbault's 240sx held up through a day of abuse to defeat Francisco Becerra winning the CSCS Season Finale. Marin's win earned top points to make him the official CSCS 2012 Drift Champion.
Over at the drag strip the tire-smoke was so intense it hid a few of the competitor's cars in the wake of their own burnouts. Drag Racing is an old sport filled with new sport compact cars, dominated by experience. Like the experience of Clint McAdams who took home 1st in Pure Street and Bracket class. JRP Street Warz saw Marcel Brasseau beat out Ian Biggus and in Super Street Mike Palijan drove past Adrien Rachpaul for first place.
Fans new to the scene are always attracted to the CSCS Show & Shine where competitors display their custom works of art– like John Wooley's one-of-a-kind hand-built beast powered by a 302 v8 which won the prestigious Judges Favourite award. Rob Cachia's Infinity G35 got it done to take home Best of Show and the bragging rights for Largest Club was awarded to Toronto Tuner Syndicate.
CSCS Time Attack has seen tremendous growth over the last five years, and this year has been the most exciting with the introduction of the MyLaps timing system and competitors all taking their cars and driving abilities to the next level. This event alone saw six new class records including all the unlimited classes with James Houghton's Integra running a 1.16.52 in UFWD and Riaan Van Vuuren's Corvette managed an impressive 1.17.61 in SSRWD. SSFWD's previous record holder Chris Boersma beat his own time with a 1.19.80. All of the day's anticipation led to Sasha Anis's Speedstar 350Z trying to defend his track record against Kimi Qin's prepped R35. In the end Sasha managed a 1:13.50 to beat out James Kutschke's JRP Rx-7 for 1st in URWD and setting a new RWD record but it was not enough as the R35 GTR turned a lap of 1:13.18 to set a new Track Record! Drivers and performance shops take note – 2013 is a new year, and the bar is set even higher.
CSCS would like to thank all of their sponsors, volunteers, competitors and fans who make the event possible. Stay tuned for more highlights at www.CSCS.ca or facebook.com/CSCSRacing and be sure to 'Prove it at the Track' in 2013!