25 July 2012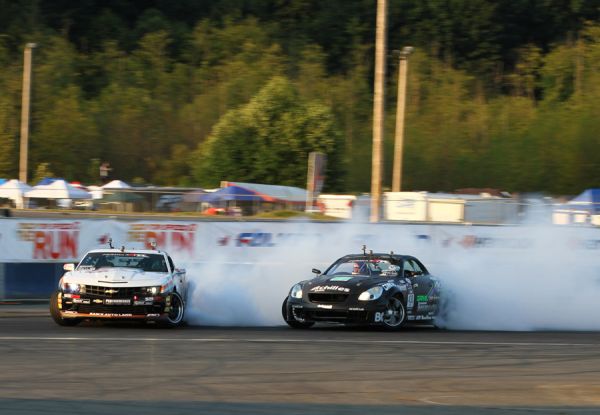 Formula Drift's fifth stop on the circuit threw down in Monroe, WA just outside of Seattle to a sold-out crowd of 10,000 fans. Friday's qualifying session narrowed down the field to 32 drivers, with several fan favorites not making the cut including Tyler McQuarrie in the Mobil 1 GoPro Camaro and Kyle Mohan in the Nexen Tire Mazdatrix RX8. Topping all qualifiers was Vaughn Gittin Jr with a score of 91, followed closely by Justin Pawlak, Toshiki Yoshioka, Pat Mordaunt, and Chris Forsberg. Amazingly, 20 drivers earned a score in the 80's, showing that the field is as competitive as ever.
When tandem battles started on Saturday morning, several of the top drivers were eliminated early. Points leader Justin Pawlak's Falken Tire Ford Mustang was eliminated by privateer Jeremy Lowe when Pawlak dropped two tires off line, while Chris Forsberg who entered the weekend fifth place in the standings was eliminated in a tight battle with Rhys Millen. Fourth qualifier Pat Mordaunt also made an error against Jhonnathan Castro which resulted in an early exit for the Apex'i Lexus SC430. After opening ceremonies kicked off the top 16 festivities, Vaughn Gittin Jr and Matt Powers stamped their tickets to the top 18 with eliminations of Mike Essa and hometown hero Walker Wilkerson respectively. Matt Field defeated Castro to earn his first career top 8, while Millen took out his former teammate Dai Yoshihara in a rematch from NJ. Lowe's Cinderella run would end against Ryan Tuerck, Ryan "Kid" Kado earned the win against Freddy Aasbo due to Aasbo going off course and Ken Gushi defeated Yoshioka's RS*R S15.
In what is turning out to be one of the biggest rivalries of the season, Conrad Grunewald met Daigo Saito for the third consecutive event in the final matchup of the top 16. Conrad had previously lost to Daigo at the West Palm Beach event as well as the Wall NJ event, both matchups going one-more-time. This time, Conrad was able to defeat Saito in the initial battle as Saito lost drift and came to a stop just before the final clipping point.
Moving into the final 4, Gittin took out Powers, Millen ended Field's day, Tuerck defeated Kado, and Gushi was able to take out Grunewald. The final battle would be a Drift Alliance face-off between Vaughn Gittin JR and Ryan Tuerck, while Hankook Tire teammates Rhys Millen and Ken Gushi would face off in the consolation round. Millen defeated Gushi's Greddy-powered Scion FR-S for the final podium position, while Gittin earned his second consecutive win with a defeat of Tuerck in the final. Gittin now takes over the points lead in the championship, jumping ahead of his Falken Tire Ford Mustang teammate Justin Pawlak.
Formula D shifts to Vegas for the sixth round of the series, and the championship points race gets even tighter. The top 8 drivers all have a realistic chance to win the title, which should make for some exciting battles at the final two events!
1 Vaughn Gittin Jr Monster Energy / Falken Ford Mustang
2 Ryan Tuerck Retaks Nissan 240SX
3 Rhys Millen RMR Hyundai Genesis Coupe
2012 points standings after 5 of 7 events
1 Vaughn Gittin Jr Monster Energy / Falken Ford Mustang 391 Points
2 Daigo Saito Achilles Tire Lexus SC430 383.5 Points
3 Justin Pawlak Falken Tire Ford Mustang 376 Points
4 Dai Yoshihara America's Tire / Falken Tire Nissan S13 347 Points
5 Ryan Tuerck Retaks Nissan 240SX 328.5 Points
6 Rhys Millen RMR Hyundai Genesis Coupe 318.25 Points
7 Fredric Aasbo Need for Speed / Papadakis Racing Scion TC 295.5 Points
8 Chris Forsberg NOS Energy Drink / Hankook Nissan 370Z 293 Points
9 Matt Powers Need for Speed / Nitto Nissan S14 275.5 Points
10 Aurimas "Odi" Bakchis M7 Japan / Feal Suspension Nissan 240SX 267.75 Points
11 Ken Gushi Greddy / Hankook Scion FR-S 266.5 Points
12 Conrad Grunewald Hankook Chevy Camaro 238.5 Points
13 Mike Essa GSR Autosport / Nitto BMW ZR4 232 Points
14 Kenny Moen Lutz Performance Nissan 350Z 231 Points
15 Ryan Kado Forged Racing / Nexen Tire Nissan 250Z 226 Points
16 Toshiki Yoshioka RS*R Nissan S15 224.75 Points
Tires.com Triple Crown standings after 2 of 3 events
1 Vaughn Gittin Jr Monster Energy / Falken Ford Mustang 176 Points
2 Fredric Aasbo Need for Speed / Papadakis Racing Scion TC 153 Points
3 Ryan Tuerck Retaks Nissan 240SX 143.5 Points