Written by Eric Belec | 27 July 2011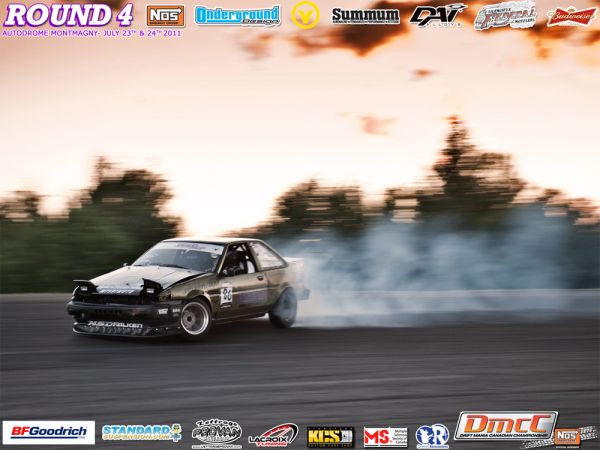 DMCC rolled back into the Autodrome Montmagny over the weekend for RD4. The series has been coming to this track for a number of years and its always a sold out event. For this round DMCC decided to spice things up and run a new track layout to give the drivers and fans something new.
Rd4 was a night event and practice was scheduled to start at 3pm. It was a super nice day until 10 minutes before practice was about to start and huge dark clouds rolled in and unleashed some of the hardest wind and rain Ive ever been in. The storm happened so fast that most people did not have time to take cover and were forced to take shelter in what ever tent was closest to them. While getting completely soaked drivers and anybody around were helping hold down the tents from flying away. And almost as quickly as the storm came it was over and the sun started to come out.
Besides having a new track we also had two new drivers for the event. Peter Chrisikopoulos that did a few events last year was back and XDC driver Tanner Munson came out too in his V8 S13.
With the track dry practice was under way. It did not take long for the drivers to get used to the new fast track layout. Practice went off with out a hitch, no major accidents which is always good. It was good to see Babu finally run a event with out any issues in his LS powered G35 on the other hand two drivers that are not having any luck this season, Marc Landreville's S14 sporting its new Lacroix/APS Tuning livery once again was having engine issues. Marc Andre Fontaine blew two sets of axles during practice and put him out for the weekend.
Qualification started as the sun was going down. Almost every driver was putting down some great runs. Miro was on fire and took the top qualification spot. With the sun completely set and the grand stands packed it was time for the Top 16. JF Chiasson stacked against Eric Paradis. On his chase run JF went a little wide and made hit the wall. This resulted in a one more time and even tho JF's team were able to get the car back out Eric took the win. Am other exciting battle was Carl Nadeau in his V8 M3 versus Jo Thiffault in his SR powered Corolla. The tandem was very close that a One more Time was called and on the second run Jo spun and Carl made contact. The damage was not too bad but enough for Jo to forfeit. It was not the only contact between cars in the event. Jeff Laflamme and Brad Carton have both been on fire all season. On his lead run Jeff came in a bit too hot and started to rotate, Brad tried to avoid him but there was no where to go and Brad made contact but there was not any major damage to either car. Brad moved on to the top 4.
Top 4 came down to Dave Brigss, Miro, Brad Carton and DMCC newcomer Tanner Munson. Every battle had the crowd cheering! For 3rd place it was Tanner up against Brad. It was super exciting to watch and it resulted in a OMT but Brads car did not like that idea and decided to stop running properly giving Tanner the 3rd spot on the podium. For first place it was a rematch between Dave and Miro..Again the battle was so close but Miro put the pressure on and took the win!
DMCC rd4 was an amazing event. The new track layout was a great change and super fun to watch.
The next round of DMCC is in Toronto. For more info check out www.dmccdrift.com