Written by XDC Photos By: Paul Fregeolle | 12 August 2010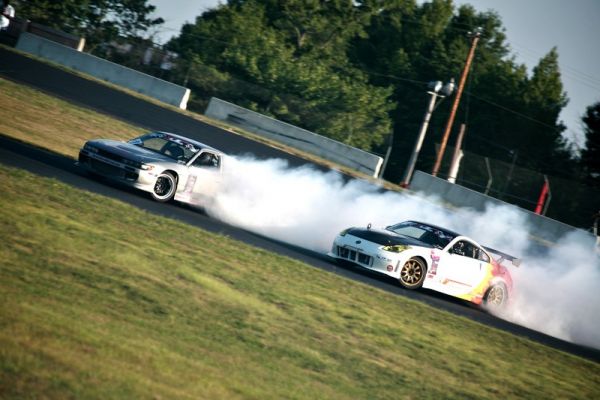 In front of a packed house at Raceway Park in Englishtown, New Jersey, Matt Waldin defeated Nate Brasz to become the fourth different winner in the 2010 Xtreme Drift Circuit season.

Traveling from Westchester, Pennsylvania, the former DMCC champion went home with a check for $3000 as the event winner, while Brasz took $2000. In the consolation round, Justin Tuerck, brother of Formula Drift driver Ryan Tuerck, defeated top qualifer Nate Hamilton to take the third spot on the podium. Tuerck was awarded a check for $1000 while Hamilton took home $500 and Evan Tureck won the Retaks Insane Entry Award.

After taking the second qualifying position, Waldin defeated Zachary Caitlin, XDC points leader Chelsea DeNofa, and Tuerck to face Brasz in the final. Brasz, after qualifying fifth, went through XDC Hyperfest winner Doug Van Den Brink and Canada's Pat Cyr before defeating Hamilton to face Waldin in the final.

The event at Raceway Park in Englishtown was the second stop of the XDC's east coast swing, and featured its' second east coast winner in Waldin. The only major drifting event at Raceway Park this season, XDC Englishtown filled the stands and the pits to capacity with thousands of spectators, hundreds of diverse cars in the REMIX Award Tour, and over 30 drivers attempting to make the Saturday top-16. In the end, the event was considered one of the best – if not the best – of the 2010 season and received positive reviews from spectators, entrants, and series sponsors.

DeNofa retains his points lead with 265 on the season, while Brasz moves into second at 206. Quoc Ly, who did not qualify for XDC West Virginia and did not attend XDC Englishtown, slips to third at 187. Right behind, however, is James Evans in fourth with 175 points and Dave Briggs in fifth with 167 points. With the top three in the season automatically earning Formula Drift Pro Championship licenses for 2011, it looks to be a fight to the finish to earn the championship prizes.

The next event of the XDC season will be September 25 at Texas Motor Speedway in Fort Worth, Texas.