Written by Chris Pereira Photos by Luis Cerda | 15 July 2010
2010 CSCS Battle of the Provinces
Napierville Dragway
Napierville, QC
July 10, 2010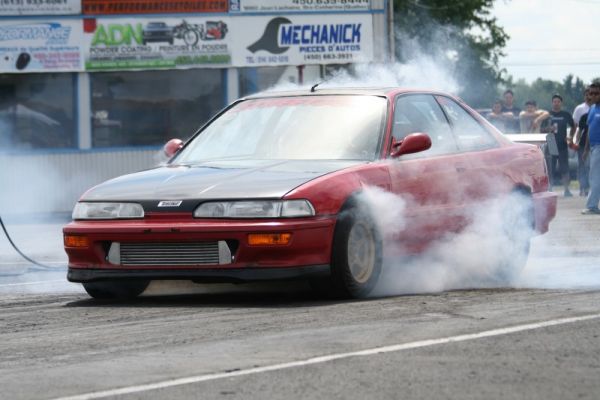 CSCS Battle of the Provinces presented by Bully Performance Clutch brought out the fastest field of sport compact drag cars this year. The majority of the Pro field consistently ran 8 second passes but at the end of the day, Paul Bhawan in his record holding Honda Civic (Splitfire Performance) proved he is still the one to beat, taking home 1st place in Pro Compact. Top honours in the JRP Street Warz class was won by Garen Aktorosyan while Adrian Rachpaul won the Super Street Power Adder Class. Marcel Brosseau has quickly made a name for himself as he took home 1st Place in the Bracket class for the second consecutive event.
Similar to the Drag Racing, Toronto competitors dominated the Show & Shine field. Sergio Sousa's one of a kind PT Cruiser took home top honours with "Best of Show" putting him in the lead for the "2010 Car of the Year" Championship. Team Norfolk Tuners made the drive from Ontario for the second year in a row & this time took home the "Largest Club" award. CSCS returns to its home track Toronto Motorsports Park, Cayuga on Sunday, August 22 for Canada's Biggest Sport Compact Racing Event of the year.

For more info visit www.cscs.ca
COMING UP!!!
"Canada's Biggest Sport Compact Event"
"Sunday Aug. 22 @ TMP, Cayuga"
{yoogallery src=[/images/phocagallery/CSCS2] title=[CSCS Round 2 2010] width=[150]}