Written by Celise Harris. Photos Courtesy of dBDRA | 09 December 2015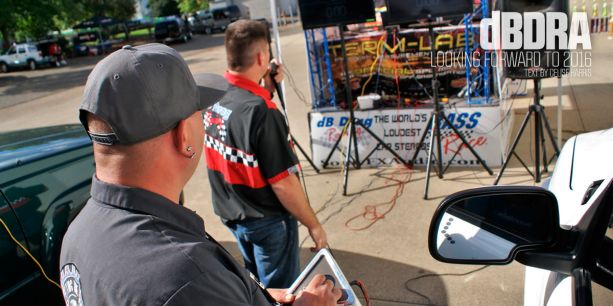 The dB Drag Racing Association would like to thank all of the competitors, retailers and sponsors that participated in the 2015 season. The season wrapped up with over 450 events taking place in 43 countries throughout the world. The season ended with several national championships as well as regional championships in most of the countries. The dBDRA continues to have a global presence in the auto sound competition arena.
As we wrap up the calendar year, The dB Drag Racing Association, in conjunction with the U.S. Marine Corps "Toys For Tots" program, is proud to announce the 8th Annual dB Drag Racing Association "Toys for Tots" competition series. As an incentive to retailers, the dBDRA will waive the listing fees for qualifying events that are scheduled during the first two weekends in December 2015. The entry fee for the competitors must be a new unwrapped toy, and no other money will be accepted in conjunction with the event. There is no limit on the amount of toys that can be donated, however, the minimum suggested toy should be in the $15-$20 range. According to Wayne Harris, President of the dBDRA. "Our goal is to provide dB Drag Racing competitors and retailers the opportunity to get involved with their local communities by providing shiny new toys to children who otherwise might have gone without."?In addition to Toys for Tots, many of our international affiliates have chose to participate in local Toy drives in their respective countries abroad.
As we look toward 2016, the dBDRA will continue to strive for excellence and consistency amongst the judging staff and international affiliates. We feel that we have the best judges around the world and are thankful for the dedication and comradarie amongst the judging staff. We will continue to have judges "co-judge" at many of the larger events that take place throughout the world. By having multiple judges from multiple countries at the same event, this allows for the most comprehensive judging consistency.
The preliminary 2016 classes for dB Drag Racing have been posted online for feedback. We feel that the new classes offer the best range of options for the competitors to compete in. With the addition of the Term-LAB Magnum Power Probe, we will continue to see more power limited competition classes as this keeps a somewhat level playing field when it comes to amplifier power. We are also continuing to mainstream many of the restrictions in the past to make it easier for the judging staff and more flexible for the competitors.
We look forward to seeing everyone in the lanes!
For more dBDRA information, go to www.dbdragracing.com.
Contributor: This e-mail address is being protected from spambots. You need JavaScript enabled to view it