Written by Jacob Leveton. Photos by Andrew Bohan, Nelson Ayra, Jeremy Alan Glover, Jacob Leveton | 06 November 2015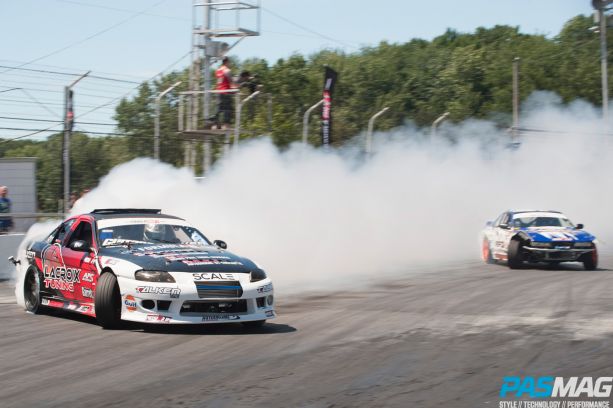 In 2015, Formula Drift created the first truly global world championship of drifting, spanning two continents on both sides of the Pacific. While Formula Drift Asia was lightly attended by Formula Drift USA drivers in the past, the increase in participation this year was a welcome sight by fans. Fans from around the world have been travelling to the U.S. to attend rounds of Formula Drift, and as the sport continues to grow, many fans in the U.S. are looking for opportunities to travel abroad and experience drifting in other countries. We decided to take a look at four events that occurred this past summer as opportunities to plan a future vacation around — not just traveling the world, but going to watch some of your favorite Formula Drift drivers compete as well.
If you're looking to get a head start on planning your 2016 drift-cation, take note of these events for an amazing 2016 adventure of a lifetime!
Irish Drift Championships
MONDELLO PARK, COUNTY KILDARE, IRELAND
Ireland has become just as much of a breeding ground for competitive drift drivers as Japan was at the launch of the sport. With Darren McNamara, Eric O'Sullivan and Dean Kearney all cutting their teeth at the famed Mondello Park, this track has showcased top drifting talent for years. While the Irish drivers are undefeated on their home turf over the past 10 years, several top drivers have come over to take a stab at knocking them off their own podium. Dai Yoshihara, Daigo Saito, Robbie Nishida, Chris Forsberg, Matt Powers and Vaughn Gittin Jr. have all taken turns competing in Ireland, and several other drivers are discussing coming to the track that is said to be the home of all Irish motorsport. Luckily, the mid-season round of the Irish Drift Championships often falls on 4th of July weekend, making it easy for fans to come take in the event and visit the country's capital city of Dublin, which sits just a short 25 miles away.
Although Ireland may seem like an exotic destination, it's one of the easiest to get around as a first time traveler. A quick 20-minute cab ride from the airport to the city center and you're set. Most of Dublin can be accessed via either public transportation or walking, and with English being spoken as the primary language, it's easy to navigate. If you ever feel lost, just dip into a local pub (there's literally one on every corner), grab a pint and mingle with the locals. It's never too early (or late) to enjoy a pint of Guinness in Dublin!
GATEBIL FESTIVAL
RUDSKOGEN MOTORPARK, RUDSKOGEN, NORWAY
Gatebil.no
The native land of Fredric Aasbo and Kenny Moen holds a motorsports festival like no other. Often described as Woodstock meets motorsports, the Gatebil Festival is a weekend-long party with drifting, time attack, live bands and some of the craziest cars in Scandinavia. Incredibly, Gatebil means "street car" in Norwegian, but the average car in the pits seems to be quite far removed from the street-going vehicles we're used to seeing. Past visitors to the festival include Vaughn Gittin Jr., "Mad" Mike Whiddett and current Formula D Pro2 driver Kelsey Rawlings. While there's an official powerslide competition that occurs at some point during the weekend, it is far from the highlight, so visitors should be prepared for a full automotive sensory overload beyond your average drifting competition. Just a 75-minute drive from Oslo, this event should be on every gear head's bucket list.
Oslo is quite an enjoyable city, but can be tricky to navigate around without a guide. We suggest connecting with some of the local drift fans at the track and finding one to host you for a few days post-Gatebil if you really want to see the city properly.
FORMULA DRIFT JAPAN
FUJI SPEEDWAY, FUJI, JAPAN
FormulaD.com
Although Formula Drift has held events in Asia previously, including two events in Japan in 2014, this year's event was the first that counted towards the World Championship, and driver attendance reflected that. Seven drivers that competed in the U.S. series also appeared in the 2015 event, including championship contenders Fredric Aasbo and Odi Bakchis, joining Japanese nationals Daigo Saito, Robbie Nishida and Masashi Yokoi, among others. As a fan of drifting, a trip to the birthplace of the sport should also be on your bucket list. Combining the famed Fuji Speedway, which has hosted all levels of motorsport, with an event hosting several Formula Drift competitors, seems like a great way to maximize the trip. The 2015 event occurred in mid-July, so expect the same timeframe for 2016, which should be announced during Formula Drift's annual press conference at SEMA in November.
Fuji is a bit far out from Tokyo, but easily accessible via bullet train. Be sure to check and double check the train schedule, as missing the last train back to town could be costly! Once you're in Tokyo, the subway system is fairly easy to navigate if you've been to New York City, and if not, most major subway stops are manned with English-speaking agents. Grab yourself an English subway map and you'll be set. Stop by Tsukiji fish market for some of the best sushi you'll ever have!
FORMULA DRIFT CANADA
AUTODROME SAINTEUSTACHE, MONTREAL, QUEBEC
FormulaDriftCanada.com
The Labour Day long weekend is the unofficial end of summer, and while the weekend isn't as big of a motorsport weekend as the Memorial Day weekend that kicks off the summer, it's the perfect opportunity to venture north of the 49th parallel and visit one of the most motorsport-mad cities in the Western hemisphere. The former Drift Mania series spawned the likes of Mats Baribeau, Dave Briggs and Marc Landreville, all of whom have gone on to win tandem battles in Formula Drift. Initially launching a one-off exhibition event in 2014, the Formula Drift Canada round at Autodrome Saint-Eustache became a fullfill edged stop on the 2015 Formula Drift World Championship schedule, and nine Formula Drift drivers entered the race. Montreal is easily one of the most fun cities in North America, and is known for its food, culture and friendly natives. Asking a local for their favorite restaurant will not only net you several recommendations, but likely a tour guide as well. Grab some poutine and order a Canadian beer and you'll fit right in, eh.
Contributors: Jacob Leveton (www.jacobphoto.com JacobLevetonDrift), Andrew Bohan, Nelson Ayra, Jeremy Alan Glover