Written by Guest Contributor | 14 January 2016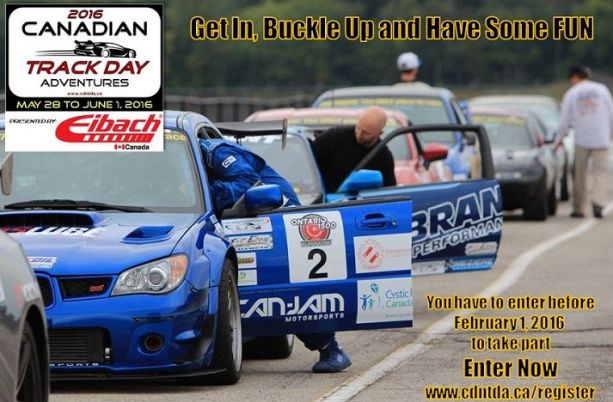 2016 Canadian Track Day Adventures (May 28 - June 1, 2016): Get In, Buckle Up and Have Some FUN!
The "Ontario 1500 Motorsport Adventure powered by MotoMaster Eliminator" was held over 7 days from Sept 13 to 20, 2015. 17 point scoring "stages" were held at Ontario's 5 road racing tracks. 14 Intrepid teams of motorsport adventurers entered and after some experienced mechanical issues, 12 teams finished. It really was an "Event to Remember".
Everyone had a great time but there were some things that could be done differently to make it even better. That's what the "Canadian Track Day Adventures" is all about. It is similar in concept but will only be 5 days long and have only 2 transit sections totaling 450 kms between venues unlike the 2015 event that had 5 transits for 1500 km. Also 2016 teams can be either 1 or 2 drivers per team, not the 2 to 4 required in 2015. The event will be held in late May instead of September so that people can bring their cars can be fresh for the event. Also teams will not have to pull trailers in 2016 unless they want to that is. And there is more.
Enjoy lots of seat time at the BEST TRACKS. TEST yourself and your car: Make PERSONAL HISTORY. Be part of an outstanding IMMERSIVE motorsport environment. Participate in a SAFE, WELL ORGANIZED event.

REGISTRATION DEADLINE: FEBRUARY 1, 2016
Register now at REGISTER HERE.
For Rules, Regulation and more info, visit: http://www.cdntda.ca.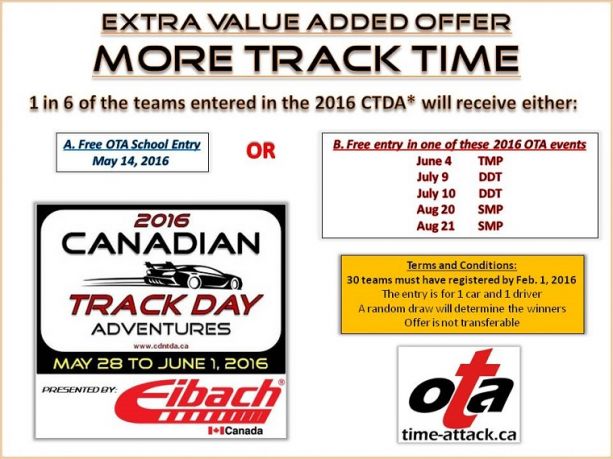 Contributor: Gary Wood, Canadian Track Day Adventures Organizer