28 May 2013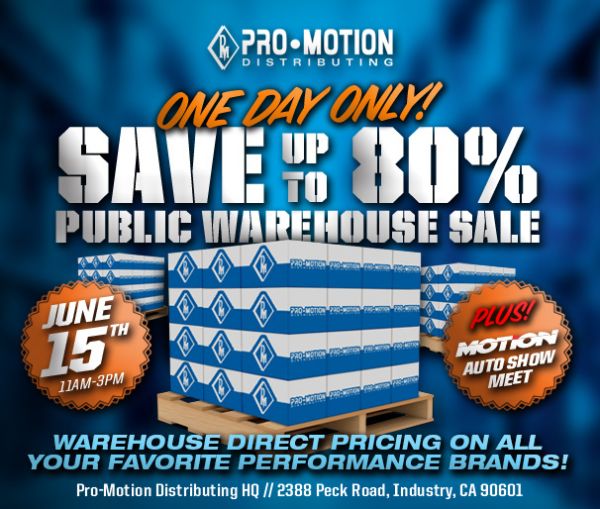 PMD is opening its doors to the retail public for our once a year public warehouse sale!
Saturday, June 15th, 2013

11:00am-3:00pm
At our headquarters located at
2388 Peck Road

Industry, CA 90601
For more information visit us at http://www.pmdistributing.com/products_detail.cfm?intProductID=1299
PMD Auction

We will have over 20 pallets on hand with mixed inventory on each pallet.

Each pallet will have a retail value of up to $8,000.00.

Opening bids will start at $100.00 per pallet.

You must pay in cash and all sales are final.

This is your chance to get a huge return on your investment.

Think Storage Wars meets Auction Hunters. Let the bidding begin!!!
Brand New Parts

Our sales team will be on hand to sell you brand new parts from all of the manufacturers you can't live without.

For a complete list of brands we stock please visit us at
http://www.pmdistributing.com/products_line_card.cfm
We are anticipating a huge number of people attending.

In order to expedite the process we ask you that you come with the part number of whatever product you are looking to purchase.

This is easy to do. All you need to do is visit the manufacturers' website and bring that part number with you.
Prices will be 40%-80% of off MSRP!

This is a cash only event and all sales are final.

If we do not have an item in stock we will gladly backorder it for you and arrange for will-call or shipping to your home address.
Motion Meet
Don't have anything to do on the 15th?

Come out and hang with us.

We will have giveaways and raffles throughout the day.

Come relax and enjoy the good vibes with fellow enthusiasts.

Score huge discounts on whatever part you are saving up for next.