Written by Micky Slinger | 08 September 2017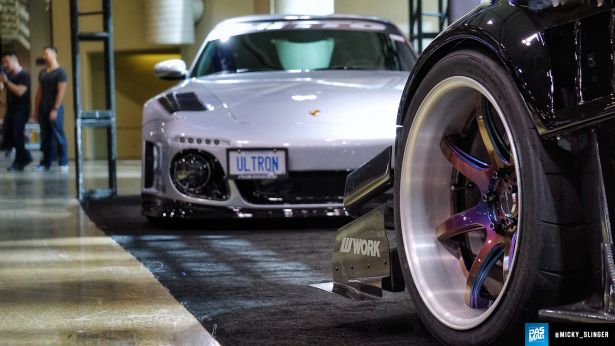 Depending on who you ask, Toronto is known for a few things outside of Ontario. Some would say Drake, while others would say the CN Tower, but if you ask a car enthusiast, their reply would be Importfest. Taking place at the Metro Toronto Convention Centre in August every year, Importfest attracts all of the quality cars from southern Ontario and beyond to one place, living up to its tagline: "Canada's Biggest & Baddest Car Show."
To give you a sense of scale, this show is held where the Canadian International Autoshow is every year. Using the North building, Importfest takes the plots Volkswagen, Mazda, Nissan, Mitsubishi, Hyundai, Fiat Chrysler, Honda/Acura, Volvo, and Subaru would normally reside in, and packs them full of high profile teams, clubs, and crews, builds, and vendors.
The team who brought home the Best Team award, arguably brings some of the highest quality builds to Importfest every year. With around 40 cars branded with their signature windshield banner, Nextmod took home the hardware, as well as put on an amazing display. Show-goers were enticed into the area by a line-up of almost every flavor of GT-R, including two BenSopra-kitted examples, which lead to a closed-in, carpeted display with new Work wheels on show, as well as Nextmod Mississauga's JCP Magic, LS-swapped RX-7 and the brand-new Old & New slant-nose 996 Porsche, affectionately named "Ultron."
Ultron wasn't the only Old & New Porsche on display either - actually, Importfest's main exhibition featured a red carpet rolled out for both of their team members' Porsches, clad in the newest widebodies available from Japan. At the far left of the carpet was Navin Pillai's plum purple Old & New 997, and at the far right was Importfest's Pandem 987 Cayman - the first in Canada. Also a first, both Porsches were equipped with Vossen's prototype three-piece forged wheels in 18-inch sizing.
We at PASMAG had our own attraction in the form of our Tuner Battlegrounds Live competition, and the two facing off were Saiss Parthipan's Hyundai Genesis, the local, and Alexandre Bouchards's Subaru WRX hailing from Quebec. After a hard-fought battle, Parthipan came away with a decisive victory, reeling in 68-percent of the popular vote and earning a trophy and a feature in a future issue of PAS!
Taking home the "Biggest & Baddest" award (Importfest's Best in Show) was Jason Gale's Varis Kamikaze Nissan 370Z, which came as a surprise to no one. Gale's car is on another level in terms of fit and finish, and quality of parts used. With its wild body styling, multi-piece HRE wheels, and super rare Top Secret titanium parts, this car is a standout, even when it goes over the border to American shows.
Speaking of which - there were more enthusiasts from the US that came up this year than any in the past. Seeing plates from Boston, New York, and Wisconsin was pretty cool. Considering some iterations of Importfest have been almost exclusively Canadian, it's great to see enthusiasts from the US of A recognizing Importfest for the show it is and making the trip up to show off and hangout.
After a full day of taking in the show and shine, watching break dancing competitions, and trying to find a way around the lines formed for the featured models, Importfest 2017 was finished, but the events carried on to the next day to celebrate the grand opening of Importfest Performance, the team's new shop in Scarborough. As the show continues to evolve, so does the brand, which we think means that 2018 will be even bigger and badder.
For more information on Importfest, visit www.importfest.com.