Written by Travis Chin. Photography by Daniel Colmenares, Travis Chin. | 30 March 2017
Page 1 of 3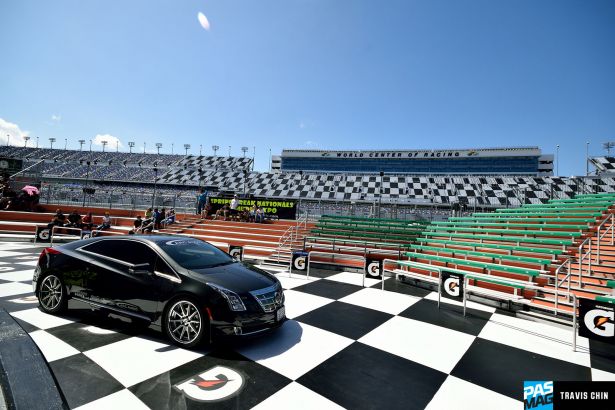 Every March, people flock to Spring Break Nationals, held at the Ocean Center in Daytona Beach, Florida, to thaw out and partake in one of the biggest car audio events of the year. For the 31st annual Spring Break Nationals, however, a change in venue to the Daytona International Speedway gave way to new experiences and unforgettable moments, such as being an addition to the 1,200 classic cars of the Daytona Turkey Run, and adding a car show and swap meet to the infield of the speedway.
[SBN 31 is featured in the pages of PASMAG #143, available on newsstands in June 2017 and online at https://shop.pasmag.com/products/pasmag-143-june-july-2017]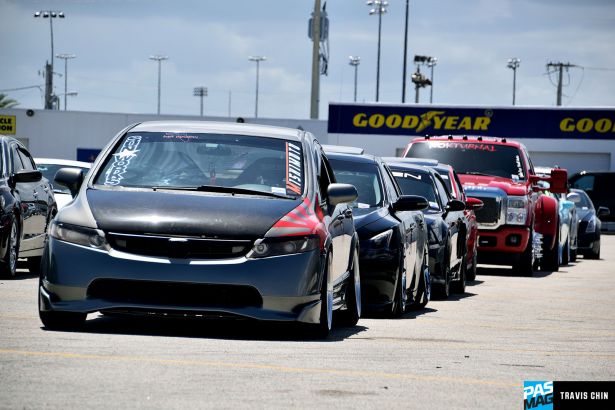 Along with over 1,200 classic cars participating in the Daytona Turkey Run, hundreds of car audio vehicles were on display at the Spring Break Nationals to show off their systems. Designated areas were assigned for each competition format. IASCA and MECA sound quality cars were parked in the blue garages where the Xfinity NASCAR teams work on their cars, along with car audio vendors just outside the garages. IASCA, dB DRA, MECA, and ISPLL SPL lanes were held in the infield, between Turn 1 and Turn 2. Tuner Jam and SPL vendors were also in Turn 2. And for the extremely loud SPL demo vehicles, those were just outside the track. The weather was great for spectators who could walk the entire infield to view all the car audio events, along with rows and rows of classic cars and vendors. A 2 day visit was needed in order to see everything the show had to offer. And although the car audio areas were spread out, shuttles were available to get spectators around quickly.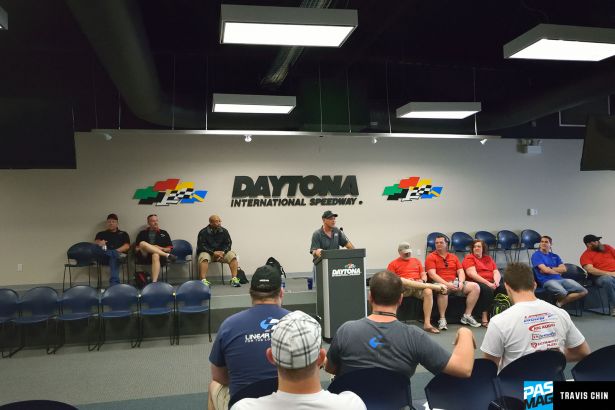 With a great facility to many motorsports venues, car audio competitors were able to get one of a kind experiences that Daytona International Speedway has available. The sound quality competitors held the competitors meeting in the drivers' meeting room, surrounded by pictures of famous drivers lining the walls and the famous Daytona logo behind the podium where many NASCAR announcements have been made. Trophy presentations took place in Victory Lane with select winners getting a photo op with their vehicle where NASCAR winners go immediately after winning a race. To top off the exciting weekend, all competition vehicles were invited to a parade lap around the racetrack, which included pictures at the start/finish line.
Mark Eldridge received the Darrell Bell Award for his dedication to sound-off and industry proliferation through education and example. The Harold Jaffe Award was presented to Travis Chin for his support of IASCA, its judging process, event activities, and its development.
Contributors: Travis Chin, Daniel Colmenares