Written by John Pangilinan | 10 April 2017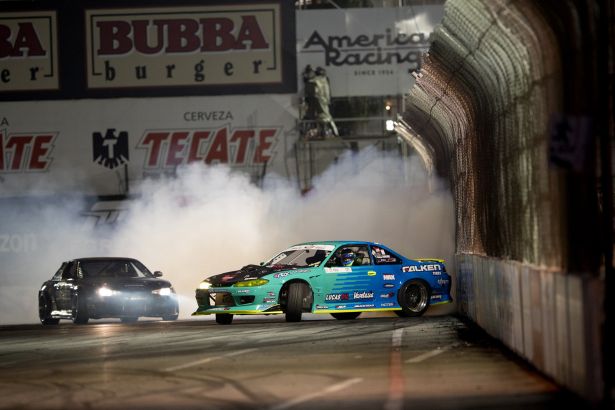 Matt Field Takes His Second Consecutive Motegi Racing Super Drift Victory
Formula DRIFT returned to Long Beach to host the Motegi Racing Super Drift Challenge as part of the 43rd Toyota Grand Prix of Long Beach. Matt Field in the Falken Tire / Vapetasia / ARK Performance Nissan 240 goes back to back at the Motegi Super Drift Challenge. The Motegi Racing Super Drift Challenge for the fifth consecutive year brought motorsports action under the lights during the annual Toyota Grand Prix of Long Beach within Turns 9, 10, and 11 of the famous street course. Drivers competed on Friday night in front of a capacity crowd for a chance at the prize purse and bragging rights.
"For the first time we decided to hold a doubleheader Top 16 competition over the course of the Grand Prix of Long Beach weekend," said Jim Liaw, President of Formula DRIFT. "For our 11th consecutive year bringing drifting action on the Streets of Long Beach we wanted to showcase even more competitive action for the fans on both Friday and Saturday night."
On night one of the doubleheader weekend drivers were placed at random into the Top 16 bracket. The Top 4 saw returning Motegi Racing Super Drift winner, Matt Field against Justin Pawlak in the Roush Performance Ford Mustang. Field outdrove his opponent to move into the Finals. Forrest Wang in the Get Nuts Lab Nissan 240 faced off against Alex Heilbrunn in the IMR / Nitto Tire BMW M3. Heilbrunn fresh off his second place finish last weekend at the Formula DRIFT season opener on the same track, kept his streak alive taking the win to move into the Finals. Forest Wang finishes in third place. The final battle was dramatic as Heilbrunn and Field collided on the first turn of the first run. Judges deemed fault to Heilbrunn giving Field the advantage. Field, after fixing the significant damage sustained from the run 1 collision kept a clean and safe follow run to take the first victory of the doubleheader.
"We went back to back!" said Matt Field, winner of the Motegi Super Drift Challenge. "There's day two tomorrow and we're going to try to win that too. This event was strong and it feels good to get back into a car that's in working manner after struggling last weekend, but we're back."
The action continues on Saturday night for the second night of the Motegi Racing Super Drift Challenge during the Toyota Grand Prix of Long Beach. For more information visit, www.formulad.com and find Formula DRIFT on Instagram, Facebook, Twitter, and Snapchat - formula_drift. Tune into Formula DRIFT on CBS Sports and check your local listings for airtimes.
Motegi Racing Super Drift Challenge – Friday Night Results
1. Field, Matt Falken Tire / Vapetasia / ARK Performance Nissan 240 Winner
2. Heilbrunn, Alex IMR / Nitto Tire BMW M3 2nd Place
3. Wang, Forrest Get Nuts Lab Nissan 240 3rd Place
4. Pawlak, Justin Roush Performance Ford Mustang 4th Place
5. Hamilton, Nate Team Enjuku, BC Racing, Hankook Tire S13.4 5th Place
6. Rintanen, Juha STR Racing / Nexen Tire Nissan 240 6th Place
7. Kearney, Dean Oracle Lighting Dodgle Viper 7th Place
8. Beechum, Trenton Beechum Racing Ford Mustang 8th Place
9. Castro, Jhonnattan Gerdau Metaldom/ Nexen / Toyota GT86 9th Place
10. Essa, Michael Achilles tire, Essa Autosport M3 10th Place
11. Litteral, Ryan NRG Innovation / Federal Tire Nissan 240 11th Place
12. Burkett, Dan RAD Industries, Nexen Tire, Toyota Supra 12th Place
13. Jones, Jeff DOC Nissan 240 13th Place
14. Mohan, Kyle Built 2 Apex / Mazdatrix / KMR 2016 MX-5 14th Place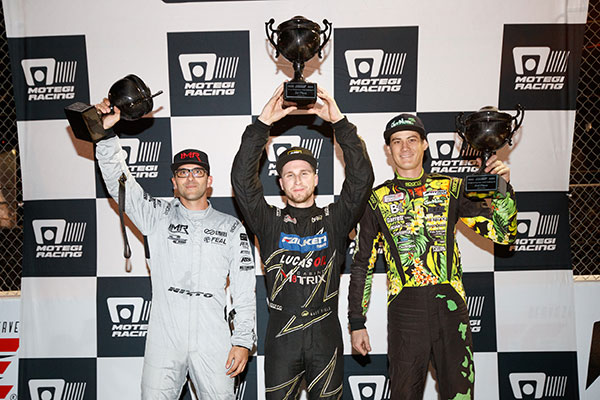 ABOUT FORMULA DRIFT
Entering its fourteenth season, Formula DRIFT is recognized as the leading international drifting championship. Established on the streets of Japan, drifting has evolved into a worldwide competitive sport that challenges each driver's driving ability and vehicle control. Formula DRIFT provides a forum for professional drifters to compete nationwide for the coveted Formula DRIFT Championship crown. As the first official drifting series in North America, Formula DRIFT has taken competitive motorsports to the extreme, attracting fans and car enthusiasts from all walks of life and establishes itself as the world-wide leader for the Sport. Formula DRIFT is featured on CBS Sports in the US and distributed globally by IMG Media, reaching over 400M households. CBS Sports Network is available across the country through local cable, video and telco providers and via satellite on DirecTV Channel 221 and Dish Network Channel 158. For more information, including a full programming schedule and how to get CBS Sports Network, go to www.cbssportsnetwork.com. Formula DRIFT has the most viewed live stream in the world, catering to over 1.5M fans annually. For a competition schedule and ticket information, visit: www.formuladrift.com.
Contributor: John Pangilinan