Written by Chris Gosda. Photos by Chris Gosda | 17 June 2016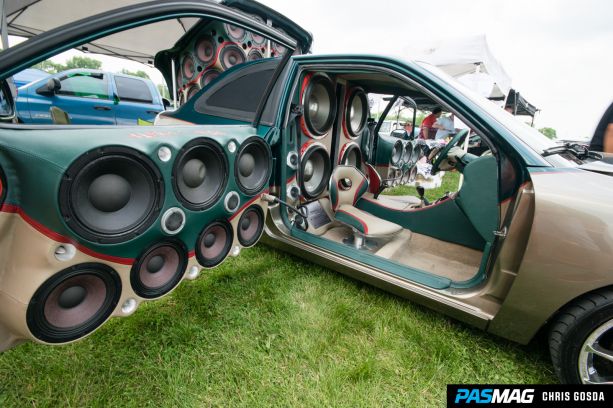 Here comes the BOOM!!!
The 13th annual Slamology Automotive and Music Festival came in with a BOOM this year! With well over 1,200 participants between the car shows and audio competitions, it was one of the largest years yet. You had everything from cars, trucks, SUVs and vans with anything from a nice, clean SQ set up to compete in Sound Quality to having a single sub set up, to having massive walls of woofers and doors filled with speakers and woofers.
Every year the audio portion of the event has grown to the extreme. You couldn't walk through the audio portion and find a single spot to park your vehicle after a run through. Having dbDrag, IASCA and MECA all running sound offs Saturday and Sunday, it makes the event one of the largest car audio sound offs in the USA! Competitors from all over showed up to compete in the triple sanction event from as far south as Florida, to as far west as Kansas and even a group from Team Canada was in attendance.
Back in the day it seemed that 150s was an accomplishment to hit in any type of build. At this event, it made it almost seem like the norm. Many competitors hitting 150s easily during demos and competition while shattering windshields, shaking panels apart, and making ladies' hair go crazy doing hair tricks.
Along with the many competitors, you could also find many companies from all over with their demo vehicles on site. Sky High Audio had many various builds on display at their inflatable tent, Droppin HZ had a few vehicles on site, PRV Audio had a 3-wheel bicycle complete with speaker set up, as well as a scooter with a few woofers fiberglassed in it. As always McLaren Audio, DS18 and Crossfire came out in full force with many demo vehicles. American Bass and Beyma (powered by Reikken Batteries) had their large vehicles blasting away as well.
If a weekend of variety, unique and crazy builds with lots of bass and demo's are something you enjoy, I recommend planning to attend Slamology in June 2017 as this is an event that always seems to grow and the builds keep getting bigger and better every year! www.slamology.com
Contributor: Chris Gosda