Written by Adam Gordon. Photos by Fardeen Shere. | 03 June 2016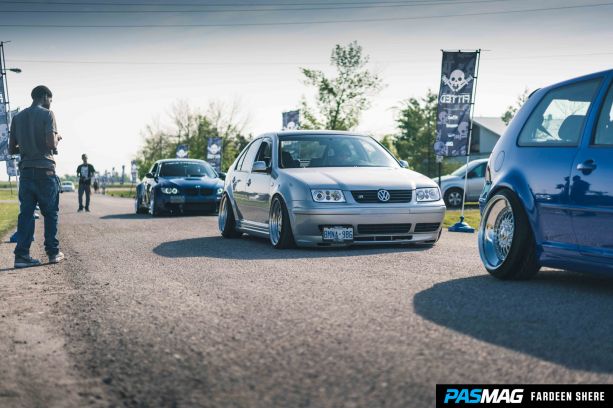 It has been six years since the crew behind the Fitted Lifestyle brand launched their show. In that time, the brand has expanded across the Canadian show scene, hosting multiple events each year. With a central focus on wheels, suspension, and overall stance, the Fitted Lifestyle showcase has become the show for camber-chasers and fitment lovers to debut their newest wheel setups and car builds. The 7th annual Fitted: Toronto showcase kicked off at the Brampton Fairgrounds on May 28th, 2016, and there was no shortage of fitment-centric cars.
Competitor cars hit the Brampton Fairgrounds driveway early in the morning to load in and set up well in-advance, before the doors opened at noon to allow throngs of spectators and fellow enthusiasts to pour in. With a gravel driveway and small step-ups leading into the warehouses, some of the uber-low car owners had their work cut out for them getting into their respective parking spaces. One of the lower Honda S2000s needed help from other participants to clear the mighty 1-inch step into the warehouse. Low-life problems, right?
It wasn't long before the driveway featured a line of spectator and competitor cars alike, which began filling in the massive parking lots, fields and even the immediate grassy exterior of the show buildings. The particularly hot weather wasn't enough to keep these enthusiasts from enjoying the day, although it did drive a few of them inside for frequent breaks from the sun. Many dedicated photographers braved the sun and heat to make use of the fairgrounds' many photogenic locations with some of the show's attendees.
The popularity of the brand and show are echoed in the diversity of its attendees. Cars and their owners came from far and wide, with license plates spotted from as far away as New Brunswick, and even one from Hawaii. It has also been interesting to see the types of cars diversify over the years. While the show's competitor crowd does remain mostly Japanese and Euro-centric, this year's Best In Show trophy was awarded to Miro Pavletic, the owner of the badass "World War Z" Camaro – an 800+ horsepower unhinged beast which also took home the Scraped Crusaders Choice Award.
Throughout the day, the show's resident DJ, Jason Woo, kept the atmosphere alive with the help of MC Sanjay Bharadia in the main building, while the second building showcased some of the lifestyle aspects of the event, including an RC drift car track inside a ring of competitor cars. Meanwhile, PASMAG's Tuner Battlegrounds competition was underway, featuring a face-off between Brandan Nankoo's Nissan Maxima and Matt Budziosz's Nissan Z32 300ZX TT. It was a tight battle, and in the end Matt Budziosz took the win with 53% of the popular vote.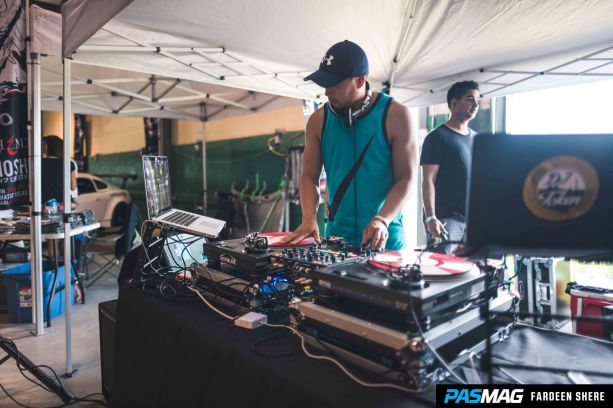 As the day winded down, the awards were handed out, and the ice cream truck's supply had been picked clean. By all accounts, the show went off without a hitch, save for a few low cars needing assistance navigating the ever-intimidating concrete lips of the warehouses. As the show crowd has continued to evolve and grow, show competitors will have their work cut out for them as more owners register their cars. With such an impressive growth over the years, we'll be sure to keep an eye on this one for years to come.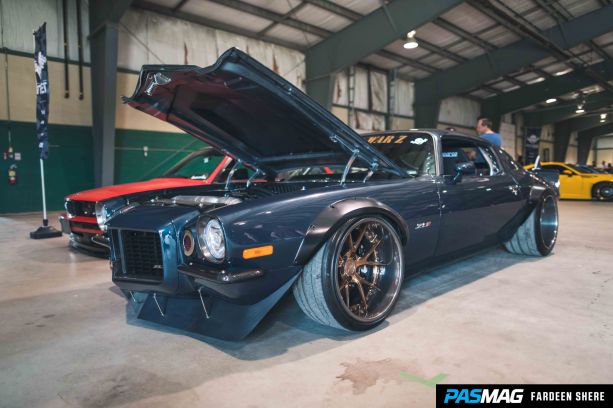 FITTED RESULTS
BEST AIR 1ST
Mike Howe (Nissan 370z)
BEST AIR 2ND
Paul Wong (Nissan 350z)
BEST AIR 3RD
Alice Lavoie (Acura TL)
BEST STATIC 1ST
Alex Kristov (BMW 3-Series)
BEST STATIC 2ND
Louis-Philipe Villard (Subaru STi)
BEST STATIC 3RD
Chris McHugh (Mazda Miata)
BEST OF SHOW 1ST
Miro Pavletic (Chevrolet Camaro)
BEST OF SHOW 2ND
Frank Rizzuto (Acura EL)
BEST OF SHOW 3RD
Jonathan Prem (Nissan 240sx)
BEST JDM & KDM HATCHBACK
Brian Requena (Honda Civic)
BEST JDM & KDM COUPE
Michael Pimenta (Honda S2000)
BEST JDM & KDM WAGON
Massimo Ciocca (Subaru WRX)
BEST JDM & KDM SEDAN
Mitchell Wood (Honda Civic)
BEST EURO HATCHBACK
Maurice Ellati (VW GTi)
BEST EURO COUPE
Oskar Ciejek (BMW 1-series)
BEST EURO WAGON
Kevin Tay (Audi A3)
BEST EURO SEDAN
Chad McGarrity (Mercedes Benz 300E)
BEST VIP
Steve Langpakdy (Acura TL)
BEST CLASSIC
Alexandre Denis (VW Beetle)
BEST MOTORCYCLE
Andre Sousa (Honda CB Cafe Racer)
BEST ENGINE
Cimon Brouilette (Nissan 240sx)
PASMAG TUNER BATTLEGROUNDS LIVE
Matt Budziosz (Nissan 300zx)
SCRAPED CRUSADERS CHOICE AWARD
Miro Pavletic (Chevrolet Camaro)
Contributor: Fardeen Shere.