Written by John Pangilinan | 25 May 2016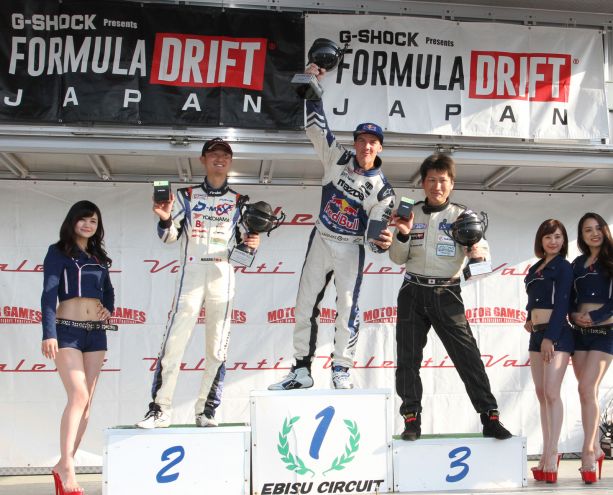 Formula DRIFT Japan Round 2: Ebisu / Formula DRIFT Round 3: World Championship Results; Mad Mike Whiddett Wins Big In Japan!
G-Shock presents Formula DRIFT Japan headed to the mountaintops of the famed Ebisu Circuit for the second round of the Formula DRIFT Japan Championship and third round of the Formula DRIFT World Championship. Mike Whiddett takes the victory in a Mazda RX-7.
A capacity crowded at the heralded jewel of Japan drifting came to the Ebisu Circuit to witness world-class competition from the top drivers in the sport.
"What an amazing event! To be here with the Formula DRIFT Japan team to witness this wonderful event and amazing competition was something any fan of drifting could only dream of," said Ryan Sage, Vice-President of Formula DRIFT. "Today I saw some of the best drifting in the world and I am proud to see all these drivers, from different walks of life, live out their dream at this legendary track."
The finals saw Mike Whiddett take on famed Japanese drifter, Masashi Yokoi. Both drivers went door-to-door on both runs, but it was Whiddett's lead run that sealed the victory with a perfectly executed backwards entry. Yokoi lost his positioning as Whiddett accelerated to the final clip, which ended with the judges unanimously favoring Whiddett giving him the victory.
"This is my first Formula DRIFT victory since 2009 in Thailand, but the level now is at an all-time high, so words can't begin to describe the feeling right now," said Mike Whiddett, winner of the event. "In drifting you can't win by pushing 115 percent or by 98 percent. You have to be really focused."
The 2016 Formula DRIFT Pro Championship will continue to Round 3: Unchartered Territory on June 3-4 at Orlando Speedworld. For more information visit, www.formulad.com and find Formula DRIFT on Instagram, Facebook, Twitter, and snapchat (formula_drift). Tune into Formula DRIFT on CBS Sports and check your local listings for airtimes.
Formula DRIFT Japan Round 2: Ebisu Circuit
1. Whiddett, Mike RX-7 FD3S Winner
2. Yokoi, Masashi S15 Silvia 2nd Place
3. Hayashi, Kazuki S15 Silvia 3rd Place
4. Tanaka, Seimi S15 Silvia 4th Place
5. Gray, Andrew JZX100 Chaser 5th Place
6. Oshiro, Daichi JZX100 Mark II 6th Place
7. Kasahara, Masaki S15 Silvia 7th Place
8. Horino, Jin 180 SX 8th Place
9. Imamura, Yoichi Lexus LFA 9th Place
10. Nian, Sheng JZX100 Chaser 10th Place
11. Suenaga, Naoto S15 Silvia 11th Place
12. Yamashita, Koichi JZX100 Mark II 12th Place
13. Yamanaka, Kenji JZX100 Mark II 13th Place
14. Fukada, Tadahiro JZX100 Mark II 14th Place
15. Mekuwa, Kojiro S15 Silvia 15th Place
16. Taguchi, Kazuya S15 Silvia 16th Place
Formula DRIFT World Championship Standings after 3 events
1. Whiddett, Mike 188 Points
2. Field, Matt 101 Points
3. Gray, Andrew 66 Points
ABOUT FORMULA DRIFT
In its thirteenth season, Formula DRIFT is recognized as the leading international drifting championship. Established on the streets of Japan, drifting has evolved into a worldwide competitive sport that challenges each driver's driving ability and vehicle control. Formula DRIFT provides a forum for professional drifters to compete nationwide for the coveted Formula DRIFT Championship crown. As the first official drifting series in North America, Formula DRIFT has taken competitive motorsports to the extreme, attracting fans and car enthusiasts from all walks of life and establishes itself as the world-wide leader for the Sport. Formula DRIFT is featured on CBS Sports in the US and distributed globally by IMG Media, reaching over 400M households. Formula DRIFT has the most viewed live stream in the world, catering to over 1.5M fans annually. For a competition schedule and ticket information, visit: www.formuladrift.com.
Contributor: John Pangilinan / The ID Agency