Written by Michael Watson. Photos by Michael Watson (HardparkN) | 15 April 2016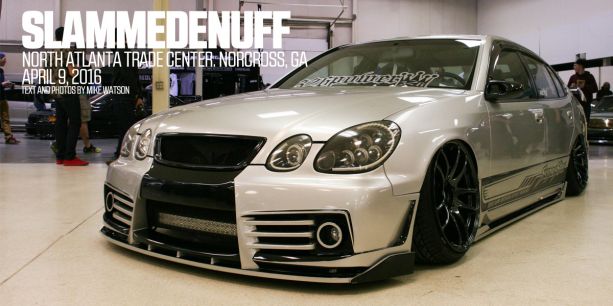 They came from all parts of the region with one question in mind. Are they SlammedEnuff?
To people on the outside aka Non-Car-Types; the whole idea of a slammed vehicle makes no sense but for those of us that are a part of the scene, the idea of a car sitting on stock wheels which with no real mods is just too much to bear which is why an event like the SlammedEnuff car show at the North Atlanta Trade Center in Norcross, GA on Saturday, April 9, 2016 was such a thrill.
Hundreds came to hard park, chill with friends and take in some of the most impressive cars the Atlanta area has seen in years. From some of the cleanest Honda Civics on the planet to Larry Young's BIG BODY Q45/Y33, there was no shortage of bags, coils, paint, tucks, stretches, and of course fun infused trash-talking.
In addition to a plethora of amazing rides the show itself was one of the most well organized events the ATL car scene has experienced in years. I had a chance to sit down with Charlan Buenaventura, the founder of SlammedEnuff, and his marketing maven, Tim Acang. They explained that the goal of the show was diversity on all levels. From the cars to the people, the common denominator was the ability to come together and have fun while spending time amongst a group of people that have an interest similar to yours.
This event with its massive presence was a long way from the start up days up in Tennessee where the main goal was to highlight cars that had been picked up cheap and modified. While sales of said car was the goal back then, at this event the goal was the admiration of all the creativity, work, time and passion put into these rides. Don't get me wrong; the amount of cool car merchandise and products featured for sale here was great. The SlammedEnuff booth was packed all day as people went out of their way to examine every item.
Last but not least was the level of activity outside of the venue, which was in my opinion equally as cool as what was taking place inside.
SlammedEnuff was more than enough for those that had the pleasure of attending and the buzz all day was great! Hopefully they will return next year, as I'm not sure we were all SlammedEnuff this time!
Contributor: Mike Watson (HardparkN)