Written by John Pangilinan. Photos by Larry Chen | 18 April 2016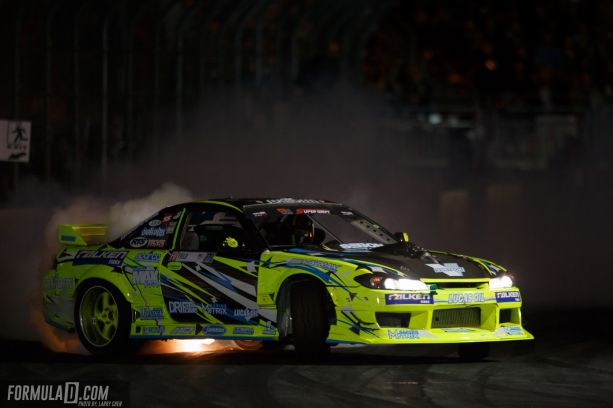 Matt Field Takes the Victory!
Formula DRIFT presented by BlackVue returned to Long Beach to host the Motegi Racing Super Drift Challenge as part of the 42nd Toyota Grand Prix of Long Beach, CA on April 15-16, 2016. Matt Field in the Falken Tire / Drift Cave Nissan S14 takes the victory.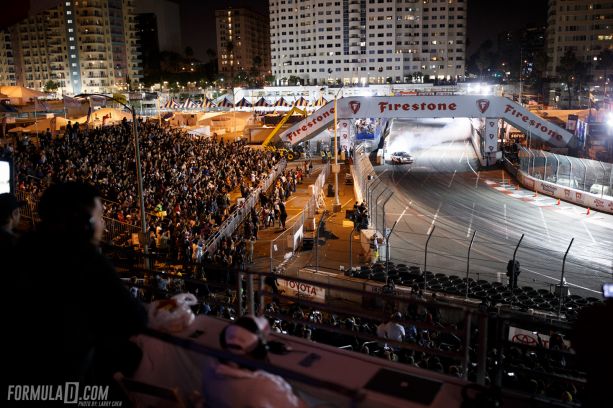 The Motegi Racing Super Drift Challenge for the fourth consecutive year brought motorsports action under the lights during the annual Toyota Grand Prix of Long Beach with a filled capacity within Turns 9, 10, and 11 of the famous street course. Select Formula DRIFT drivers competed for a $25,000 prize purse.
"This was a landmark year as the tenth consecutive year for us to bring drifting as part of the Toyota Grand Prix of Long Beach," said Jim Liaw, President of Formula DRIFT. "Since 2013, we have been the only Series to compete under the lights in the Grand Prix's 42-year history and we are happy to make this an ongoing tradition."
The Top 4 pitted Odi Bakchis, the number qualifier, against Michael Essa, in an exciting battle. Essa outdrove his opponent to move into the Finals. Matt Field then faced Dean Kearney and capitalized on his opponent making a mistake to meet Essa in the final battle. On his lead run Essa spun giving the advantage to Field and ultimately the event victory.
"First off thank you to my crew, they gave me an amazing car. My parents for always being there and for cheering louder than anyone back home," said Matt Field, winner of the Motegi Super Drift Challenge. "And my sponsors, Casino M8trix, Lucas Oil, Drift Cave, and of course to Falken Tires for giving me the grip I need to stick it to the hard charging boys in this Formula DRIFT field."
The 2016 Formula DRIFT Pro Championship will continue to Round 2: Road to the Championship on May 6-7 at Road Atlanta. For more information visit: www.formuladrift.com and find Formula DRIFT on Instagram, Facebook and Twitter. Tune into Formula DRIFT on CBS Sports and check your local listings for airtimes.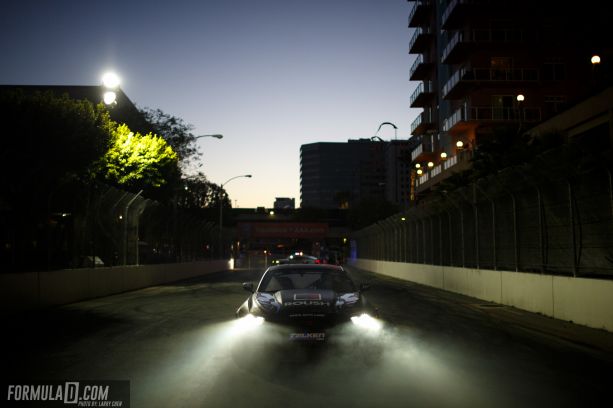 Motegi Super Drift Challenge Results
1. Field, Matt Falken Tire / Driftcave Motorsports Nissan S14 Winner
2. Essa, Michael Loudmouth Exhaust / Achilles Tire BMW M3 2nd Place
3. Bakchis, Aurimas Feal Suspension / ARK Performance / Falken Tire Hyundai Genesis 3rd Place
4. Kearney, Dean Oracle Lighting Dodge Viper 4th Place
5. Mohan, Kyle GT Radial / Mazdatrix Mazda MX5 5th Place
6. Jones, Jeff DOC Racing Nissan S14 6th Place
7. Litteral, Ryan Ryan Litteral Racing Nissan S14 7th Place
8. Aasbo, Fredric Rockstar Energy / Nexen Tire SR by Toyota tC 8th Place
9. Pawlak, Justin Roush Performance Ford Mustang 9th Place
10. Beechum, Trenton Falken Tire / Joy Hollywood Ford Mustang 10th Place
11. Heilbrunn, Alex RTS Monster BMW 11th Place
ABOUT FORMULA DRIFT
Entering its thirteenth season, Formula DRIFT is recognized as the leading international drifting championship. Established on the streets of Japan, drifting has evolved into a worldwide competitive sport that challenges each driver's driving ability and vehicle control. Formula DRIFT provides a forum for professional drifters to compete nationwide for the coveted Formula DRIFT Championship crown. As the first official series in North America, Formula DRIFT has taken competitive motorsports to the extreme, attracting fans and car enthusiasts from all walks of life and establishes itself as the world-wide leader for the Sport. For a competition schedule and ticket information, visit: www.formuladrift.com.
Contributors: John Pangilinan, Larry Chen.