Written by Ryan Jones. Photos by Ray Flores | 09 March 2016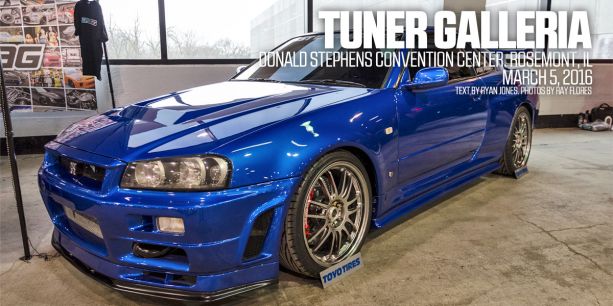 The Tuner Galleria show was back in Chicago, Illinois for the 7th consecutive year. It took place at the Donald E. Stephens Convention Center on March 5th, 2016, and was combined with the World of Wheels: AutoRama show. This show is always the season starter for the upper Midwest and brings out the most elite of cars. Of course, being March in Chicago, it was an indoor show with everyone eager to get out and see the cars that have been in hibernation all winter.
Crowd attendance, as well as registered show cars, were at their highest attendance yet! All types of cars, from late model American Muscle to Classic JDM, and from Exotics to Euros, were found.
I was very excited to be back this year. It was an extra special visit for me because this was the first time in two years my car was going to be shown in the Midwest. After the Tuner Galleria Chicago show in 2014, my Nissan Skyline (from the 4th Fast and Furious) went under the knife for a full restoration to bring it back to its glory, in honor of Paul Walker.
The crowd seemed to really enjoy seeing the car and we got great feedback on it! I look forward to Jim and all the people who put on Tuner Galleria coming back to Chicago in the years to come!

Contributors: Ryan Jones, Ray Flores