13 January 2016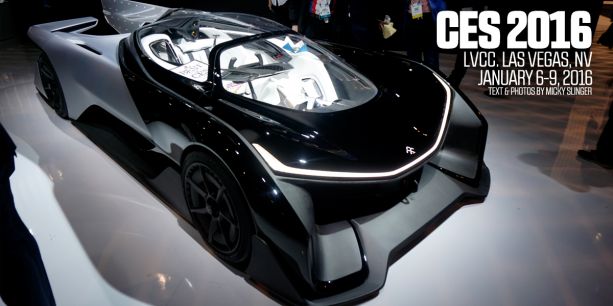 The Consumer Electronics Show (CES) was a different beast altogether this year. Last year's show saw me lost in literal seas of people, being marooned near some HDTV from Malaysia and having to find my way across to the island of car audio and new car technologies. This year, however, it seems there was some memo sent out by CES organizers that not everyone and their grandmother could attend. Walking in through those familiar Las Vegas Convention Center doors, I paused to enjoy the fact that I could breathe my own air and no one else's. I could walk. I could see. CES 2016 was a good one for sure.
The other reason it was so very different from last year's show was the composition of the North Hall, where I spent most of my time during the show. Usually full of aftermarket audio companies with a sprinkling of OEMs showing off new infotainment systems, the hall took an opposite turn with OEMs taking center stage and showing off some impressive futuristic technologies. It also made my job a little easier coverage-wise, as North Hall had 90 per cent of what I was really interested in: new car technologies. Yes, 8K TVs are impressive; yes, virtual reality is super cool, but I'm here to show you the coolest things I captured through my lens in the automotive sphere (the most important sphere).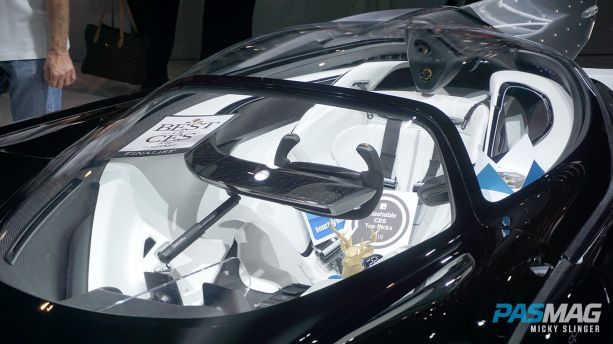 FARADAY FUTURE FFZERO1 CONCEPT
This was a big one. Faraday Future (or FF as people kept shortening it to) talked a lot of smack about the biggest player in the electric car game, Tesla, before the unveiling of their concept at CES. They said it wouldn't only be more efficient, but it would be quicker as well. Four quad-core electric motors were to propel the FFZERO1 to over 200 mph, zero to 60 in less than three seconds and boast over 1,000 horses.
When I got to FF's display, it was packed. So many people standing around the FFZERO1. So many people getting in the way of my camera… I couldn't blame them too much though – I mean, just look at it. It's gorgeous!
So, you may be asking, "When can we see one of these things on the road?" Well, the answer is never. This concept doesn't run and there is no production version planned. What FF is planning, however, is a modular vehicle platform that can be extended or shrunk to accommodate a full vehicle lineup; from a sports coupe to a full-size SUV. They could be the company to give Tesla a run for its money – if they can produce something that runs by 2017, that is.
CLARION BUILDS NSX
We had such a good time working with Clarion on the Builds program last year. If you'll recall, we did a really cool step-by-step feature with the BMW 2002 they built last year. So when they told me they were planning to build an NSX, I was so damn excited!
As fate would have it, as soon as I walked out of the Westgate Hotel's casino and into the walkway to the convention center, we locked eyes. I didn't want to be rude, but I couldn't stop staring. That new blue paint, those pop-up eyes, the gold Rays forged shoes, those OEM curves with Type-R in all the right places… I had Clarion's Merchandising Manager, Jubal Leierer, formally introduce the NSX and I.
Under the rear hatch, a CT-Engineering supercharger is clutching onto the Honda V6. At the time, the Builds team was waiting on a custom K&N intake, which will undoubtedly look awesome. Inside, the interior had been completely reupholstered and the seats have custom "Clarion Builds" logos stitched into the headrests. The audio, of course, had been completely revamped with Clarion's new Full Digital Audio (FDA) system.
The FDA system is amazing! It's made up of a head unit, component speakers, a digital processor and a subwoofer. It's not a hard-hitting system, it's all about sound quality and balance. Let me just say that it's crystal clear, easy to install and you should be pumped for it to be released to dealers in April.
Stay tuned for more on the Clarion Builds NSX!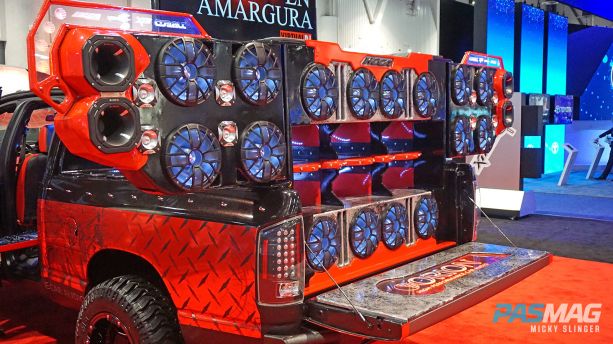 ORION AUDIO'S INSANE DODGE RAM
If you'll recall last year's show, Orion had a crazy Jeep that was completely decked out with speakers. They actually repurposed TV swing mounts to get the peacock effect while deployed, as well as have them be able to stow away during transport. Well, this year they were back at it again.
CES 2016 saw a huge Dodge Ram take center stage at Orion's show area. I went ahead and counted for you and, in the back alone, there are 28 speakers and six subwoofers. There's even a flat screen TV on top of it all! Around the sides of the truck bed, you can spot some of the batteries needed to power this thing, as well as some seriously huge HCCA amplifiers mounted between the cabin and the massive enclosure.
Inside is no slouch either. More screens are installed in the doors and a swing-out DJ table with all the fixings can be deployed from the rear seat on the driver's side. This is the ultimate party truck, and it's seriously impressive.
RINSPEED ETOS
Rinspeed is a car builder from Switzerland that takes the automotive "what ifs" from your mind and then straight up makes them. Mashups, shooting brakes, a Tesla
with a sitting room in it – Rinspeed has done it all. Usually, these creations are unveiled at Geneva, where people think attaching carbon fiber snow plows to the front of Lamborghinis is fashion. For 2016, Rinspeed felt that its Etos concept was so technologically advanced that it had to debut at CES. Who am I to disagree?
I came across the Etos off-site, at Harmon Kardon's presence at the Hard Rock. This car really is something else, but not too otherworldly. If you can't tell, the Etos is based off of BMW's i8, except it's supposedly faster and can drive itself if you want it to. With the push of a button, the steering wheel will fold away and you can take a nap at your leisure.
Since in the future, getting out of your car will be so overrated, Rinspeed has made it possible for you to never actually have to leave. Tap technology will actually allow you to pay road tolls without having to leave your car, and the rear of the Etos features an "H" landing pad where a drone can be deployed from, should you need to take a picture or give the finger to someone via video camera to anyone who cuts you off.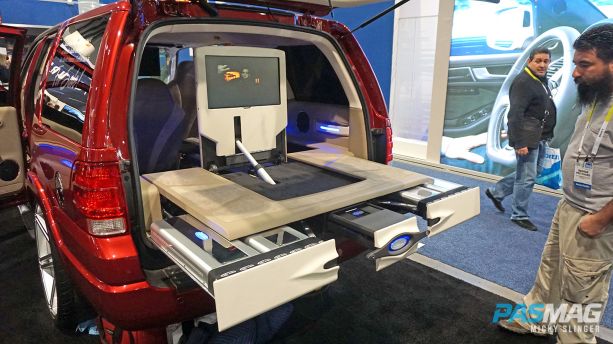 FISH EDITION FORD EXPLORER
David "Fishman" Rivera is a mechanical mastermind. This guy does what no else does. No one is doing motorizations anymore, but Fishman is cranking them out with every new build. His Ford Explorer took up residence at Arc Audio's booth.
The maroon SUV had quite the crowd around it as I approached, as people stuck their heads inside the interior to get a look at the redesign that had taken place there. The seats are pushed farther back to allow for more luxury and comfort, and custom machined raw metal door handles have been placed on every door. The man himself is at the back, leaning against a table and controlling the transforming trunk.
The floor of the trunk comes out in a sliding block, which then splits into three arms: two huge amp racks to the left and right, while the middle pushes out to reveal a processor.
Meanwhile, a hydraulic arm props up a hidden display from on top, which is playing the music video to whatever songs Fishman has on his playlist. I must have watched this transformation happen about 10 to 15 times before I could even go over and talk to the guy.
TOYOTA'S WHOLE BOOTH
Can we talk for a second about how Toyota killed it at CES this year? Their whole floor presence was so cool and attention-grabbing. It helped that they had some great tech on display as well.
Toyota has been toying with hydrogen as an alternative fuel source for quite some time now. The fact that they've actually brought the Toyota Mirai, their first ever hydrogen-fueled vehicle, to market is some strong evidence that they're serious. Their FCV Plus concept looks kind of like if they dipped the Batmobile in white and it's Toyota's next set in hydrogen technologies. They're toying with the idea that the fueling system on the FCV Plus will be able to grab electricity directly from hydrogen stored outside the vehicle.
Toyota also announced AI research prior to CES this year, which turned out to be "Toyota Smart Center." Toyota wants to see a connected mobility society that gets from point A to B as quickly and as efficiently as possible. The powerful, private, cloud-based computing system collects information from vehicles all around the globe and provides drivers with personalized, on-the-go service. I just want to know if K.I.T.T. from Knight Rider can be ordered as a voice option.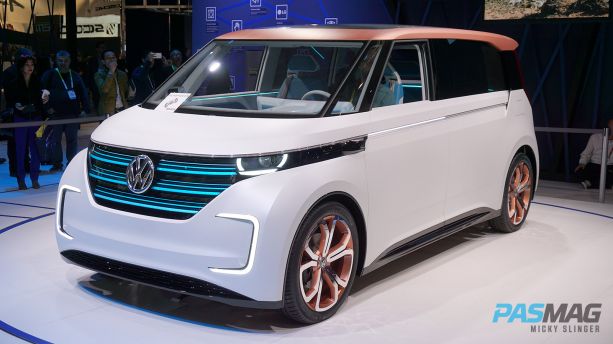 VOLKSWAGEN BUDD-E CONCEPT
Volkswagen has decided to play our heartstrings with a concept that harkens back to the VW Microbus. The Microbus is best known as a symbol of the peace movement through the '60s and '70s. Some of you may have fond memories of road trips in them, while some of you might have even been conceived in the back of one (sorry). I digress…
The concept is called the BUDD-e - like it's your buddy, but it's also electric. Get it? It houses a 101-kWh lithium-ion battery as a power source, which is supposed to generate enough juice for 233 miles of driving range on one full charge. Its two electric motors - one in the front and one in the back - make the van all-wheel drive.
BUDD-e is built on VW's MEB (Modularer Elektrischer Baukasten) platform system that will basically serve as the universal build platform for all VW's new electric vehicles. The proposed technology inside is the most exciting piece of the van, however. Everything is a screen. Even the mirrors have been deleted from the outside to become "e-mirrors" inside. This multitude of screens can stream music, display gauges, provide GPS and connect to your smartphone to adjust your thermostat at home, if you've got that set up. You can even turn on the voice control system by saying, "Hello, BUDD-e!" Some of us already say that to our cars anyway, right?