26 August 2015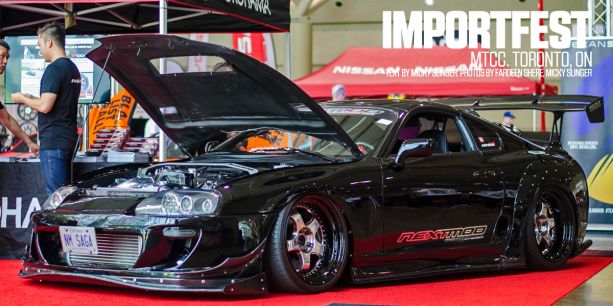 Going strong for 15 years probably means you know what works. Becoming the most recognized event in the Canadian automotive aftermarket industry definitely means you do. Merging modified cars, live entertainment, vendors and lifestyle, Importfest proves that it's that winning formula that keeps 'em coming back. Since 2001, Importfest has been the place to be if you're looking for your fill of the tuning lifestyle. For the 2015 iteration, halls A, B and C of the Metro Toronto Convention Centre were opened up to a jaw-dropping 180,000 square-feet, which, if can even begin to imagine, was filled with super high caliber cars of every make, model and generation. Datsun, Chevy, Hyundai, Lamborghini, supercharged, rotary, lowered and lifted; there was something there for everyone to swarm around.
The Importfest team themselves brought out some pretty choice metal. Debuting at the show alone was Liberty Walk's newest take on the G37 and two Lexus (Lexii?) RC Rocket Bunny cars, with the RC-F being a world first. Of course, the 370Z version of Mellow Yellow was highlighting the front of the show, near the Importfest merch booth.
Ontario's own powerhouse team, Nextmod, took up their own corner of the massive hall with just their show cars. Widebody everything, from GT-Rs to 458s to RSXs, as well as some track-ready cars populated their section. There was even a track-weapon Evo, equipped with air jacks! That's something you don't see too often at car shows.
Of course, an event wouldn't be an event without a PASMAG Tuner Battlegrounds Live (#TBGLIVE) competition. The four who came to showdown were Kevin Tay and his Audi A3 S-Line, Jeuss Santiagao and his Mazdaspeed3, Shaun Nandlall and his 2000 Toyota Celica GT-S, and Edwin Giang and his 1993 Nissan Skyline GTS-T. Each competitor truly deserved to be there, some coming long distances and preparing their rides right down to the last second. In the end, the congratulations goes to Shaun Nandlall and his Celica, who earned 52 percent of the votes and came away with the #TBGLIVE title.
Some other standout cars from the show were some that you'd probably only see in the Toronto area. One of which is Canadian producer Deadmau5' cat-themed supercar: the Nyanborghini Purracan. Essentially a Lamborghini Hurracan wrapped in a meme and wearing all the appropriate badging, the Purracan drew huge crowds to the Sekan Skin area. The other car was bat-themed – as in a working scale replica of Tim Burton's Batmobile by the geniuses at Workshop 12. The caped crusader's whip has a full, accurate interior and even dual machine guns that rise and lower in and out of the fenders!
Liefstyle brands like TBA were out showing off the newest gear and designs, while the DJ went hard all day, pumping out chopped and screwed versions of the most recent hits. It's a pretty great atmosphere to have when you're pouring over some unreal vehicles. It turns out the 20,000 estimated attendees for this year thought so, too, while checking out the over 350 show cars that registered. If you're ever nearby or up for the drive, it's clear to see that Importfest is the place to be if this whole modified car thing has a hold on you. 2016 is going to be bigger, better and badder, so get planning.