11 November 2015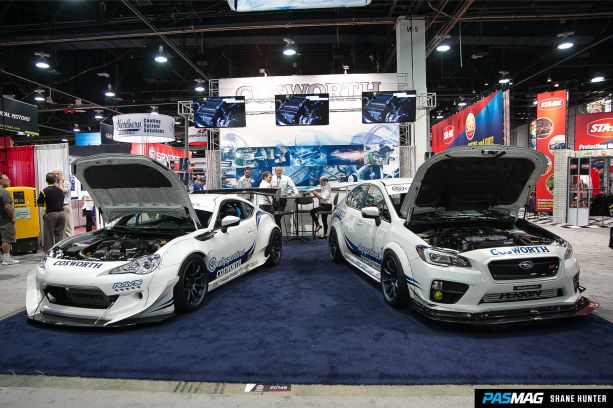 As always, PASMAG scoured the show floor of the SEMA Show to find some of the coolest things on wheels in existence. From the pre-opening media day to SEMA Ignited on the last night, here are just a few of the things we thought were pretty awesome this year!
THE REVIVAL OF RUSTY SLAMMINGTON
We all thought it was gone for good, that old chopped up, rusted and body-scraping BMW E28. The famed Rusty Slammington was the victim of an unfortunate garage fire and the world of stance had a moment of silence. A few years ago, a couple teaser images popped up on the Stanceworks page saying that a rebuild was taking place, but nothing was said of when we'd get to see it or how long it would take. At SEMA, the revived Rusty sat proud with a race-prepped S38 motor, a tube chassis, center-lock BBS E52 wheels and a custom, rusty widebody. Welcome back, old friend.
RYWIRE'S INTEGRA GT3
An Integra DC2 styled like a Porsche GT3 RS and built by the boys at Rywire? Are we in heaven? With an unmistakable paint job, a K-series motor made from a K20 head and a K24 block, and a Honda HPD dry sump for all the VTEC, this was a standout at the CSF Radiators booth. The transmission is even a sequential racing one from Quaife and the jungle gym of bars throughout the car also hint that this Integra is all go. Oh, and the shave and tuck in the engine bay is magnificent. It's Rywire, what did you expect?
SUNG KANG'S FUGUZ
Sung Kang might not be an instantly recognizable name, but his Fast and Furious character, Han, is. The high octane actor picked up an old Nissan/Datsun 240Z as a project a while back, but that transformed into something much more. He ended up teaming up with GReddy and tearing out just about every component besides the steering wheel to be upgraded and transformed into something more. A complete restoration and a new TRA Kyoto Pandem widebody later, and this show-stopper is the result. It even won Gran Turismo's "Best in Show" award despite not being 100 per cent complete.
HAUGEN RACING ROCKET BUNNY 350Z
To be completely honest, we didn't think too much of the Rocket Bunny kit for the Nissan 350Z when the renders were first released. Then, we saw our first few at a couple shows and they got a little better, but nowhere near some of the other kits out there. The Haugen Racing Z, however, changed our minds completely. With its bumper-mounted Mishimoto oil cooler and Rotiform RBQ wheels in candy red, the styling harkens back to old-school JDM rides of the shako tan and bosozoku cultures. Beauty.
SEMA IGNITED
SEMA Ignited was a little different this year. Instead of the usual lot, it took over the "Gold Lot," overlooked by the empty Riviera hotel. Sung Kang, Kei Miura and many other show favorites showed up to sign autographs and hangout around the show vehicles that chose to attend. Formula Drift also had its drivers do drift demos to stir up some smoke. Combine all that with friends and food trucks and you've got yourself a pretty stellar afterparty.