Written by Randi Bentia, Micky Slinger. Photos by Kevin Choi | 07 August 2015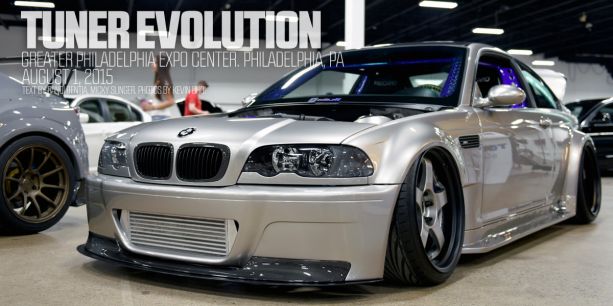 The roof! The roof! The roof is on fire! Tuner Evolution's annual Philadelphia event was hot! In fact, it was so hot outside that a bush caught fire in the parking lot of the Greater Philadelphia Expo Center, which meant everyone, excluding fire marshals, had to wait outside for a brief moment. The heat outside carried inward onto the show floor where we witnessed some the best modified vehicles on the East Coast, live DJs and performances, a B-Boy competition, a handful of prize giveaways, models, celebrities and a bikini contest. There were a few dozen vendors on display, of which were Blockstar, Eagle One, FAST of West Chester, Nine 1 Forged, Performance Bodega, Rotiform and Toyo Tires. These combined resulted in a massive attendance of over 5,000 spectators and about 350 cars!
On top of that excitement, the car show competition was judged by eJudged, a streamline judging process that uses a mobile app to calculate votes in real-time. With instant results, it was Rick Fontan's BMW M3 that came away with Best in Show. Between the Flossman widebody kit, the 20-inch SP1s, Vortech supercharger and the unreal Focal audio setup, it's not hard to see why he came away with the win.
The PASMAG Tuner Battlegrounds #TBGLIVE competition was out in full force with some serious contenders, too. The top qualifiers were John Perez (1993 Mazda RX-7), Aleigh Hutzel (2014 Subaru WRX), Adam Baumel (2002 Audi TT) and Danny Hong (2006 BMW M5). With 62 percent of the popular vote, Perez's father-son RX-7 was the victor! Catch his feature in PASMAG's Performance Special Edition, on newsstands between October 2nd and December 31st.
Ladies-wise, Dannie Riel was the feature model, posted up in a huge booth with a backdrop to take pictures with fans. Jeri Lee, a Philly regular, hosted the bikini contest, which was taken by the crowd favorite Yelinice Lopez-Velez.
All in all, even with the minor emergency, Philly was a success. We had such a great time that we're already planning to have more of us out there next year!
For more information on Tuner Evolution, go to www.tuner-evolution.com.
Contributor: Kevin Choi