Written by Brian Eggert. Photography by FlimFlam Media | 15 September 2015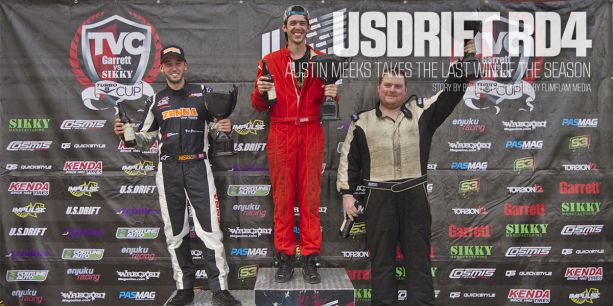 USDrift returned to VIRginia International Raceway, the site of where the 2015 season kicked off with, for their fourth and final round of the 2015 season. The event was run in conjunction with the National Auto Sport Association's (NASA) Eastern Championship Event. Austin Meeks from Spartanburg, SC took his first win of the season in his Sikky Manufacturing swapped LSX powered 1996 Nissan 240SX running on Achilles Radial tires.
Round 4 would leave only three drivers with a chance to walk away with the 2015 USDrift PRO/AM Series Championship. Austin Meeks did everything in his power to try and take the championship by qualifying first and winning the event, but it wasn't enough to overcome the lead Concord, NC native Jonathan Nerren had going into the event. Nerren would end up qualifying second and finishing second at Round 4 in his 1995 Magnuson Superchargers Nissan 240SX on Zenna Tires, giving him the Championship by just a mere 21 points over Meeks. Yonkers, NY resident, by way of Ireland, Fred Keogh in his LS3 powered Nissan 350Z on Achilles Radial tires would enter the final round third in points, qualify third, finish the event in third, and end the season third overall in points.
"Forty-five drivers competed in the USDrift PRO/AM Series this season, and the progression majority of these drivers made over the course of the season was astounding" said Michael Schneider, USDrift judge. "I wouldn't be surprised if a lot of those drivers that finished outside the top three weren't in the top three at the end of the season next year."
"The 1.1-Mile Patriot Course is a fun and challenging course, so it was only fitting that we return to VIR to finish off the series in order to determine the overall season standings" said Brian Eggert, Event Director of USDrift. "This track has elevation changes, a wall, and fast speeds. All three are things the drivers, judges, and spectators love to experience and enjoy at a drift event."
The 2015 USDrift PRO/AM Series concluded with Round 4 at VIRginia International Raceway. Jonathan Nerren, Austin Meeks, and Fred Keogh all earned their 2016 Formula DRIFT PRO2 Licenses based on the overall season standings for 2015. Next year's USDrift PRO/AM Series schedule should be released in November. For more information please visit: www.usdrift.com. You can also find USDrift on popular social media outlets such as: Facebook: www.facebook.com/usdrift, Instagram: @usdrift, and Twitter: @usdrift.
USDrift RD4 Results:
1. Austin Meeks [SC] – 116pts
2. Jonathan Nerren [Concord, NC] – 105pts
3. Fred Keogh [NY] – 95pts
USDrift 2015 Standings After Four Rounds:
1. Jonathan Nerren [NC] – 396pts
2. Austin Meeks [SC] – 375pts
3. Fred Keogh [NY] – 328pts
4. Chris Cotrupi [NC] – 264pts
5. Tyler Nelson [NC] – 241pts
6. David Bellomo [VA] – 212pts
7. Thomas Palmerino – 191pts
8. Troy Manners [PA] – 153pts
9. Cody Doyle [NC] – 138pts
10. Mateen Ahmad [VA] – 137pts
For more information please contact:
USDrift/Lookout, LLC
10307 West Broad Street, #186
Glen Allen, VA 23060
804-65-PROAM (7-7626)
This e-mail address is being protected from spambots. You need JavaScript enabled to view it
Contributor: Brian Eggert, FlimFlam Media