Written by Jordan Lenssen | 10 November 2014

Story by Micky Slinger, Jordan Lenssen / Photography by Micky Slinger, Jordan Lenssen, Shaun Keenan
BIGGER IS BETTER
SEMA - It's the place where personalities flock and the car crazies want to be. From mind-blowing builds to achievements in technical execution, the world's largest automotive aftermarket gathering drops on Las Vegas for four days each year to show the best in motoring innovation and evolution. This year, PASMAG took to the floor once again, in a unique position as both exhibitor and media member. From coordinators to writers, photographers and models, PASMAG was there to dive into the newest and hottest products, speak to the reps and celebrities, and bring the best blog and print coverage to you, our amazing community.
Where to start? Well, it was our (Micky and I) first adventure to the big show – and while we were briefed beforehand, nothing could have prepared us for what was in store. With 60,000 domestic and international buyers, 2,000 new products and 12 different show areas, it was the biggest event in years – and rightfully so. We're seeing more trends and greater advances in technology than ever before. We landed late Sunday night, ahead of the private preview on Monday, before the show went full swing Tuesday. Equipped with our target list of contacts, it was cameras in one hand and pens in the other to jot it all down. The Beastie Boys say there's no sleep 'til Brooklyn, and there was no talk of leaving Sin City any time soon. So, without further ado, here are the highlights from the blur of an amazing week that was...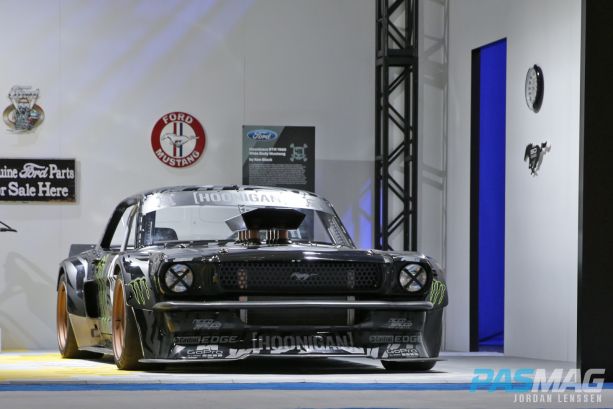 MUSTANG's 50TH ANNIVERSARY
IT'S MONDAY MORNING. We wake up and leave the hotel, ready for day one – before the show is officially open. We don't even make it to the conference center when we're struck with a herd of Mustangs sitting in a lot across the street. There are models from every generation: '64.5s all the way up to brand new S550s. There's even an '89 Saleen SSC, and one of the nicest Mustang IIs – a rebuild, no less – we've ever seen. In all, there are over 150 cars from across the US that span the lot. Hosted by Ford, it was an incredible intro to SEMA – and it isn't even an official part of the show! When we got inside, Ford had a massive display of Mustangs, to coincide with the showstopping Hoonicorn RTR and Mustang RTR Spec 5 Concept. It was a fitting tribute to the 2015 Mustang, which was also crowned SEMA's "Car of the Show".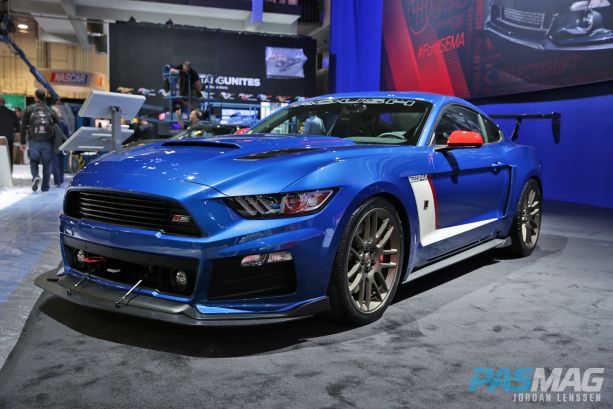 BREMBO CARBON-CERAMIC DISCS
Brembo's new CCM-R Carbon-Ceramic brake disc and pad technology had everyone in awe during their presentation. It's gotten to the point where each disc is a work of art, and together with its famed calipers (LeFerrari version shown below), Brembo announced its latest technologies will now be offered on the Nissan GT-R (R35) as original equipment. The company says it will save 25 lbs. on the front axle and 31 lbs. on the rear, which means even more potent speed, both in acceleration and braking. Exotic, yes, but it also shows the new technology heights the brake manufacturer is making, which will undoubtedly trickle down throughout its lineup.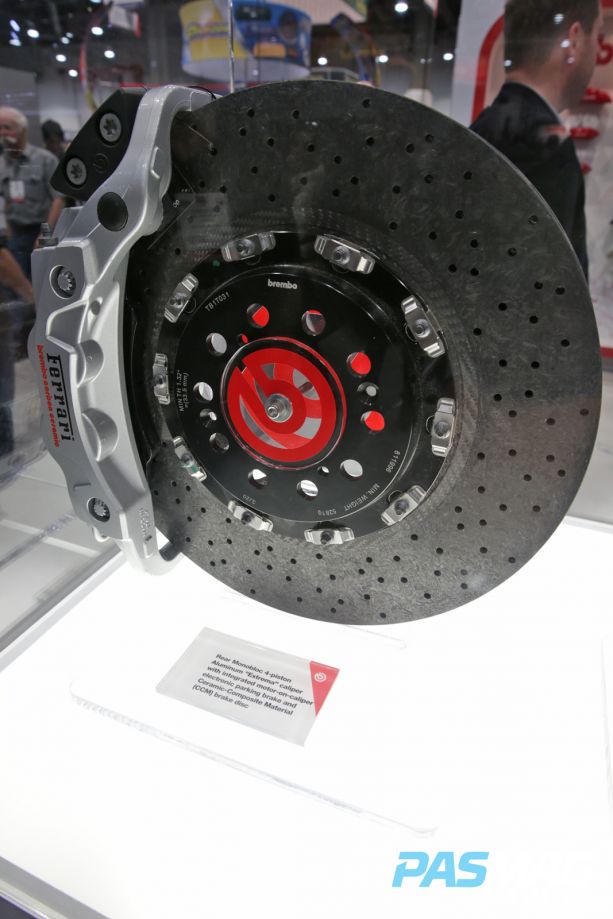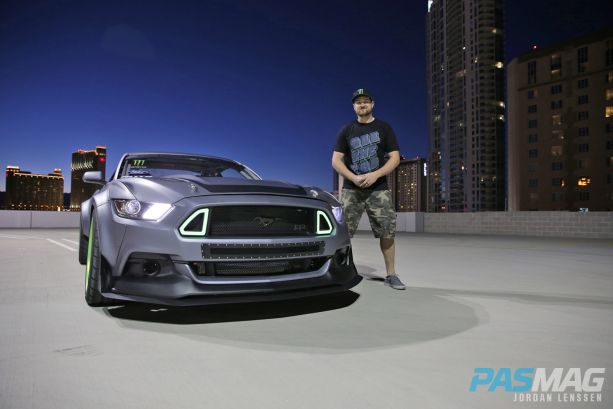 RIDING ALONG IN THE MUSTANG RTR SPEC 5 CONCEPT & F150 ULTIMATE FUN HAVER
AS SOON AS YOU POKE YOUR HEAD outside of the Las Vegas Convention Center, no matter where you were, you could hear and smell burning rubber. It was awesome. All that screeching and smoking was courtesy of Ford Out Front, where they drifted F-150s, SVT Raptors, and Mustangs of any shape and size around the track area they had set up. I really, really wanted to get in on that. I was also super jealous that Mr. Lenssen had already gotten a ride in Gittin's Spec 5 Concept the day before. Jordan, sick of my whining, told me to "just go ask him, dude." So I did. And even though he was probably sick of seeing my face for the seven-millionth time in two days and had many better things to do, JR hooked me up real good, and I actually got a spin in both the widebody drift 'Stang AND the F-150 Ultimate Fun Haver. What was the experience like? Well, after being tossed around like a rag doll in the Spec 5 and then having the air suspension blow on the F-150 after being hooned so hard, you could say I sounded like a giddy schoolgirl. For a few days.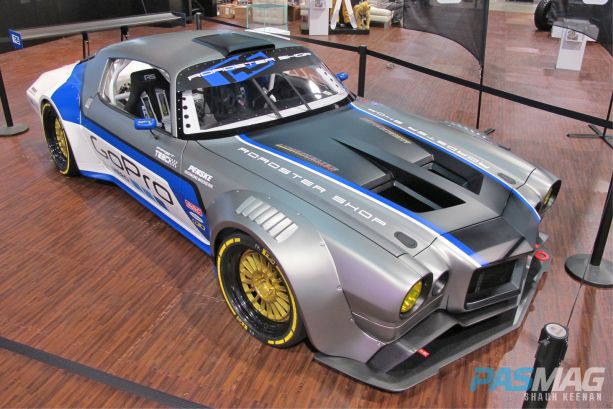 GRAN TURISMO AWARDS
ARGUABLY THE BEST PARTY OF THE WEEK, industry magnates touched down at Drai's Nightclub for an evening of awards and killer music, courtesy of punk-rock legends Social Distortion. Celeb sightings from the PASMAG crew included Kei Muira, Porsche driver Patrick Long testing the simulator, Kenny Tran, Fredric Aasbo, and Danny George, who we ran into earlier that day to discuss some exciting 2015 plans. Sitting at the GoPro booth throughout the week, the "Rampage" Camaro (pictured, above) built by Roadster Shop took the GT Award for Best in Show, and after seeing it up close, it's obvious why. It has the perfect amount of old school flare, sports car looks, and modern widebody elements that make it easy on the eyes. Underneath, the 750 horses push from the LS7 motor through a sideways-mounted transmission(!)
because the car sits so low, and everything is built for a full-on track assault. We can't wait to give this a test in the virtual world.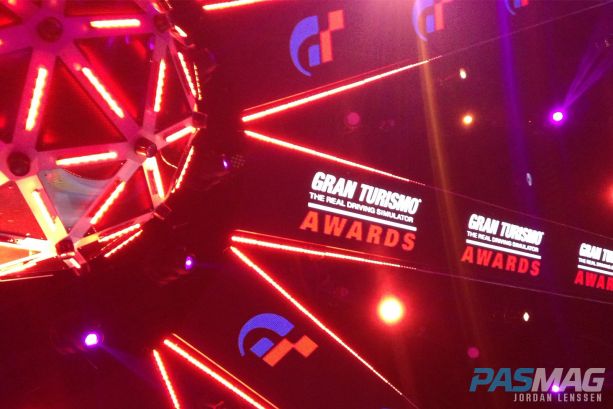 OF COURSE, GRAN TURISMO GURU, KAZUNORI YAMAUCHI, WAS ON HAND TO AWARD FINALISTS FROM FIVE CATEGORIES TO GO ON TO COMPETE FOR THE PRESTIGIOUS HONOR OF BEING FEATURED IN GRAN TURISMO. HERE ARE THE WINNERS FROM EACH CATEGORY:
Best Truck/SUV:
1952 HPI Customs Chevy Pickup
Best Asian Import:
Garrett / GReddy Nissan GT-R (R35)
Best European Import:
2013 HPA VW Golf
Best Hot Rod:
1957 Chevrolet Bel-Air
Best American Domestic:
1970 Chevrolet "Rampage" Camaro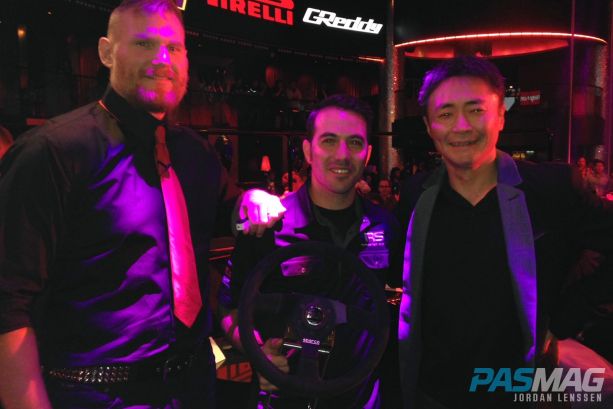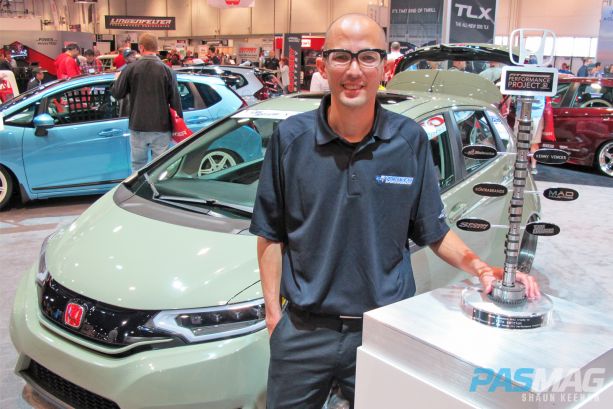 HONDA'S PROJECT FITS
IF YOU FOLLOW HONDA on social media in some capacity, you know about their Project Fit challenge for SEMA. Plastered on Facebook and promoted by each builder, it even took over the company's Tumblr blog (http://hondaloves.tumblr.com #ProjectFit). You couldn't escape it - and why would you want to? These little Fits drew quite the crowd on the show floor.
MAD Industries went for the tried-and-true combination of black and gold. The windows were even tinted to match the wheels, which was a cool touch. The best thing about the build wasn't actually the Fit though; it was the Honda Grom that matched. The little guy even fit in the trunk with room to spare!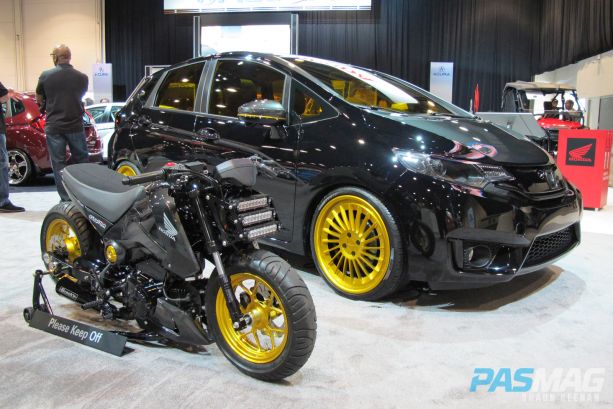 Spoon Sports USA brought its "Super Taikyu" to play. Developed with endurance racing in mind, the Fit carried an entire parts catalog of Spoon goodies with the right amount of JDM touches, and its signature blue and yellow color scheme.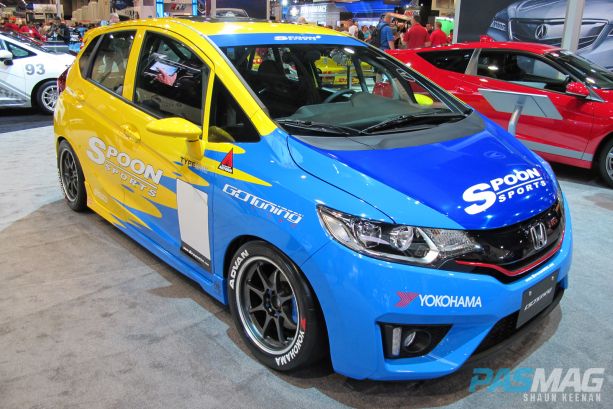 Bisimoto did what he does best and built it better than the OEM engineers. His Fit puts out 151 horsepower, thanks to special coatings, aerospace oil and highflow exhaust. That's almost 40 more horses squeezed out of this little guy!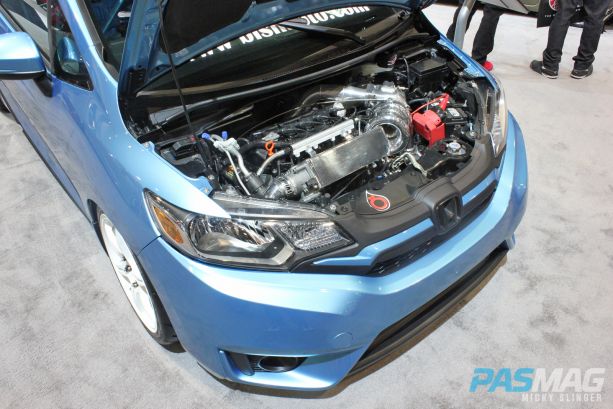 Kontrabrands took their Honda Fit and gave it a taste of the enthusiast lifestyle. This all-around street performer featured tasteful upgrades inside and out to help make it look and sound great. You could probably see something like this rolling down your street soon.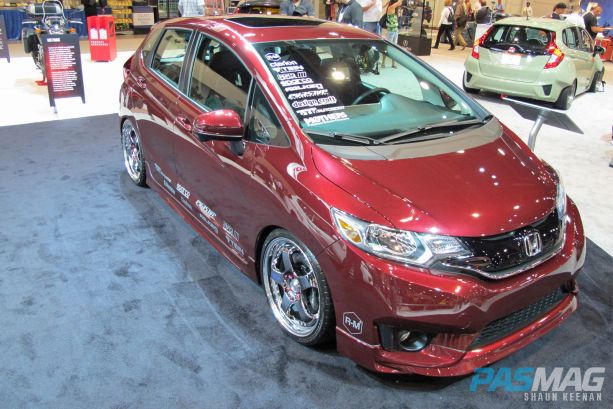 Kenny Vinces went about his Fit to make it show-worthy wherever it ends up. A custom audio setup, nitrous system, and custom headlights, lip and fenders round out
this stanced Fit. There are some cues to follow here for sure!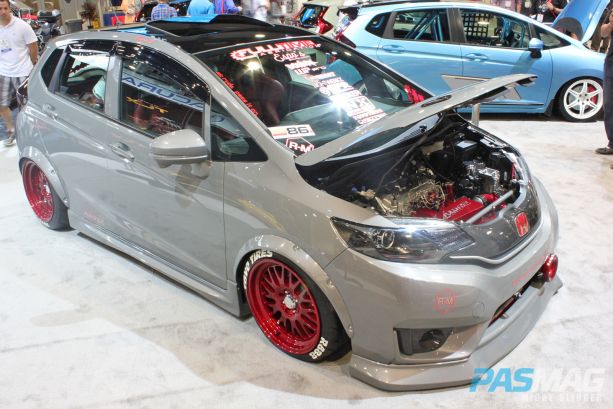 The Tjin Edition Fit came away from this competition with a win, but to find out more, you're just going to have to read the story in the PAS Feb/Mar 2015 issue! Order HERE.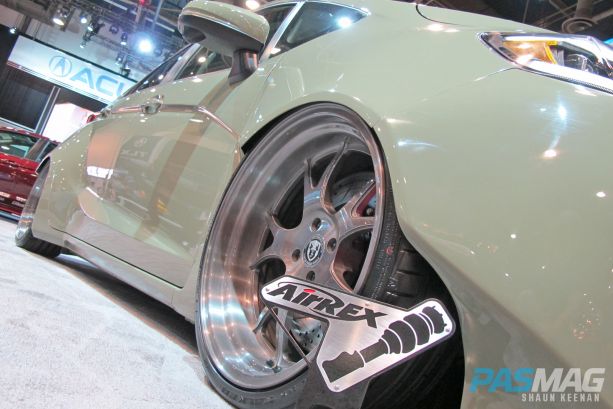 RTR BY HRE WHEELS
With products coming out of our ears, HRE's presentation of its new RTR Series wheels, developed alongside long-time partner Vaughn Gittin Jr. really stood out. Made exclusively for the Mustang are two products: the flow-formed, monoblock RTR Tech Mesh, and the three-piece, ultra lightweight and high-performance Tech 7, donned by the Mustang RTR Spec 5 Concept which graces this cover. Custom sizing and centerlock options are available, and both come with a lifetime structural warranty. After the presentation, Gittin said the partnership with HRE will also see "three additional wheels," available very soon from AmericanMuscle.com.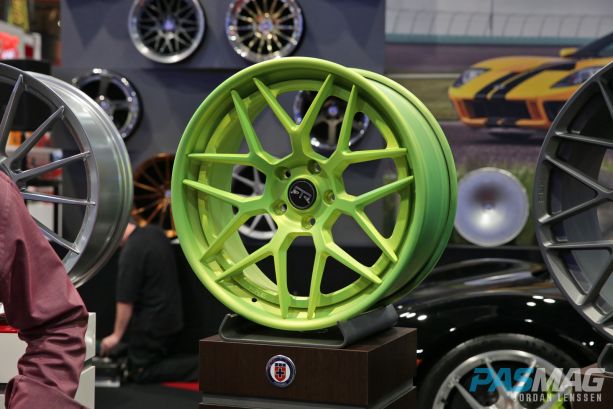 SIXTY-FOUR COMPETITORS, OVER 65,000 VOTES from more than 55,000 voters during 39 days, and it all came down to the Tuner Battlegrounds: Battle for SEMA 2, The "International Showdown", in Las Vegas at SEMA 2014. Representing Team Canada was Anthony De Guzman and his Toyota Supra, while Team USA had Moses Awad and his all-carbon 370Z. It was Supra vs. Z. Performance vs. style. 2JZ vs. VQ. It could be described as many things, but the passion and intensity from these combatants was something that had to be seen to be believed. They were bolting on parts, getting on-the-spot detailing and grabbing as many voters as they could, right down to the last minute. This Tuner Battlegrounds showdown was the fiercest to date, and we won't soon forget the drama and the great times. Congratulations to Anthony and his Supra for bringing the trophy to the Great White North!
Tuner Battlegrounds: Battle for SEMA 2 Sponsors
Niche Road Wheels | Oracle | Sylvania | Dynamat | Bully Performance Clutch | McGard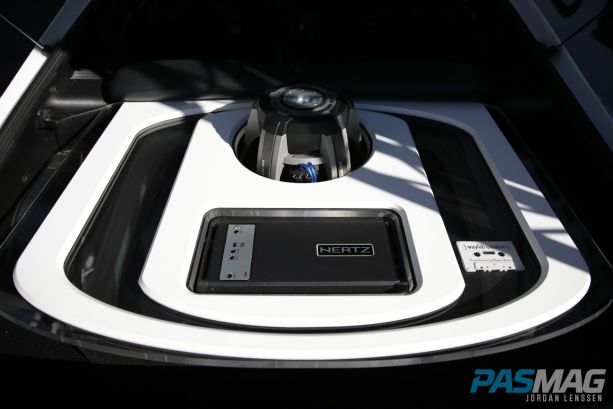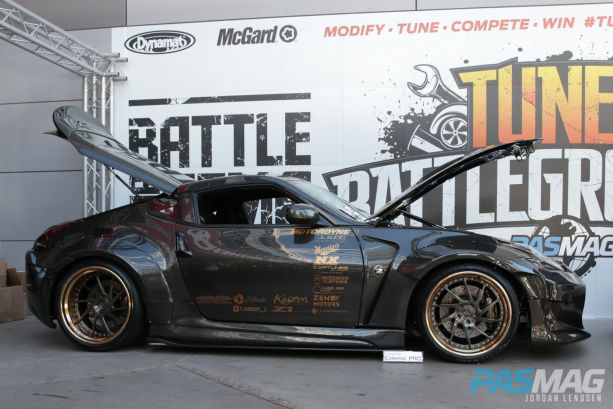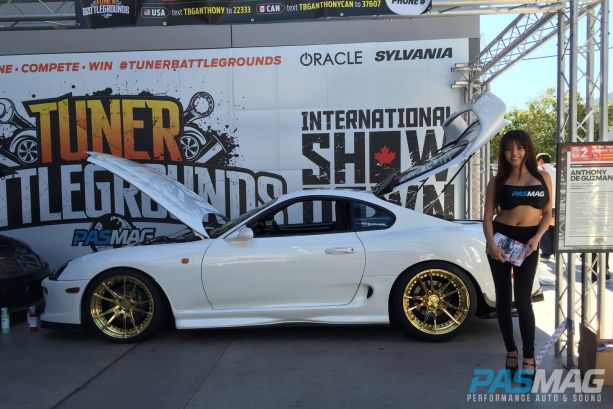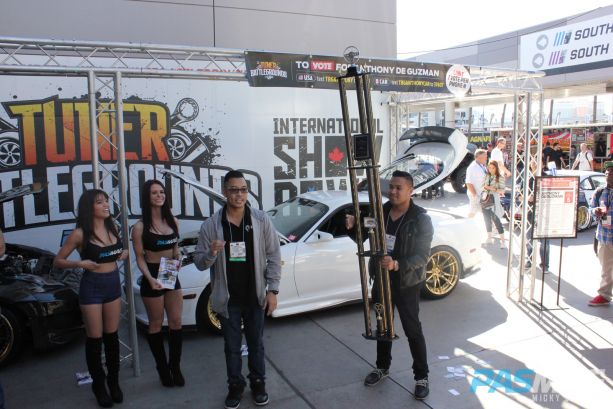 More Coverage of SEMA 2014 Las Vegas to be continued...
Hyundai Build-Off
Widebodies of SEMA
Scion Tuner Challenge
Models