Written by Phillip Awad (with notes from Shaun Keenan) | 10 March 2014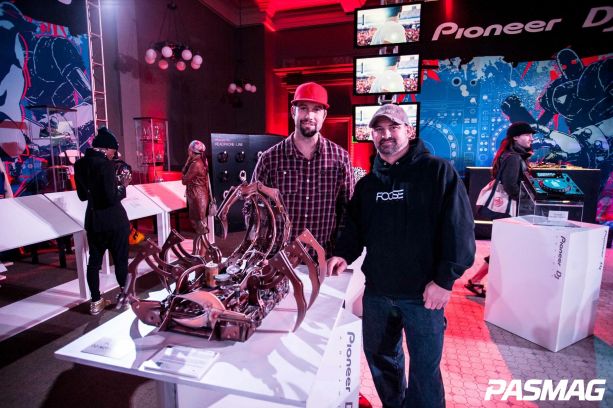 The Old Union Bank in downtown Los Angeles played house to the annual Pioneer DJ Art Mix event this passed October. Against the backdrop of the Los Angeles Art Walk, which draws 10 to 15 thousand people annually, custom-designed art pieces using Pioneer's CDJ-2000nexus multi player as the canvas were auctioned off to support the VH1 Save The Music Foundation. All proceeds went toward improving music education and programs in public schools across the U.S. Bids started at only $500, and considering the Pioneer CDJ-2000nexus Professional Multi Player retails for more than two-grand, many brought in much more than a sale price.
Each artist put their unique spin on their respective projects. Some pieces had tongues and fingers such as Dada Life's submission, while others had signatures from the likes of Crystal Hefner and Kaskade. Others were tricked out with lights, wood, splash paint, movie themes, water guns, neon colors, cartoon characters and much more. Many of the pieces were still functional, however others were so over the top that the artistic outcome meant they could no longer function.
The crowd favorite seemed to be the Scorpion project created by Five Axis. It was built in a Steampunk style using only recycled car parts; gauges, springs, wires, air filters, center caps and more. The Scorpion also features LED backlighting as well as a linear cable drive to actuate the up and down motion of the body in relation to the legs. One crew member stated, "This is what we do," claiming it wasn't too difficult to put together once the idea had been set.
Every piece of the Five Axis Scorpion is hand cut and painted with a perfect patina. The guys at Five Axis used their 15-minute breaks throughout the day to make progress on the art piece, working around their busy schedules until it was done. The Scorpion was created so that regardless of the viewing angle, there is always something interesting to look at. Each section has something unique.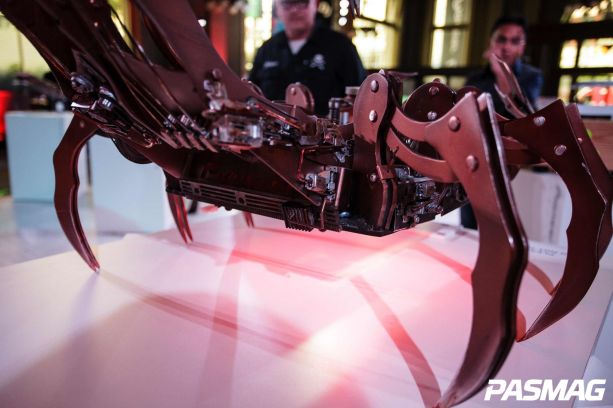 It was a great opportunity for people to see a new take on DJ culture by incorporating art on the music equipment that creates art itself. Highlighting live performances, Pioneer's turn table progression, and memorabilia from many of the world's most renowned DJs (not to mention all the proceeds to the Save the Music Foundation), PASMAG can safely say the Pioneer DJ Art Mix event was a huge success! We can hardly wait for next year's event!