04 July 2013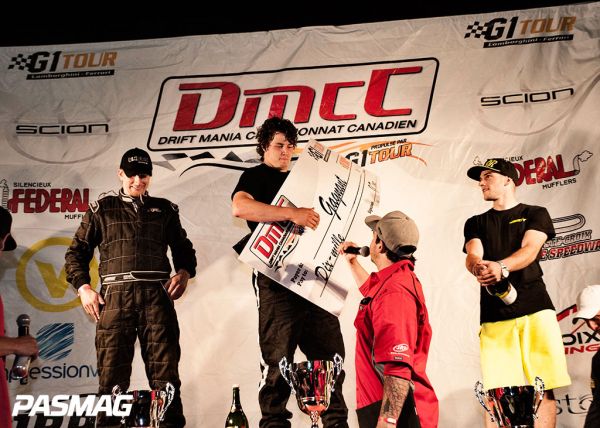 DMCC rolled into Autodrome St-Eustache for the second round of competition this year. For this round, the top 8 seeded pro-am drivers were invited to compete with the pros for the first ever top 32 competition.
The event was a long one as everything was packed into one full day; at least the weather was nice in comparison to round one.
During the morning, I spotted Pat Cyr and he was not with his new FRS. The FRS was not 100% ready to compete, but it is supposed to be good to go for round three. It was also cool to see two-time DMCC champ, Matt Waldin, make his way down to compete again.
Practice started early and the course layout remained the same as most drivers were fairly familiar with track. There were no major incidents in the first session besides some small off- track excursions. However, during the second practice session, Jeff Laflamme took his IS300 hard into the wall causing some damage, but his team was confident they could get it fixed before qualifications. Adding to the issues, rain began to sprinkle the track which made the main straight section that passes over the drag strip as slippery as ice. That slippery section got the best of Nicolas Lorange who stuffed his car into the wall opening up his radiator. The damage was not event ending and he was able to get his car fixed and back on track. Jeff Laflamme was also able to make it back, but on his first pass testing out a suspension component his team had just fixed, the same piece broke and sent the car back into the wall ending his day.
After Mike Pollard's dismal first round outing, he was looking to bounce back for round two as he put down a crazy run locking him into the number one qualifying spot. Second spot went to Maxime Lemoine in his crazy S10 drift truck and third place went to Marc Landreville with Pat Cyr right behind in fourth.
The top 32 tandems were great! The top seeded drivers had bi-runs into the top 16. In an upset, last year's DMCC champ Marc Landreville was taking out when his clutch let go in his first battle in the top 16. The final four came down to Pat Cyr, Alex Michaud, Dave Briggs and Maxime Lemoine. Alex Michaud took the win against Dave Briggs for third place leaving the battle for first between Pat and Max. Max led first and surprisingly, Pat spun behind him. On Pat's lead run he took a decent lead over Max, but it was not enough to overcome his spin giving the win to Max. It was really good to see Max get his first DMCC pro win in his awesome drift truck.
Round three is this weekend at the Riverside Speedway in St Croix, Quebec. Rumours has it, it is going to be a very high speed track so the action will be great.