18 June 2013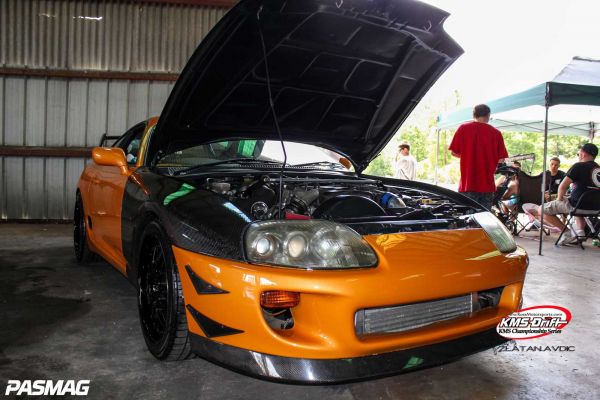 The heat was on as KMS Drift slid back in to Florida with a packed house. Kicking off the event Friday night, the drivers were promised maximum seat time, and that is exactly what they got as they slid until it was too dark to see. As the sun came up Saturday, drivers rolled in to shred some tires and compete between the two tracks. The competition track was set in an "M" style layout with two nice sweepers and elevation change that made for some fun sliding. The second track was a wide open lot for drivers to hone their skills and advance through the ranks of the KMS Drift series. Over 30 drivers from four states gave a show to the 400+ spectators over the two days. When the day winded down and the sand and smoke settled it was another huge success for grassroots drifting.
The competition had its top 16 placed and it was time to see who would walk away with the bragging rights as the King of GCS. It was a tough battle of skills requiring several OMT to ensure the proper drivers advanced. One of the biggest surprises of the event was Jeffery Dockery who threw it all out in his first completion and walked away with a second place finish. Unfortunately, several cars broke and were unable to finish the competition.
The biggest OMT for GCS is the announcement that we will be having an OMT at the desired location on July 13, 2013. Thank you all for making this happen, see you in July!
Competition Winners:

1st - Andrew Huffman
2nd - Jeffery Dockery
3rd - Alex Covert
Over all winners of the event:

Crowd Pleaser - Vladimir Vukshich
Driver Favorite - Joseph Cofer
Most Smoke - Dakota Steffen
Best Ride Along - Wes Harrington
Most Improved - David Tenney
KMS Pick/Kiss Ass - Forest Tucker
Location Pick - Justin Grimes
Hard Luck - Logan Garcia
No I Beam - Marquis Powell
Pretty Boy Drift - Brandon Denton
All Heart Pick - Darrell Balandra
Team Tandem Battle Winner:

Andrew Huffman & Alex Covert
Winner Car Show Topers:

Richie Rosaao
Logan Sadler
Manu Hierzi
Carl Es Dondy
Miguel
Matt Perry
Jesuel Rivera