Written by Jeremy Glover. Photos by Jeremy Glover | 23 August 2012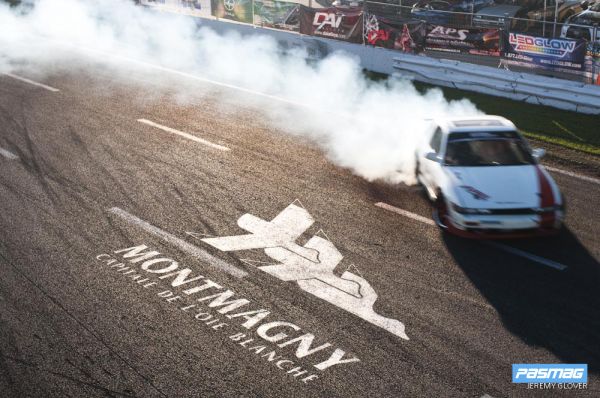 Round 5 of the DMCC series took place in Montmagny, Quebec. The event was originally supposed to be held on the 11th but due to severe thunder storms in the forecast for the first time in DMCC history the event was postponed to the week after. Changing the date of the event was a good move since it was a super nice day but did have its downfall as a few of the regular drivers were not able to make it due to schedule conflicts.
The event started early as it was an all-day-and-night event where practice, qualification and completion for both pro and pro-am took place all in the same day. Practice went great with pretty much everybody putting down some solid runs. There were no real issues throughout the day either. Nobody hit the wall but sadly Eric Warnetts' engine in his FC RX7 decided to let go as did the engine in "Paco's" s13 leaving the field down two drivers before qualification.
Before we knew it was already time for qualifications to start. Francis Tasse has been on fire this season and got himself into the top qualification spot. Marc Landreville, who is leading the championship hunt, got the second qualification spot and third went to Jeff Laflamme who is now doing good in his IS300 chassis.
Top 16 was interesting since there weren't actually 16 drivers. The top seeded guys all got bye runs and went through to the next round. The major upset of the Top 16 was when Pat Cyr took himself out against Eric Paradis when he spun out on his lead lap and then, with nothing to lose on his chase lap, actually made contact with Paradis.
The Great Eight battles went very smoothly leaving Tasse, Landreville, Tanner Munson and Alex Michaud in the Final Four. Landreville faced Munson but near the end of the run something let go in Landreville's car sending him into battle for first and also giving the automatic third place to Michaud who lost against Tasse.
Top Two stacked up to be Landreville against his buddy Tasse. Both drivers knew what they had to do and when the tire smoke cleared Landreville was awarded the win. Landreville now has a nice lead in the points race with Tasse sitting not too far behind in second.
The next round of DMCC is taking place at the track where it all started, the Autodrome St-Eustache. For more info, check out www.dmccdrift.com or the DMCC Facebook fan page.