Written by PAS Staff | 27 July 2012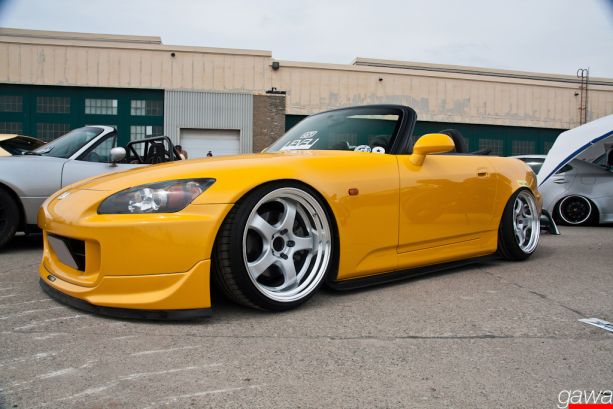 Written by David Tsai l Photos by Galen Wan
More than 500 cars attended the Stretch & Poke! 2012 season opener – the Fitted Showcase – on May 27 at Downsview Park in Toronto, Canada. The free event saw a record-breaking attendance and is the largest gathering of Canadian enthusiasts who follow the aggressive wheel fitment lifestyle.
For the past three years, Stretch & Poke! has successfully hosted these events and 2012 was the best year to date! Automotive enthusiasts of all backgrounds brought forth a diverse collection of makes and models to participate in what has become a popular and recognized automotive culture-driven event. Throughout the day, vehicles continued to roll into the park, which nearly reached maximum property capacity. The quality and range of vehicles was astounding with examples including an air ride vintage Mercedes-Benz, static suspension Honda S2000s and a Smart car lowered on super wide and aggressive wheels!
The first 250 lucky attendees were provided free sponsor giveaways including key chains, lanyards, stickers and magazines generously donated by supporting event sponsors such as Meguair's Canada, ENEOS Oil Canada, Performance Auto & Sound magazine, Trackwerks,
GBTires and Nextmod. The event culminated in the late afternoon with a free raffle, including sponsored automotive car care, cleaning and maintenance products, t-shirts and gift vouchers to cap a fun-filled day for enthusiasts and a successful one for Stretch & Poke!
Wheel fitment, most commonly referred to as "stance," has seen exponential growth and become one of the most popular automotive subcultures to date. Established in 2010, Stretch & Poke! (www.stretchandpoke.com) is the first and only Canadian event property to promote Canada's aggressive wheel fitment lifestyle – a culture it not only promotes, but lives – by partnering with key brands and properties with a strategic focus to champion the quality and excellence this rising lifestyle represents.