Written by and photos by Jeremy Alan Glover | 08 September 2011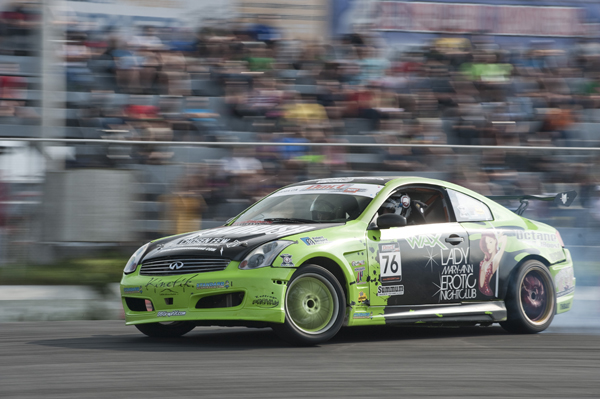 The second to last round of the DMCC season was a big one. It was a special event where drivers from the XDC series came up to Canada to compete in a Canada VS USA battle. There are already a few XDC drivers that compete in the DMCC series but this event was done in partnership with XDC. Chris Forsberg came up to help judge the event and sign autographs under the NOS Energy tent and we even had the voice of drift himself J-Rod as a guest announcer. The event took place at the Autodrome St-Eustache which is about 20 minutes north of Montreal and is pretty much the DMCC version of the house of drift as it's the track where DMCC first started.
For this event the layout of the track was changed so that the drivers would have a much faster entry speed that made it really exciting for the fans.
Practice and qualification took place on the Sunday for both Pro and Pro AM drivers. One shocker of the event was that Pat Cyr blew his engine after only a few practice laps, which was going to leave one of Canada's best drifters watching from the sidelines. It was over cast all day and right near end of qualification for the Pro's mother nature opened up and a huge rain storm started and resulted in putting the final few drivers to make their second pass on the Monday morning. The problem with the ASE track is that when it rain the track turns to ice and of course it was raining Monday morning. The top 3 drivers had to make their second qualification pass's on the wet slippery track. On Dave Briggs's pass it all went wrong as he came in way to fast for the conditions and slid his car right into a tire wall that was around a light pole.. Thankfully damage was not too bad considering the impact. Marc Landreville was driving great all event no matter if it was rain or dry and was putting on a great show with his car running an anti lag set up it was had the fans going crazy. He secured the top qualifying spot.
In order to have a good show the top two Pro Am drivers were also able to qualify and compete with the Pro's for the main event. The Pro Am main comp was right before the main Pro competition with Marc Andre Claude taking the win against Alexandre Michaud and Joel Coutu in 3rd.
The main competition was full of action from start to finish. Winner of the Pro Am event Marc Andree Claude went up against Jeff Laflamme in top 8. Marc-Andree was doing great all weekend but he would not have it easy going against Jeff until it all went wrong for Jeff.. On the exit of the last clip Jeff went a little too high and put his car into the wall hard enough to end his day moving Marc-Andree into the final 4 battle. An other crazy battle was Dave Briggs going up against his arch rival Marc Landreville.. Everytime these guys get paired together its always a good show and this time was no different. On Daves chase run he stuck to Marc like glue and actually got a little too close and made contact about 4 times with him. Daves lead run was good but with the contact from his chase run the win was given to Marc.
Top 4 came down to a battle between two Americans and two Canadians. Marc Andree Claude did not have it easy and was facing off against Nate Hamilton. Nate was awesome to watch all event with some crazy entries but on his chase run he over shot it and spun. He pushed hard on his lead run and the pair were given a OMT where he was able to get the win against Marc Andree. It was great for both drivers since Nate wanted to at least podium and Marc said he would have been happy with a top 8 finish.. The final match up was Marc Landreville matched up with Miro, two drivers that are super consistent. It was an epic tandem! Ive never seen Miro chase as aggressive as he did especially against Marc. Marc's chase run was really good too. It was very close to call but Miro was given the win.
It was a super exciting event that will hopefully happen again next season with more XDC drivers showing up to compete. The final event will be at Icar where we will see who will become the next DMCC champion.
For more info check out www.dmccdrift.com.