Written by PAS Staff | 12 October 2010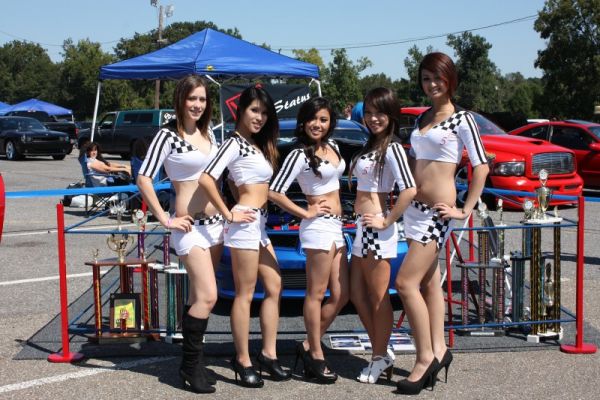 Johnny Williams pulled the upset win in the FWD class after number qualifier and 2010 points leader, Aaron Lopez (San Antonio, TX) timed out in the first round of eliminations. Aaron was looking to take the easy win, but he did not realize the timing clock started as soon as his opponent's second staging bulb flickers. The second bulb never stayed completely lite, only flickered, due to an extremely shallow stage. Before the second bulb, both racers sat on one light playing a "staging duel" for about 15 seconds. This just goes to show there is more to drag racing than running a fast time.
The Forced Induction Pro class was won by Kelvin W. From Metarie, LA with his 9 second Mitsubishi Eclipse against John Nguyen from Baton Rouge, LA in his 10.0 second Honda Civic. John, who would have liked to race in the FWD class, had to step up to race FIP due to having a straight axle (not within FWD rules).
The Forced Induction Sport class was won by Micah Peavy from Denham Springs, LA who drove IFO owner, Cliff Wallace's R35 GTR running consistent 11.10s throughout the day. Cliff gave the winning payout to runner up Diego Vasquez from Gretna, LA. Micah took home the trophy though!
Winner of the New Orleans VS Baton Rouge grudge class was won by Matt Porrier with his twin turboed Mustang GT running 10.30s at 133 mph. The open, IFO grudge class was set up after months of internet trash talk and to encourage street racers to "take it to the track". Unfortunately, most all of the illegal roll street racers were seen sitting in the stands while the real racers were winning on the strip. The NO vs BR class ended up having a BR vs BR final since so few of the NO racers stepped up to the challenge.
National car club, Team Sunworks, won Best Club Representation for the 6th time this year which further secures their lead for the 2010 IFO car club points championship. www.importfaceoff.net
{yoogallery src=[/images/phocagallery/Import_faceoff_batonLA] width=[150]}