Written by PAS Staff Photos: PAS Staff | 20 July 2010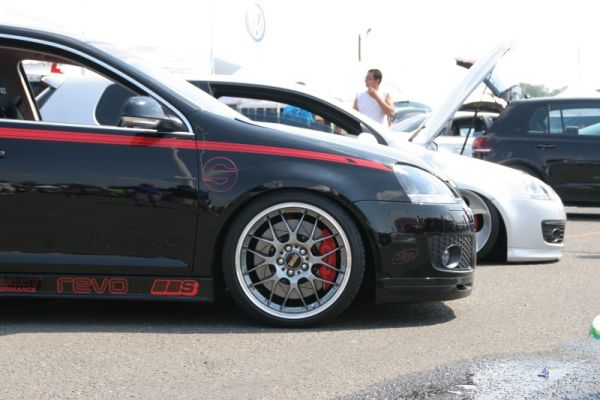 Unless you've been living under a rock for the past 16 years you'd know that Waterfest is the largest water-cooled VW and Audi show on the planet. VWAG(Volkswagen Audi Group) followers converge upon Old Bridge Township, East and North Brunswick for three days of VWAG show and go.
Traditionally Waterfest has usually had at least one day of torrential downpour (usually on Sunday) that added a second meaning to the name. However this year the weather was extremely hot, which was indicative of the massive amount of vehicles on display and in competition.
Want to Read More?
Click Below for Full Digital Issue!
As per usual PAS and long time supporter Johnston Research & Performance (JRP) held a pre-launch meet at their facility in Mississauga. From there we met up with Orange Ball from Quebec and the crew from Generation Dub. By the time the Waterfest 16 Kruise got underway we were 40 deep in VW's and sick Audi A4s.
We arrived at the Speedmax Performance BBQ where the boys cooked up grub and provided refreshments for all. A raffle was held and a lucky winner received a free APR tune for his vehicle for free. A big thanks to the boys at Speedmax Performance for putting on a great event and being such good hosts. Next we were on to our hotel; it was here that the party began. By the time the sun set Dub heads had started the traditional and un-official burn-out competition. The action was so intense that a local police cruiser got in on the action and smoked the hides.
At E-Town raceway enthusiasts packed the grounds and flocked to their favorite vendors. Not to brag but the Performance Auto & Sound section that was comprised of Scosche/Realm Audio, Air Lift, Nitto Tire, Raceland, Speedmax Performance, and STD Standard was easily one of the most visited areas. We had several boosted VW's on display and the hottest models as you would come to expect from PAS.
Sony had a huge booth display for their stop of the "Sony Mobile Music Tour – presented by Performance Auto & Sound" with the smoking hot Richaele Long and Angellena Evola on hand to take pictures and sign posters for attendees. These girls packed the house and made sure nobody left without a signed poster. Angel Vargas had two of his VW's on display fully fitted with Sony gear and Bravia LCD panels in the back. The booth was always buzzing with activity the entire weekend and the tunes were crankin.
FREE Trial Issue
Waterfest 16 was definitely a success and there was always something to do or see whether it was watching drag racing, auto-X, or cruising the swap meet and car show area. The only thing that was lacking was a higher amount of burnout competition entries. This year only four entrants participated with one of them being a pretty weak entry, our rented VW Routan could've done a better burn out. Next year we want more burn outs, less in the parking lot and more at the track!

{yoogallery src=[/images/phocagallery/Waterfest2] title=[Waterfest 16 2010] width=[150]}