Written by Dave Pankew // Photos by www.redlinetimeattack.com | 26 August 2008
Redline Time Attack: Round 1
Buttonwillow Raceway
Buttonwillow, CA
March 28 - 29 2009

Redline Time Attack is back for an explosive 5th season and the action is definitely heating up. The first event is always a highly anticipated date with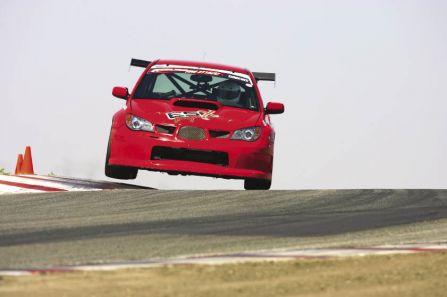 teams working hard over the off-season to wind out their cars for faster lap times. Living up to the reputation as the home of Time Attack in the USA, Buttonwillow Raceway saw a record number of competitors with a total of 105 cars! The sport is growing with Redline leading the way, creating a safe and entertaining venue for motorsport enthusiasts to showcase their cars, shops, skills and parts. Both racers and fans were greeted with unseasonably warm weather this past weekend, with temps hovering near 85 degrees on Saturday.
The high temps influenced the lap times of every competitor, with many cars running 1-2 seconds off their previous best times set in the cooler months of last year. What is good for the tires, wasn't ideal for the motors. However, several new records were set at this event, beginning with Jeremy Toye in his Reese Tuning / RobiSPEC Evo in Street AWD with a time of 1:58.651. Billy Johnson re-wrote the record in Unlimited RWD in the FX Motorsports Development Acura NSX with a blisteringly fast time of 1:45.516. We're expecting big things out of the team and Billy this season, as they should make a serious effort to claim the Season Championship!
In their first Redline Time Attack event, drag-racing legend Team Bergenholtz have made a statement in just their first event. With driver Dino Tadokawa behind the wheel of the MazdaSpeed / Playstation / Yokohama Mazda3, the old Street FWD record was thoroughly smashed with a time of 2:00.552. Team Bergenholtz very nearly became the first Street FWD effort to break the 2:00 barrier which is a real accomplishment considering the light modifications in the class. Had the weather been a bit cooler, or if there had been less of a head-wind, they might have possibly made history.
Unfortunately, early season gremlins plagued a number of teams at this event, with several forced to call an end to their weekend during testing. Unlimited
AWD franchise Team Sierra Sierra suffered a failed engine in their Evo during testing that kept them on the sidelines. Team manager Richard Raeder was pleased with the results of the lap times they were able to get in and is looking forward to Round 2 at Willow Springs. New-comer to the Redline Time Attack series is Fontana Nissan, who were running strong all weekend long. Driver Mike Cronin was consistently running in the 1:48's in his Nissan 350z, which would have been good enough for a podium finish. However, the Nissan suffered an engine failure on the back half of the track during morning practice, calling an end to what was looking to be a very promising event.
The first event of the 2009 season was a success with high intensity action, record participation and lap times. Buttonwillow set the tone for the rest of the year with the involvement of participants, sponsors and media. Teams have a few weeks to get their cars back in shape, make any necessary changes or improvements and lock in some additional testing before Round 2 at Willow Springs International Raceway. As the official media partner PAS Magazine will be there every step of the way with magazine coverage and online updates. Look for the PAS Magazine Official Program Guide at the next Redline Time Attack in your area!