Written by Nate Leon and Mark Pereira // Photos by Randi Bentia and HIN | 26 August 2008
HIN: San Mateo
San Mateo, CA
April 4, 2009
With the launch of the latest Fast and Furious film overlapping the same weekend as this event, the buzz in the Bay area was huge, as Hot Import Nights
proved to hit another home-run in San Mateo, CA.
The NOS Human Horsepower Zone was hosted by Professional Drifter Chris Forsberg. With numerous pro drivers sliding around, hometown drift favorite Calvin Wan of Falken Tires held it down with his very own jaw-dropping Falken Tire Mazda RX-7.
Other Horsepower Zone action came courtesy of the Las Vegas Extremes Motorcycle Stunt Show alongside freestyle riders Dustin Nowak and Nick Dunne (FreestyleMTX.com) who blew us away, flipping bikes over 30 feet in the air. It seems nothing (even the high winds) could stop these stunt seekers.
As for the many beautiful ladies of Hot Import Nights, they may look more than a little familiar to you! right? Thanks to the new and refreshing model / talent coordination, Hot Import Nights San Mateo was able to house A-list hotties Alanna Kolette, Amanda Gift, Lisa Flemming, Jeri Lee, KT So, Pearl Nalani, Jenny Chu and many others in a 'heated' Model Central.
The HINcity Main Stage was hosted by Nick Ngo (17 Hertz CEO) and the fresh San Francisco Bay Area All-Star hip-hop cast included artist Jacka, Clyde Carson, Dem Hoodstarz, DJ Rocky Rock and YaBoy. The minute to minute stage line up was followed by yet another exciting National Guard Car Competition award ceremony.
The National Guard Car Competition was the talk of the night! With text message voting raining in and the top judges from East to West, all of the Unlimted Best of Show Candidates were dying to hear the results.
Lyle Engleson and his Mini Cooper were awarded the Best of Show Unlimited title. This unbelievable piece of art took home four awards and some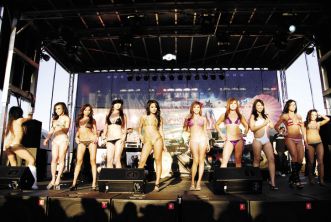 serious dough! A very large thank you goes out to event supporters NOS Energy Drink, National Guard, Bridgestone, Scion and our very own PAS Magazine Model Lounge for making another memorable Hot Import Nights possible in the San Francisco Bay.