Written by and Photos by Jacob "The Mighty Duck" Leveton | 27 August 2008
Makuhari Messe
Convention Center
January 9-11, 2009
Tokyo, Japan
Tokyo is a dizzying array of sights, sounds, and people. No matter how prepared you think you are, stepping out of the subway for the first time at Tokyo
Station is overwhelming. After a quick 12-hour flight from Los Angeles and a day to catch up on the jetlag, we trekked from Shimbashi station out to Makuhari Messe expo center via the Keiyo subway line. We swipped our media passes and walked into the main convention hall for the first time to see aisles and aisles of automotive bliss – we had reached the Mecca of Japanese tuning.
While this isn't the first time PAS has covered the Tokyo Auto Salon (TAS), this was the first time for this photographer to experience the JDM motherland. Although a seasoned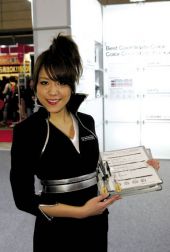 veteran of SEMA, Tokyo Auto Salon is a whole different experience. A quick run around the show floor to get our bearings, and we were off shooting likes of Mugen, Mitsubishi, and more importantly models! Sure, the economy isn't the greatest right now, and many booths that we were looking forward to checking out were smaller than previous years, but the show was full of fresh new products, hot cars and some beautiful eye candy.
Drifting is here to stay, and Tokyo Auto Salon was just further proof. Takahiro Ueno has long been known for drifting his blood-red JZZ30 Soarer, but for 2009, he is changing his game and stepping into a BMW 3-series chassis, which made its debut to the world at the Vertex booth. Ueno's BMW was so fresh that his crew was still putting stickers on the car at the show! 2008 D1 champion Daigo Saito also debuted a new ride, switching from his Mark II Chaser to the American muscle of a Ford Mustang. Just outside the convention center, D1GP put on several demos throughout the weekend, and fans were treated to some great runs! Team Orange driver and fan favorite Nobushige Kumakubo drifted his Evo X sideways for the first time in public, further exciting the crowd for the 2009 drift season ahead.
NSX's are becoming more and more affordable, and tuning companies are responding with more offerings for the Honda supercar chassis. Famed tuners Mugen and Spoon both debuted new NSX tuning packages, while J's Racing and several other top companies brought out new S2000 offerings, showing that Japan still loves the 2-door roadster. Last year, the Evo X and mighty GT-R were very common on the show floor. This year, the GT-R was just as popular in its' sophomore year at Tokyo Auto Salon, although the new Nissan 370Z was clearly won rookie-of-the-year status in the tuning world with new offerings from Amuse, Top Secret, Zele, and several other notable companies.
Finally, we have the ladies of Tokyo Auto Salon. SEMA is often known for having silicone and slinky outfits, but the girls in Tokyo are fresh and fob-ulous. Mobs of men swarm around each and every model on the show floor, snapping photos faster than a GT-R on a wangan run. Just when we thought we had seen it all, the Goodyear booth featured some ladies showing off their skills on a pole more-commonly seen in the wee hours of the morning of a Vegas bachelor party. We had seen it all!
A few bowls of Udon noodles and many plates of Sushi later, we were back in Southern California. Every trip to Tokyo seems too short, and luggage never seems to hold enough souvenirs or fresh JDM parts! Our coverage of Tokyo Auto Salon is here for your enjoyment, free of jetlag, confusing subway trips and ever-expensive Yen. But rest assured, Tokyo Auto Salon 2010 is just a few months away and as always we'll be there to bring it to you!