Written by and Photos By: Dave Pankew | 26 August 2008
Performance World
International Centre
Toronto, ON
March 13-15, 2009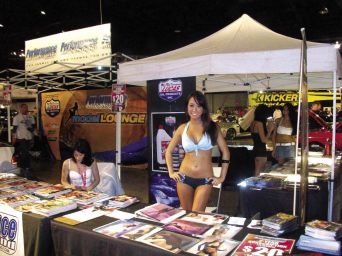 The annual kickoff to the upcoming motorsports season rolled into town once again, marking the emerging hibernation for many cars and enthusiasts. Since I was a kid, the timing of Performance World (PW) has always made it a must-attend event to shake off the cobwebs of the long winter months and get back in gear again. Having only exhibited there twice before, I can appreciate the hard work and dedication it takes to haul your baby out of the garage, flat-bed it to the show and detail it like you are gunning for a trophy! For this year, participants and show promoters logged the hours required to put together the best Performance World production in years.
It might sound like a shameless self-promotion of sorts, but a highlight of the show for many attendees into sport compacts was our very own Performance Auto & Sound booth. We brought up three cover-worthy showcars from New York that could have easily bagged Best of Show, but did not compete since they were a special show feature. Manny Ramdowe brought down his former PAS cover car, the VeilSide widebody RX-7 along with his teammate Ricky Fontan with a blown M3 Flossmann widebody and one of the more original 350Zs we've seen in while. The 350Z owner, Wes Banasan trailered his insane Do Luck widebody Z33 up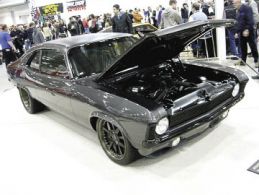 from Delaware behind his Nissan Armada for a straight 10 hours. The cars were on-point and attracted loads of attention, but then there were our girls too. Along with California headliner Nicolette Lacson, PAS had five more hotties running around the booth signing autographs and striking fierce poses.
Beyond the eye candy (both metal and skin), PAS had some special deals on subscriptions and loads of free Lucas Oil product give-a-ways, so if you weren't there you were nowhere! The program for Performance World in Hall 5 was similar to years past with a club-like atmosphere and a high concentration of tuner cars. The caliber of cars was definitely elevated over years past and some of the club participation was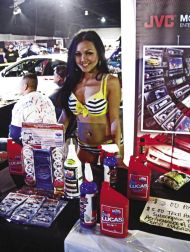 impressive. Toronto-based VW club Fukenricen scored team partipation award honors, rolling over 25 cars deep. Some other notable groups were Lick Your Lips and Sweetie Girl Racing who brought out some hot rides. The surprise Best of Show winner was a lone participant, Fabio Salzarulo in his insane Turbo BMW M3. The Laguna Seca blue E46 is more than meets the eye, with an almost entirely carbon fiber shell including front and rear bumper, sideskirts, hood, trunk and even the rare CSL roof conversion! This lightweight puts down 617whp (around 725hp at the crank) from the only Horsepower Freaks turbo motor build in Canada. The car also features, every possible suspension upgrade and massive WP Pro 12-piston brakes with 15-inch rotors, which are also the only set in the country!
On stage the entertainment did not stop! There were dance troops, MC battles and of course the lovely bikini participants. Over 25 girls stripped down for the contest that made the crowd of mostly single fellas loose their minds. It all came down to three cuties and the winner would be crowned by a panel of judges, not the loudest audience participation. In addition, the MC had plenty of Performance Auto & Sound and Lucas Oil prizes for the crowd who are always eager to walk away with some free goodies. The entertainment factor was ramped up by the Play Grounds interactive gaming display, where new gaming titles were on hand to try out. When it came to shopping, PW had that covered thanks to a monster Kicker Car Audio sale slashing high-end goods up to 70-percent off MSRP. From T-shirts to turbos, many other on-site vendors had impressive deals for tuners too.
Some standout displays from out-of-town showcased their great gear at Performance World. Ohio-based PAS partner Kinetik Power Cells made the trip North to show off their audio power cells and their new lightweight racing battery line. STD Suspension from Quebec made it down with two cars on display, a crazy Celica GT-S and the Racemode drift car both sporting STD coilovers. Then there was the JL Audio booth which was sure to impress with a rock-crawling Hummer H1, blinged-out ESS Customs Denali and even a rockin' boat!
There was way more to see and do for the car crazy crowd as all the info I've mentioned so far was packed into just one of the five halls! Sport compacts aside, this show displayed old school muscle, custom rods and everything else in between like ratrods and resto mods. A pair of stunning Plymouth Cudas, one blue 440 6-pack and a sublime green AAR Cuda were on display, as well as a tribute to the evolution of the Firebird. In terms of celebrities, Blowfish builder Troy Trepanier and everyones favorite handyman Mike Holmes were also on hand to greet fans.
Performance World had something for everyone and stayed jammed all three days. As the official start to the car season, the weather could not have been better as everyone dusted off their rides and enjoyed the warm, dry streets while getting those parts working smoothly again.