Written by Mark Pereira // Photos by CarAndModel.com | 26 August 2008
HIN: Anaheim
Angel Stadium
Anaheim, CA
March 15, 2009
Hot Import Nights (HIN) kicked off their 11th season at the Angel Stadium of Anaheim with a bang! The HIN crew pieced a solid line up of features for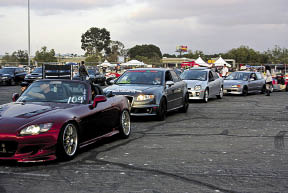 the public; such as Dromo-1 kart racing, autocross barrel racing, pro freestyle motocross riders, street stunt bikers, Chris Forsberg and the NOS Energy Human Horsepower Zone, plus DJ Rocky Rock and friends with freestyle OG rapper Tom Green!?
Celebrity and former Organized Rhyme front man Tom Green was just one of many special guest appearances (be sure to peep his freestyle Youtube video!). HIN also introduced the beautiful Miss HIN 2009 Alanna Kolette to the massive crowd. Efrain Ramirez, better known as "Pedro" from the hit movie Napoleon Dynamite rocked the crowd with a sick 20 minute DJ set too. All of us here at PAS Magazine were in the house, as our highly anticipated PASMAG Model Lounge heated things up with the hottest girls in Southern California.
Far East Movement along with Ben Baller and Quest Crew, fresh from their America's Best Dance Crew victory on MTV, opened up for Ya Boy who closed the show with his hit song "We Run LA." HIN introduced the brand new National Guard Ultimate Car Competition that will pay over $120,000 to car competitors throughout the 2009 HIN tour. With over 650 cars in the house, you must be curious to know who represented… Alpha Squad, Arkan, Auto Concept, Auto Fashion, Euro Rev, Flux, Heavy Hitters, High Intenzity, Hokori, Team Hybrid, Illmatic, M-Fest, Over Rev, Rare JDM, RL2, Supra and TWC!
By far, we saw some of the best team displays in years, as each tuner brought their A-game to Anaheim. These top car clubs and teams don't play around, as they showcase the very best of our enthusiast culture and always keep it real.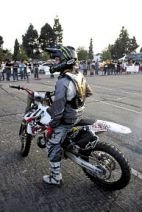 As for 2-wheeled Entertainment, much respect goes out to FMX riders Dustin Nowack and Destin Cantrell for wowing the thousands in attendance with death-defying tricks from 50 feet in the air. Also big shout outs to Pauly Sherer and Blue Jay of Las Vegas Extremes, who make the hardest motorcycle stunts look like child's play.
HIN organizers would like to thank all car competitors for another fabulous Hot Import Nights event and of course supportive partners including National Guard, NOS Energy Drink, Bridgestone and the PASMAG Model Lounge for the continued commitment to the tuner scene. For more info, updates and results check out www.hinevents.com. It's going to be a really exciting year!