Redline Time Attack
Carolina Motorsports Park
Kershaw, SC
August 8-9, 2009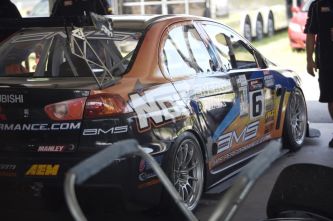 This event marked the debut of Redline Time Attack in South Carolina, with plans for this track to become a regular stop for the series as it continues to tour across the country. The first day of action included an Open Test / Tune Day and High Performance Driving event. Redline Time Attack also offered their helpful High Performance Driving School with instruction, as you don't need to register for the Time Attack to participate in HPDE. The NOPI car show series was in full effect all weekend with lovely models and custom rides invading Carolina Motorsports Park.
Plus, enthusiasts everywhere are guaranteed a great time on and off the track, thanks to the "at the track" after party hosted by TV personality J-BIRD featuring tuner cars, live music, DJs and the crowd pleasing bikini contest!
On race day, the BuddyClub Street Class saw Tony Wiesenhahn nab top spot in AWD with his Subaru WRX, first place RWD went to Gregory Haye and his Honda S2000, while Douglas Wind's Dodge SRT-4 proved to be top dog in FWD. The new Stock Class saw David Norton snag first place in his SPEC Clutch sponsored Porsche.
Modified Class saw Ryan Gates clinch first place AWD with his Mitsubishi EVO X, Patrick Saunders and his Honda Civic battled it out to take top FWD honors, while Scott Bush and his Infinity G35 took top RWD in the class.
In the Unlimited Time Attack Class, Billy Johnson in the amazing FX Motorsports twin turbo Acura NSX posted the fastest time of the day with a blistering 1:30.630 and earned first place RWD as a result. Mark Daddio and the AMS Performance Mitsubishi EVO X jumped ahead of the pack for first place AWD, while Chris Rado's World Racing Scion tC placed first in FWD. For more visit www.redlinetimeattack.com